Clash of the Titans
By Mark Schlabach
ESPN.com
The joy of Florida's most complete victory of the season wasn't five minutes old before coach Urban Meyer said the words every Gators fan had been waiting to hear for more than nine months.
[+] Enlarge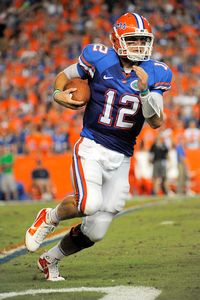 Doug Benc/Getty ImagesJohn Brantley and Florida have had Saturday circled on their calendar for nine months.
"It's Alabama week," Meyer told reporters, shortly after No. 7 Florida blasted Kentucky 48-14 at The Swamp on Saturday.
After limping through the post-Tim Tebow era during the first three weeks of the season, the Gators finally resembled the teams Tebow led to the SEC championship game the previous two seasons.
Freshman Trey Burton scored six touchdowns, the Gators gained 466 yards of offense, and they even snapped the ball to the quarterback effectively.
"We just got tired of hearing all the junk, man," Florida center Mike Pouncey told reporters on Saturday. "We just wanted to come out and prove everybody wrong. They had us on upset alert and everything."
But Saturday's game at No. 1 Alabama might ultimately determine whether the Gators are a legitimate contender to play in the BCS National Championship Game. Beating Kentucky for the 24th consecutive time is one thing, but beating the defending BCS national champions on their home field is an entirely different challenge.
The last time the Crimson Tide and Gators played, Alabama won the 2009 SEC championship game 32-13. The loss sullied Tebow's final college season, and sent Meyer to the hospital for chest pains.
"When you face a great team like Alabama, with great players all over the place -- they have great tailbacks, receivers, and then their defense is one of the best in America," Meyer said on his television show Sunday. "There's a great routine started by this group. They understand Tuesday and Wednesday is how you go win a game. It's not the uniform, it's not the helmet. It's the preparation."
The biggest SEC game of the season isn't the only game that will separate contenders from pretenders this weekend. Call it "Separation Saturday."
Here are seven other games that might have profound effects on the BCS national championship and conference races:
Texas A&M at Oklahoma State, Thursday, 7:30 p.m. ET (ESPN/ESPN3.com)
Both Big 12 teams are unbeaten, but neither has faced much competition. The Aggies had to come from behind to beat Florida International 27-20 two weeks ago, after quarterback Jerrod Johnson threw four interceptions. The Pokes have flourished in new offensive coordinator Dana Holgerson's offense. They rank No. 1 in the country in total offense (596 yards per game), No. 2 in passing (391.6 yards per game) and No. 2 in scoring (57 points per game).
Miami at Clemson, Saturday, noon ET (ESPN2, ESPN3.com)
The No. 16 Hurricanes and unranked Tigers provided the ACC with two of its best moments in what has so far been a dismal season. Miami blasted Pittsburgh 31-3 on the road Thursday night; Clemson took No. 10 Auburn to the wire before losing 27-24 in overtime two weeks ago. It's the ACC opener for both teams and the winner gets a leg up in its respective division. The Tigers won 40-37 in overtime at Miami last season.
[+] Enlarge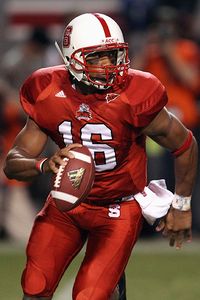 Streeter Lecka/Getty ImagesRussell Wilson has led NC State to its best start in years.
Virginia Tech at NC State, Saturday, 3:30 p.m. ET (ABC)
The No. 23 Wolfpack suddenly look like one of the ACC's best teams after routing defending ACC champion Georgia Tech 45-28 on the road Saturday. NC State is 4-0 for the first time since 2002, and quarterback Russell Wilson has thrown 11 touchdowns with only one interception. Virginia Tech has rebounded nicely after losing two games in six days to start the season. A week after beating East Carolina 49-27, the Hokies shut out Boston College 19-0 on Saturday. The Eagles didn't cross midfield in the second half.
Wisconsin at Michigan State, Saturday, 3:30 p.m. ET (ABC)
The No. 11 Badgers and No. 24 Spartans are both 4-0, but neither has beaten an FBS opponent with a winning record. Wisconsin blasted FCS foe Austin Peay 70-3 on Saturday, while the Spartans rolled over FCS foe Northern Colorado 45-7. The Spartans won that game without coach Mark Dantonio, who is recovering from a mild heart attack. Michigan State hasn't started a season 5-0 since Nick Saban coached the team in 1999.
Oklahoma vs. Texas, Saturday, 3:30 p.m. ET (ABC)
Texas' stunning 34-12 loss to unranked UCLA at home Saturday takes a lot of luster off this season's Red River Rivalry game at the Cotton Bowl in Dallas. The loss knocked the Longhorns from No. 7 to No. 21 in the AP poll, and unless their offense gets better in a hurry, they'll have a difficult time returning to a BCS bowl game. The Sooners are 4-0 despite battling their own inconsistency. Oklahoma has looked dominant only once, beating Florida State 47-17 at home two weeks ago. The Sooners struggled to beat Utah State by seven points, Air Force by three and Cincinnati by two. OU's defense ranks 97th nationally in total defense (421.2 yards per game) and 93rd in rushing defense (177.5). Oklahoma has lost four of the past five games in the Red River Rivalry series, including a 16-13 loss last season after Sooners quarterback Sam Bradford was knocked out of the game with a shoulder injury.
Stanford at Oregon, Saturday, 8 p.m. ET (ABC)
It might be a matchup of the Pac-10's toughest team against its fastest team. The Ducks would prefer to outrun opponents; the Cardinal would prefer to punch opponents in the mouth. No. 9 Stanford is among the country's biggest surprises, winning each of its first four games by at least 23 points. The No. 4 Ducks are still averaging close to one point per minute in their first four victories and lead the country in scoring with 57.7 points per game.
Penn State at Iowa, Saturday, 8:05 p.m. ET (ABC)
Penn State and Iowa have already endured one difficult nonconference road loss. The Nittany Lions lost at Alabama 24-3 on Sept. 11; the Hawkeyes fell at Arizona 34-27 on Sept. 18. The winner of this conference opener stays in the Rose Bowl hunt, while the loser has to play catch-up for the rest of the regular season. The Nittany Lions' last trip to Kinnick Stadium in Iowa City was pretty forgettable; the Hawkeyes' 24-23 victory on a last-second field goal knocked Penn State out of the BCS national championship race. Iowa won 21-10 at Penn State last season.
Conference Rankings
By Mark Schlabach
ESPN.com
Ranking the BCS conferences after four weeks of the 2010 college football season:
1. SEC Defending BCS national champion Alabama showed it might again be the team to beat, after the No. 1 Crimson Tide rallied from a 13-point deficit in the second half to win at then-No. 10 Arkansas 24-20 on Saturday. Auburn looks to be Alabama's biggest threat in the SEC West, after the No. 10 Tigers came back to beat then-No. 12 South Carolina 35-27 at home. LSU beat West Virginia 20-14 at home, and No. 7 Florida finally flexed its muscle in a 48-14 rout of Kentucky. The SEC isn't quite as deep as the past few seasons, though, with Tennessee barely beating UAB 32-29 in double overtime and Georgia falling to 0-3 in SEC play after a 24-12 loss at Mississippi State.
ESPN Stats & Info: Conference Rankings
Conference
AP Rank
Computers Rank
Rating
SEC
1
1
98.1
Pac-10
2
3
92.1
Big Ten
3
4
90.3
Big 12
5
2
81.6
MWC
4
6
68.9
WAC
6
8
49.6
ACC
7
5
47.5
Big East
8
7
24.9
C-USA
9
9
17.6
MAC
10
10
13.3
Sun Belt
11
11
9.6
• ESPN Stats & Info blog
2. Pac-10 The Pac-10 is home to three of the country's hottest teams, and one of them isn't even ranked. No. 4 Oregon continues to light up scoreboards, but its defense will have to play better after allowing 597 yards in a 42-31 victory over Arizona State. No. 9 Stanford is playing as well as anyone, and No. 18 USC finally looked good in a 50-16 rout of Washington State. No. 14 Arizona keeps winning games at the end; the Wildcats defeated Cal 10-9 on Saturday night. UCLA, which started the season with an 0-2 record, upset then-No. 23 Houston and then-No. 7 Texas the past two weeks.
3. Big Ten The Big Ten has six teams ranked in The Associated Press Top 25 poll, but it's hard to separate the contenders from the pretenders at this point. Every ranked Big Ten team played an overmatched nonconference opponent this past weekend, except No. 22 Penn State, which struggled to beat Temple. No. 2 Ohio State, No. 11 Wisconsin, No. 17 Iowa, No. 20 Michigan and No. 24 Michigan State each won easily.
4. Big 12 We know No. 21 Texas isn't as good as we believed; the Longhorns were routed by UCLA 34-12 at home. No. 6 Nebraska and No. 8 Oklahoma haven't looked liked world-beaters, either. The Sooners have limped through three of their four victories, beating Utah State 31-24, Air Force 27-24 and Cincinnati 31-29. The Cornhuskers struggled to pull away from FCS foe South Dakota State at home on Saturday before winning 17-3. We'll begin to learn a lot more about four other unbeaten Big 12 teams -- Kansas State (4-0), Missouri (4-0), Oklahoma State (3-0) and Texas A&M (3-0) -- over the next few weeks.
5. ACC The ACC finally picked itself up off the floor and won a couple of key nonleague games. No. 16 Miami blasted Pittsburgh 31-3 on the road Thursday night, and North Carolina won its first game of the season at Rutgers on Saturday, 17-13. No. 23 NC State suddenly looks like a major contender after defeating defending ACC champion Georgia Tech 45-28 on the road. Virginia Tech also is beginning to pick up the pieces after its 0-2 start, winning its second straight game, 19-0 at Boston College. Florida State blasted Wake Forest 31-0 at home.
6. Big East It keeps getting worse for the Big East, which saw four of its best teams lose key nonleague games. Along with Pitt's loss to the Hurricanes and Rutgers' loss to UNC, West Virginia lost at LSU and Cincinnati fell to Oklahoma at home. When you're counting Connecticut's 45-21 win over Buffalo as one of the league's better victories, you know the season hasn't gotten off to a very good start.
On The Mark: Precision Passers

1. Pete Thomas, Colorado State
Thomas helped the Rams end a 12-game losing streak, completing 29 of 37 passes for 386 yards with three touchdowns in a 36-34 victory over Idaho.
2. Cameron Newton, Auburn
There might not be a more valuable player in the SEC right now after Newton passed for 158 yards with two touchdowns and ran 25 times for 176 yards with three scores in a 35-27 win over South Carolina.
3. Russell Wilson, NC State
Wilson is making an early case for ACC Offensive Player of the Year, accounting for four touchdowns and throwing for 368 yards on 28-for-41 passing in a 45-28 victory at Georgia Tech.
4. Ryan Lindley, San Diego State
Lindley has the Aztecs off to a surprising 3-1 start; he completed 17 of 24 attempts for 362 yards with three touchdowns in a 41-7 rout of Utah State.
5. Landry Jones, Oklahoma
Jones threw for 370 yards with two touchdowns on 36-for-51 passing, and the Sooners ended up needing all of his help in a closer-than-expected 31-29 win at Cincinnati.
Off The Mark: Hot-Seat Coaches
1. Mike Locksley, New Mexico
It keeps getting worse for the Lobos, who are 0-4 after losing 45-10 at UNLV on Saturday. New Mexico has been outscored 225-41 in its first four games.
2. Tim Brewster, Minnesota
The Gophers suffered their third straight defeat at home, losing to Northern Illinois 34-23 on Saturday. Minnesota is 1-3 after also falling to FCS foe South Dakota and USC.
3. Paul Wulff, Washington State
The Cougars were embarrassed in a 50-16 loss to USC, dropping Wulff's record to 3-25 in three seasons.
4. Dave Wannstedt, Pittsburgh
The Panthers would probably have to collapse down the stretch for Wannstedt to be in serious trouble, but Thursday night's 31-3 loss to Miami at home didn't help his job security.
5. Mark Richt, Georgia
The Bulldogs lost at Mississippi State 24-12 on Saturday, dropping their record to 0-3 in SEC play for the first time since 1993. Worse, Richt's teams have lost seven of their past nine games against SEC foes.
On The Mark: Ground-Gaining RBs
1. Brandon Bolden, Ole Miss
Bolden helped the Rebels forget about their forgettable start, running 19 times for 228 yards with two touchdowns (and one more receiving) in a 55-38 rout of Fresno State.
2. Chad Spann, Northern Illinois
Spann was the best player on the field in the Huskies' upset of Minnesota, running for 223 yards with two touchdowns -- including a 61-yard touchdown run -- on 15 carries.

3. Mark Ingram, Alabama
The reigning Heisman Trophy winner reminded us why he's still the best running back in the country, running 24 times for 157 yards with two touchdowns in a 24-20 victory at Arkansas.
4. Doug Martin, Boise State
Martin is a bruising complement to the Broncos' high-octane passing game, and he ran 19 times for 138 yards in a 37-24 win over Oregon State.
5. Johnathan Franklin, UCLA
Franklin helped expose Texas' defense, running for 118 yards with one touchdown in the Bruins' surprising 34-12 victory. UCLA ran for 264 yards and three scores.
Off The Mark: Self-Inflicted Wounds

1. UAB
The Blazers missed five field goals and threw a pick-six in their 32-29 loss in double overtime at Tennessee.
2. Duke
The normally sound Blue Devils had five turnovers, including four interceptions, in a 35-21 loss to Army.
3. Arkansas
Heisman Trophy hopeful Ryan Mallett threw an interception in Alabama's end zone and then fired two more in the fourth quarter of the Hogs' deflating loss.
4. Texas
The Longhorns had five turnovers in their ugly loss to UCLA. Worse, each of the Longhorns' five turnovers (four fumbles, one interception) occurred inside their 45-yard line.
5. Arizona State
The Sun Devils made the Longhorns look like the good hands people. Arizona State had seven turnovers -- six in the second half -- in a 42-31 loss to Oregon. The Sun Devils' comedy of errors wiped out their 597 yards of offense.
On The Mark: Sure-handed WRs

1. Jerrel Jernigan, Troy
The 5-foot-9 senior caught 10 passes for 209 yards with one touchdown, a 70-yarder on the third play from scrimmage in a 35-28 victory over Arkansas State.
2. Vincent Brown, San Diego State
Brown caught five passes for 177 yards with two touchdowns (65 and 82 yards) in the Aztecs' rout of Utah State.
3. Torrey Smith, Maryland
One of the country's most underrated players, Smith caught eight passes for 159 yards, including a 68-yard touchdown, in the Terrapins' 42-28 win over Florida International.
4. Michael Johnson, UNLV
Johnson led the Rebels to their first win of the season against New Mexico, catching eight passes for 138 yards with three touchdowns.
5. Eric Page, Toledo Page helped the Rockets win at Purdue for the first time since 1992, catching 10 passes for 94 yards with one touchdown in a 31-20 upset.
Off The Mark: Offensive units
1. Pittsburgh
The Panthers completed only 13 passes and had three turnovers in their ugly loss to Miami on Thursday night.
2. Boston College
The Eagles had 70 rushing yards and three turnovers in a 19-0 defeat against Virginia Tech.

3. Wake Forest
The Demon Deacons totaled only 185 yards of offense and went 3-for-14 on third down in a 31-0 loss at Florida State.
4. San Jose State
The Spartans had 172 yards of offense and went 1-for-12 on third down in a 56-3 loss at Utah.
5. Georgia
The Bulldogs fumbled into Mississippi State's end zone and had a touchdown negated by a holding call in their first loss to State since 1974.