Golden Chances
By Heather Dinich
ESPN.com
They're saying this week in college football is a dud, as dull as a library on Friday night, and bland as tofu. The bloggers are here to spice things up. There are titles still on the line, coaches and players throughout the country who still have something to prove and milestones to reach.
For some, Week 12 is bigger than others. Virginia and Virginia Tech are both still battling for the Coastal Division title, and Florida State still has a chance to tie Clemson for the Atlantic Division title, though the Tigers have already clinched the division. There's more at stake, though, than just the standings. Here's a look at …
[+] Enlarge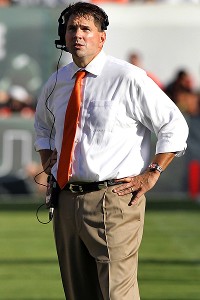 Robert Mayer/US PresswireSaturday's game against South Florida is an important one for Al Golden and the Canes.
Why Week 12 matters to Al Golden
Because bowl eligibility is still on the line. There's no telling how much trouble Miami could be in following the recent NCAA allegations, but a future bowl ban should be considered a very real possibility. Golden needs to get his team to the postseason and enjoy it now while it lasts, because the Canes might not have that option in the near future thanks to possible NCAA sanctions. At Miami, fans want national championships. Getting to a bowl shouldn't have to be a major accomplishment. Miami has two more chances to reach the six-win mark, but should only need Saturday's trip to South Florida.
Because South Florida got the last word in 2010. Last year's 23-20 overtime loss to South Florida was the straw that broke Randy Shannon's back. Late that Saturday night, former AD Kirby Hocutt fired Shannon, and a snowball of change quickly began to roll. Golden obviously isn't going to get fired if he loses, but he should fare better than his predecessor did, and shouldn't need overtime to do it.
Because it's an in-state game with in-state implications. Recruiting, bragging rights -- it's all important anytime Miami plays an in-state opponent, and it's doubly important for Golden as he continues to assert himself as a recruiter within the state. It's one thing to lose to rival Florida State on the road, but to lose to a team that's 1-4 in the Big East? That's not close to a state championship, that's a state of despair.
Because Miami should finish with a winning nonconference record. With wins over Ohio State and Bethune-Cookman and a loss to Kansas State, the Canes have a chance to finish the nonconference season at 3-1, at that's what should be expected.
Shattered Streaks?
So, no premier matchups in Week 12? Still twiddling your thumbs for two weeks while Oklahoma and Oklahoma State win?
No worries. Texas Tech has a chance to continue one of America's most impressive streaks on Saturday. Its trip to Missouri matters a whole lot, with only a game against Baylor at Cowboys Stadium left on the schedule.
Texas Tech's been eligible for a bowl game every season since 1993, a span of 18 seasons. "Philadelphia," starring Tom Hanks, "The Fugitive" and "Schindler's List" all came out that year.
[+] Enlarge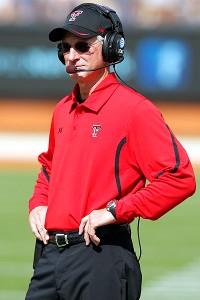 Erich Schlegel/Getty ImagesThings haven't gone well for Tommy Tuberville and Texas Tech since their win over Oklahoma.
Ace of Base recorded "The Sign." "The Bodyguard" soundtrack was the year's top-selling album.
Translation: It's been awhile; much longer than any other streak for a Big 12 team.
To keep that streak going, though, the Red Raiders must win as 17-point underdogs at Mizzou on Saturday.
The team met Sunday and didn't talk much football. The focus? Keeping motivation through one of the most difficult stretches anyone in the locker room has ever endured.
"We've just gotta have something positive happen to us," coach Tommy Tuberville said. "It looks like everything's gone against us, but as I told the players, we've got to make something happen, so that's pretty much how we're handling it going into these two games."
The Red Raiders knocked off then-No. 3 Oklahoma, ending the Sooners' 39-game home winning streak. That's Tech's only win in its past six games.
"We've not had any consistency on either side of the ball," Tuberville said.
Receivers have been moved to cornerback. The team's leading rusher, Eric Stephens, was shelved for the season after dislocating his knee against Texas A&M.
"We've tried to patch the holes here and there, and pretty much we've been discovered in some areas by some of these real good teams we've played," Tuberville said.
Now, the task ahead of Texas Tech is discovering the early-season mojo that produced the win over Oklahoma and near-misses against Kansas State and Texas A&M.
Otherwise, next year will be the beginning of what the program hopes is another historic streak.
Spotlight on Huskers
By Adam Rittenberg
ESPN.com
Week 12 might be a snoozer in many parts of the country, but in the Cornhusker State, they're wide awake.
Their beloved Nebraska Cornhuskers still have plenty at stake, beginning Saturday at No. 18 Michigan.
[+] Enlarge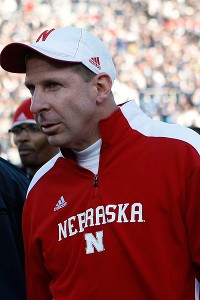 Rob Christy/US PresswireCoach Bo Pelini and Nebraska still have hopes of reaching a BCS bowl.
After surviving an awkward week as "Penn State's opponent," the 16th-rated Huskers have reclaimed the spotlight all for themselves. There's no need to downplay what's on the table for coach Bo Pelini and his team Saturday at the Big House.
1. Legends division livelihood
Nebraska can prolong the Legends division race to the final weekend of the regular season if it knocks off Michigan. A Huskers win would prevent No. 15 Michigan State from clinching the division title even if it takes care of Indiana at Spartan Stadium. If the Huskers lose to Michigan and Michigan State beats Indiana, it's all over. The Spartans would go to Indy.
By beating Michigan, Nebraska would put itself in position to turn up the heat on Michigan State in Week 13, even if the Spartans also win Saturday. Nebraska's regular-season finale takes place on Black Friday against Iowa. A Huskers win would force Michigan State to beat Northwestern the following day in Evanston to win the division. As Nebraska found out Nov. 5, Northwestern is playing much better as of late.
"We have a lot to play for," Pelini said Monday.
2. BCS at-large livelihood
Even if Nebraska falls short in the division, it can stay alive for a possible BCS at-large berth by beating Michigan. If the Huskers sweep Michigan and Iowa to finish the season at 10-2, they would be in the running for an at-large berth. While Big Red didn't have the season some expected, it would finish on a three-game win streak that includes wins in both State College and Ann Arbor.
A third loss likely would remove Nebraska from both the division race and from the BCS bowl picture entirely.
Beating Michigan takes on added importance because the Wolverines are in a similar position, needing help in the division but eying a possible BCS at-large berth. Michigan also can finish the regular season at 10-2 if it knocks off both Nebraska and archrival Ohio State, a team it hasn't beaten since 2003. Wolverines fans are itching to travel to one of the big bowls, and Michigan would be an enticing option. Nebraska can make that dream go away Saturday.
3. Big Ten respect
Nebraska might not win the Big Ten title in its first year as a league member. But after a very shaky start in its new league, the Huskers can finish on a strong note.
Much was made about Nebraska's first Big Ten schedule, which featured divisional crossover games against Wisconsin, Ohio State and Penn State, and road trips to Madison, State College and Ann Arbor. Most teams that must visit Camp Randall Stadium, Beaver Stadium and Michigan Stadium in the same season would gladly take a 2-1 mark.
If the Huskers win Saturday, they'll finish the stretch at 2-1 and show they can perform on the Big Ten's biggest stages.
"When our schedule came out these were the two games I was most excited for," safety Austin Cassidy said of the trips to both Penn State and to Michigan. "To have these two back-to-back, it's definitely a challenge. I think this team, Coach Bo, is all about taking a challenge in stride and really pushing and testing yourself.
"It's going to be fun."
Week 12 will be a fun week for Nebraska. And a very meaningful one.
Week 12 Matters To Cincinnati
By Andrea Adelson
There is no doubt Week 12 is important for the Big East, a league that still has six teams in contention for the conference championship. As it stands today, it is most important to Cincinnati.

The Bearcats (7-2, 3-1) have to beat Rutgers (7-3, 3-2) on Saturday to stay atop the league standings. They have to win out in order to get back to a BCS game, a prospect that got infinitely harder following a regular-season-ending ankle injury to starting quarterback Zach Collaros.
After losing Collaros against West Virginia last week, Munchie Legaux was forced into the starting lineup. He looked shaky at the start but did a few nice things in the second half and nearly rallied the team to a victory. Still, it is asking a lot for a player who has never started a collegiate game to win three games to clinch a conference title. And oh, by the way, two of those games are on the road.
For more, check out the Big East blog.
Nebraska-Michigan Preview
Week 12 Matters To Oregon
By Ted Miller
You'll note that USC has no ranking beside it. That's an illusion. The Trojans aren't eligible for the BCS standings, and most news organizations use the BCS standings to avoid confusion this time of the year. The Trojans are ranked 18th in the AP poll. But that's also an illusion.

There isn't a single person in the country -- at least one with a brain -- who believes 17 teams could beat 8-2 USC. None. Zero. No one would pick Michigan State to beat USC. No one would pick South Carolina to beat USC. No one would pick Kansas State to beat USC. No one.
Go here, USC fans, to search out the disingenuous. Do as you wish with the weapon known as email!
USC is still getting hit by irrational USC hate. Everyone knows the Trojans should rank around 10-15. Voters go: "USC is good, and I hate that. I'd rank them 12th, but they fall six spots because of my hate for them. Or should I do seven? No, then that Pac-12 blog guy might get everyone emailing me again."
The point here is we should all be excited about the showdown between No. 4 Oregon and USC, which is ranked 12th by a really smart person.
For more, check out the Pac-12 blog.
Week 12 Matters To Georgia
By Chris Low
Week 12 most definitely matters in the SEC, and specifically to Georgia.

The Bulldogs can wrap up the Eastern Division championship by winning at home Saturday over Kentucky, which is saying something considering the climate in and around Athens back in September.
Even though Steve Spurrier has all but conceded the East title to Georgia, you can bet there will be more than a few television sets in the state of South Carolina tuned into the Georgia-Kentucky game on Saturday, too. The Gamecocks would win their second straight East crown if the Wildcats can upset the Bulldogs.
The tricky part is that South Carolina kicks off against The Citadel about 20 minutes prior to Georgia's game.
For more, check out the SEC blog.
Week 12 Matters To Nevada
By Andrea Adelson
Nevada opened the season 1-3 and ended up with a little quarterback quandary on its hands. Tyler Lantrip, who took over for all-everything Colin Kaepernick, was inconsistent. Redshirt freshman Cody Fajardo had a bit more spark.

Coach Chris Ault decided to go with Fajardo as his starter, and the Wolf Pack have been on an incredible scoring roll ever since. Now they go into their game against Louisiana Tech in control of their WAC destiny.
That is why Week 12 matters to Nevada.
A win, and the Wolf Pack clinch at least a share of the WAC title in their final year in the conference. Nevada (6-3, 4-0) and Louisiana Tech (6-3, 4-1) are atop the league standings.
For more, check out the Nation blog.
Week 12 Matters To Jonas Gray
By Matt Fortuna
Whenever Tim Hinton is asked about Jonas Gray's breakout senior season, the Notre Dame running backs coach explains that he got into coaching for stories like this:

A senior facing his final chance to make his mark. An awful start to said senior season. A head coach publicly challenging that senior on how we will want to be remembered.
And now, of course, redemption.
For more, check out the Notre Dame blog.
Week 12 Matters To Andrew Luck
By Kevin Gemmell
In case you haven't heard, Stanford lost a pretty big game on Saturday night. And while the rest of the Week 12 matchups across college football might not be too appealing, to Luck and the Cardinal, this is the most important game of the year.
Week 12 matters for two reasons: First, the reasons he doesn't care about (but we do) and second, the reasons he does care about.

First, what he doesn't care about: the Heisman. I don't think Saturday night had any real impact on his future draft status. He's pretty much locked in to the top pick barring a series of horrific offseason workouts. And I don't see that happening. But in the Heisman race, his non-campaign took its first real hit in the wake of his three-touchdown, three-turnover performance against Oregon. He showed why he's a front-runner on several plays. But he also had his lowest-rated game (135.8) of the year in the biggest game in school history. That's something that sticks with voters.
For more, check out the Stanford blog.