Conference races heating up, coaches preparing for rivalry games
Breaking Down The Games
By Jim Donnan, ESPN.com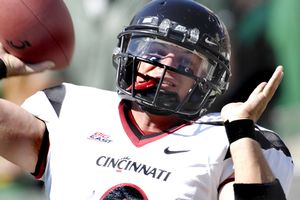 Al Messerschmidt/Getty Images
Ben Mauk has the Bearcats competing at a high level.
West Virginia at Cincinnati
ESPN, 7:45 p.m. ET
Either West Virginia or Cincinnati will be eliminated from Big East conference contention on Saturday night. Who would have guessed this matchup would have conference and national title game implications at the beginning of the season? The Mountaineers proved in the second half of last week's game against Louisville and in the loss to South Florida that the best way to beat them is to let them beat themselves. Cincinnati is especially good at that. The Bearcats have spent the season among the national leaders in takeaways. West Virginia has the unfortunate habit of turning the ball over (six turnovers against USF; three against the Cards). WVU quarterback
Patrick White
has turned it up in the past few weeks and
Steve Slaton
gives the Mountaineers a dynamic rushing option. But the best part of the Mountaineers may be their defense, which has been rock solid and perhaps overlooked this season. The defense will be tested by Cincinnati quarterback
Ben Mauk
, who has had a great year. He has really propelled the Bearcats to new heights. This could be one of the better games of the season -- and it's a must-win for West Virginia, which could earn a few style points and possibly move up the BCS.
Boston College at Clemson
ESPN, 7:45 p.m. ET
All eyes will be on one-time Heisman front-runner
Matt Ryan
, but take a look at his numbers compared to Clemson quarterback
Cullen Harper
's.
Matt Ryan vs. Cullen Harper this season

| | | |
| --- | --- | --- |
| | Matt Ryan | Cullen Harper |
| Games | 10 | 10 |
| Completion % | 59.4 | 66.5 |
| Passing eff. | 129.9 | 154.1 |
| Passing YPG | 326.9 | 243.2 |
| TD passes | 24 | 26 |
| INT | 13 | 4 |
-- From ESPN Research
Harper's numbers are very impressive. He's done all the things for the Tigers that they lacked down the stretch last season. Certainly, Matt Ryan is having a special year as well and he is going to have a great pro career. He'll test Clemson's secondary. Defensively, Tigers DE Phillip Merling has been out of sight. But don't get on Clemson's bandwagon too quick; you might break your ankles jumping off. The winner of this game earns a spot in the ACC championship game and possibly a BCS bowl big, but the Tigers are notoriously inconsistent.
Oklahoma at Texas Tech
ABC, 8 p.m. ET
Over the years, Oklahoma has done a remarkable job defending Texas Tech's innovative offense. Red Raiders coach Mike Leach was Bob Stoops' first offensive coordinator at Oklahoma. With his defensive background, Stoops understands what gives Leach's system trouble. The Sooners have become an offensive juggernaut themselves; QB
Sam Bradford
leads the nation in passing efficiency. He's one of the best freshman quarterbacks I've seen in years. Much of that has to do with his unbelievable weapons -- including
DeMarco Murray
and
Allen Patrick
. The Sooners have, however, struggled on the road, and it will be interesting to see whether they can turn that around this week. One of the most interesting matchups could be Tech WR
Michael Crabtree
against Oklahoma's secondary. Can the Sooners put pressure on the freshman? On paper, Oklahoma has the edge, but when you can score like Texas Tech, you're always in the game.
ACC Race Heating Up
By Bob Davie, ESPN.com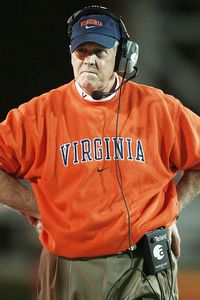 Doug Benc/Getty Images
Virginia's Al Groh has put the Cavaliers in BCS bowl contention.
Boston College travels to Clemson, S.C., to decide the Atlantic Division title. The Eagles are a really good team, but are they a great team? No. I thought that after escaping with a win in Blacksburg they might be able to roll through their remaining schedule. Of course, hindsight is 20/20. Boston College didn't dominate at Notre Dame. The last-minute win against the Hokies could have gone either way. Of course, you could probably say the same thing about Clemson. The difference, however, is that the Tigers enter this contest with momentum after winning their past four games. One of the interesting aspects of this game will be the personality differences of the teams, perhaps best epitomized by the quarterbacks. BC's
Matt Ryan
and Clemson's
Cullen Harper
are the best quarterbacks in the conference. Ryan is better at throwing the ball down the field and is a veteran player. Harper, like Clemson, is a bit flashier. Watch for a lot of screens and Harper throwing on the run. The stereotype of Clemson is that it always has great potential but finds a way to screw it up. Boston College, on the other hand, is seen as a hardworking, overachieving team. Those stereotypes can be a bit deceiving. Both teams have an opportunity to get to a new level -- and open critics' eyes -- on Saturday. The winner of BC-Clemson will play the winner of next week's Virginia Tech-Virginia contest, which will decide the ACC Coastal division. Cavaliers coach Al Groh should be considered for coach of the year honors. Since UVa's season-opening loss to Wyoming, I've watched this team steadily get better and find ways to win. He's done the most with possibly the least on offense of any school outside of the service academies. Virginia isn't putting up great stats -- in fact, the offense ranks No. 95 nationally -- but the bottom line is, the Wahoos do enough to win. Quarterback
Jameel Sewell
has emerged as a threat and
Mikell Simpson
, who started the season fourth on the depth chart, leads the team in rushing and is finding success in a hybrid tailback/wide receiver role. Sewell does a great job of managing the game and offensive coordinator Mike Groh (son of Al) is putting in great game plans for his team. Virginia also has an advantage of a week off to prepare. Although some coaches think a week off can slow momentum, I disagree. If you're coming off a big win, the atmosphere at practice is positive. Everyone enjoys being around each other more. You can accomplish so much more. And for Virginia, which is winning games based on out-scheming opponents, the extra week gives the coaches time to come up with and implement an innovative game plan. The ACC is among the most even conferences in the country. When the championships of both divisions come down to the last game, that says it all. The flip side, of course, is that there is no dominant team vying for a chance at the national championship.
Coach Class: Ohio State-Michigan
By ESPN The Magazine
Editor's note: Each week, analysts from ESPN.com and ESPN The Magazine will tackle a game plan for one of the biggest games on the schedule.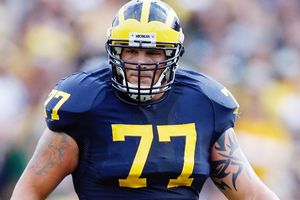 Gregory Shamus/Getty Images
Jake Long spurned the NFL for a chance to beat Ohio State.
Barring an upset -- and there have been a few of those this year -- Ohio State at Michigan (
ABC, noon ET
) again will determine the Buckeyes' BCS fate. If OSU declaws the Wolverines for the fourth straight time, the thermostat will get cranked up on Michigan coach Lloyd Carr. We asked our coaches, Bill Curry and Mike Gottfried, to draw up game plans for both teams. Then we had Jim Donnan pick a winner.
Curry takes over Michigan
I expect QB
Chad Henne
and RB
Mike Hart
to be healthy. They'd better be. Backup QB
Ryan Mallett
has a very strong arm and will be great, but he's not there yet; Henne is a steady hand. WR
Mario Manningham
is a consistent deep threat, and nobody fights harder to come down with the ball. On defense, I'd call out LB Shawn Crable in practice by reminding him about last year's personal foul vs. OSU that may have cost Michigan the game. He's a future No. 1 draft choice who can win a game himself, as either a pass-rusher or a pick-sixer. Watch SS Jamar Adams at the line of scrimmage. He's OK in coverage but is a brutal run-stuffer. RB
Chris Wells
won't ever want to see him again.
Read the full story here.

A Closer Look At The SEC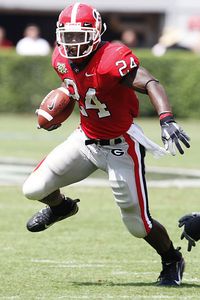 Dale Zanine/US Presswire
Knowshon Moreno has sparked Georgia's offense.
By Rod Gilmore, ESPN.com
Saturday's Kentucky-Georgia game intrigues me because it looks like it could be another Pac-10-type game in the SEC. We're used to seeing monster defensive performances from SEC teams, but both the Cats and Dawgs have been lighting up scoreboards this season.
Andre' Woodson
received a lot of attention earlier in the season for his flurry of touchdowns, and the way Georgia was able to exploit Auburn's defense last weekend was eye-opening. Dawgs QB
Matthew Stafford
averaged more than 21 yards per completion against the Tigers. He rivals Woodson in his ability to throw the deep ball. And he's hardly alone. With
Knowshon Moreno
,
Sean Bailey
and
Mohamed Massaquoi
attacking, it's tough for any defense to hold up. Of the four, Moreno might be the most fun to watch -- both during the play and after. Watch him on the sideline, the way he struts to the huddle, how quickly he bounces back from a hit. His energy, passion and love for the game spark this Georgia team, and Moreno's the reason the Dawgs are still in the SEC hunt.
By Jim Donnan, ESPN.com
Next weekend, the SEC wraps up its regular season with a number of can't-miss games: Georgia-Georgia Tech, Tennessee-Kentucky, Arkansas-LSU, Florida State-Florida, Clemson-South Carolina and Alabama-Auburn. The logical question is, do any of these teams have to worry about suffering the same fate as Ohio State? Wins are particularly important for Georgia and Tennessee, which are still in the hunt for the SEC East title. Georgia faces a Kentucky in a must-win game Saturday. The Cats beat Georgia last season 24-20, and the Dawgs understand what is on the line. But they've been on a such a run that even if they don't catch Tennessee in the division race, they still are in a position to get a bid to a BCS bowl. Stopping the pass has been the UGA's biggest weakness, which UK will look to exploit. A Cats win wouldn't be a tremendous upset, but it seems unlikely. Tennessee needs wins against Vanderbilt and Kentucky -- teams it has defeated 43 of the last 44 times -- to win the SEC East race. It will be interesting to see how Georgia and Tennessee react to the pressure.
The Game Before The Big Game
By Bill Curry, ESPN.com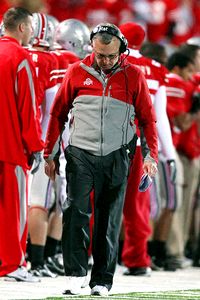 Matthew Emmons/US Presswire
Jim Tressel's team got tripped up before its showdown with Michigan.
Ohio State proved last week that even the best teams can get caught looking ahead -- and often do. With rivalry weekend looming, coaches have the unenviable task of attempting to get their teams to focus on the task at hand. There is no simple answer to how to do this, and the truth is, even the best coaches probably don't spend enough time talking to their teams about it. Some of the greatest coaches of all time lost the game before the big game, time and time again. When you're getting ready for your rival, you can't begin preparing the week before, or two weeks before (if you have an off week). It has to be year-round. Coaches should start talking to their teams in January, especially if they are the "other" school in the rivalry, as my former team, Georgia Tech, is in its rivalry. When your team is seen as the weaker of the two, a win can make a season. And you're expected to win more than your share of games. One of the best coaches at preparing for a rivalry game was former Pitt coach Mike Gottfried, who went 2-2 against Penn State. He instilled in his team year-round the importance of the Penn State game, and his teams prepared with great intensity. His teams knew it wasn't just the score of the game that was important, but beating the Nittany Lions every day -- in the weight room, on the practice field, in film study. Gottfried said his method didn't dilute from preparation for other games, as long as the team followed through with that preparation as well. My teams didn't fare as well as I would have liked in rivalry games, and I've given a lot of thought to what I would have done differently. The best answer I've been able to find is that you have to treat each game with equal importance.
Viewer's Guide
(All times ET)
Friday:
11 p.m.:
Hawaii at Nevada (ESPN2)
Saturday:
10 a.m.:
"
College GameDay
" from Ann Arbor, Mich. (ESPN)
Noon:
Ohio State at Michigan (ABC)
Northwestern at Illinois (ESPN)
Syracuse at Connecticut (ESPN2)
3:30 p.m.:
Iowa State at Kansas (ABC)
4 p.m.:
North Carolina State at Wake Forest (ESPNU)
7:45 p.m.:
West Virginia at Cincinnati (ESPN)
Boston College at Clemson (ESPN2)
8 p.m.:
Oklahoma at Texas Tech (ABC) •
Schedule
|
GamePlan
|
Coverage map
Three-Point Stance
By Ivan Maisel, ESPN.com
1.
Matt Forte of Tulane and Kevin Smith of UCF have rushed for 3,581 yards and 39 touchdowns between them. Are they really good or are Conference USA defenses unable to stop the run? In nonconference, I-A games, Smith averaged 161 yards per game; Forte, 68.3. To be fair, Forte faced Mississippi State and No. 1 LSU. But Smith saw NC State, Texas and South Florida. Edge: Smith.
2.
Ohio State-Michigan lost some fizz after the Buckeyes fell from No. 1. Alabama-Auburn moved to next week. Clemson-South Carolina is there, too. Thank God for Harvard-Yale. They both come into The Game unbeaten in Ivy League play for the first time since the Crimson's 29-29 "victory" in 1968.

3.
Hawaii quarterback Colt Brennan has been cleared to play at Nevada on Friday night after enduring the blow to the head that knocked him out (literally) against Fresno State. Keep in mind two things: Coach June Jones' teams have never won at Nevada. Game-time temperature will be around 50 degrees. And not getting warmer. Here's the test that BCS cynics expect Hawaii to pass.
Coach's Corner
By Jim Donnan, ESPN.com
One of a college coach's top responsibilities is recruiting. Here are a few tricks of the trade I've picked up over the years: 1. Always get the prospect's girlfriend's cell phone number. You can always get in touch with him through her. 2. Find out who the recruit's confidante is on the faculty at the school, outside of the coach, and meet with him. 3. Never meet with the prospect in the coach's office. Everybody does that. Take him somewhere different, so your visit will stand out. 4. When the recruit visits, it's critical to find a host with similar interests so the recruit isn't turned off and gets to see the sides of the school that would interest him. It's also important to coach everyone from the host to the school president on the recruit's background and what the hot buttons are for the recruit and his family. 5. If a prospect is having doubts about playing time, or there is a proven player on the team in the position they would be competing for, ask them, "Why would you give up the chance to play where you've always wanted to play? You're a competitor. You've always been the best. Why wouldn't you be here?" 6. If you're trying to get a commitment and it's really tense in the room, break the ice with a joke. My go-to line: "Hey, [insert player's name]. Listen. My wife wouldn't have married me if I didn't ask her, so how bout it -- do you want to play for [insert school]?" 7. If the recruit is close to signing or you're worried he might waiver on his commitment, and his mother is on your side, there's one tried-and-true method: Ask her to start crying. No recruit is going to turn down his crying mother. Works every time.
EA Sports: Ohio State-Michigan
Beano's Cookin' on the Big Ten
Fan Feedback
By Jim Donnan, ESPN.com
Each week, I'll propose a rule change I think would benefit college football. Sound off on the Conversation page and let me know what you'd like to see changed.
Currently, football players are restricted to four years of eligibility, to be used in a five-year window. Because so many players want to go to the NFL in three years, we've seen a dramatic decrease in the number of players using redshirt years. I would propose the NCAA allows five years of eligibility in five years. This alleviates the tension around the redshirt year -- freshmen don't have to worry about wasting a year if they see limited time on the field, and coaches can build depth in their teams. What do you think, SportsNation? Sound off.
Coach Holtz on Notre Dame
The Rivalry: Michigan-Ohio State
By The Numbers
By ESPN Research

• Arizona's upset of Oregon on Thursday was the 10th time an unranked team has beaten a top-five team this season. Since the AP poll began in 1936, this is the most such occurrences in any season in which more than 10 teams were ranked. The only other time there were more than eight wins by unranked teams over top-5 teams was 1967, when the AP poll ranked only 10 teams. (There were 11 that year, and seven of them weren't even real upsets, because the unranked team was receiving votes and would've been ranked in the 11-20 range if the poll had extended that far.)

• Colt Brennan has a chance to break Ty Detmer's major-college record for career touchdown passes at Nevada on Friday (
ESPN2, 11 p.m. ET
). Brennan and Detmer are currently tied with 121 each. Brennan's bigger concern, however, will be overcoming last week's concussion to keep Hawaii's perfect season alive.

• LSU returns to the top of the AP poll after holding it for two weeks earlier in the season. The last team to be No. 1 in the AP poll, lose a game and get the No. 1 ranking back in the same regular season was the FSU Seminoles in November 1993. FSU was No. 1 all season, lost to Notre Dame, then regained the spot after Notre Dame lost a week later. (The Seminoles went on to win the national title).

• Kansas ranks first nationally in turnover margin (an amazing plus-20), first in kickoff returns (30.2) and easily leads the country in fewest penalties (3.7) and fewest penalty yards (31.4). The Hawks have been flagged three times or less in seven of their 10 games this season, actually averaging fewer penalties in Big 12 play (3.3) than nonconference play (4.3). In its entire history, KU has led the nation in a statistical category just twice (pass defense in 1939 and punt returns in 1996).

• Texas Tech's Graham Harrell should reach the 5,000-yard passing plateau for the season against Oklahoma, and with a bowl still to play, he has a chance to become only the fourth player in major-college history to have 5,000 passing yards and 50 touchdown passes in the same season. He enters Saturday with 43 TD passes this season.

• Florida's Tim Tebow has accounted for an SEC single-season record 42 touchdowns. The total is more than 85 Division I-A teams, including 11 in the current top 25. Tebow also has both a rushing touchdown and a passing touchdown in 11 consecutive games, a school record and the longest streak in the nation for any player.