Sooner Rather Than Later
When All-American middle linebacker Curtis Lofton made the last-minute decision this past January to forego his senior season and declare for the NFL draft, the Oklahoma defense was supposed to soften. So went the winter conventional wisdom. Only two starters who lined up behind the defensive line in 2007 would return for 2008, and one of them, junior Ryan Reynolds, would have to move from weakside linebacker to replace Lofton in the middle.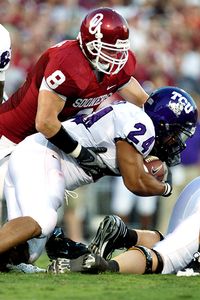 Matthew Emmons/US Presswire
Ryan Reynolds and the Sooners are holding opponents to 13.8 points per game.
Reynolds now is flanked on the strong side by junior Keenan Clayton, a former safety who bulked up to -- paging 1985 -- 220 pounds to take on tight ends. On the weak side is redshirt freshman Travis Lewis, who won the job in August.
But here's where the story takes a strange turn. The Sooners' defense is playing better than it did a year ago in nearly every statistical category. Oklahoma leads the nation in pass efficiency defense (85.57), leads the Big 12 in total defense (256.2 yards per game) and is second to Texas in scoring defense (13.8 points per game).
The linebackers, it turns out, are doing just fine. They rank 1-2-3 among the Sooners in tackles. Reynolds has 43, Lewis has 41 and Clayton has 40. Lewis and Clayton, with five tackles for loss apiece, are tied for second behind end Auston English, who has six.
Reynolds, a 6-foot-2, 234-pound junior, makes his plays by being exactly where he is supposed to be. That is not an exaggeration. In the 49-17 victory at Baylor on Saturday, Reynolds graded out at 100 percent. Defensive coordinator Brent Venables said that in his 13 seasons as a linebacker coach, during which he has coached five All-Americans and two Butkus Award winners, he has never before awarded a grade of 100.
"He's a rock," Venables said. "You can count on him in so many ways: his toughness, making plays, making the plays he's supposed to make so everything else works right, getting guys in the right alignment, making the right checks, his awareness, his communication. 'Hey, here comes this play, here comes that play.' Just his consistency. It's invaluable."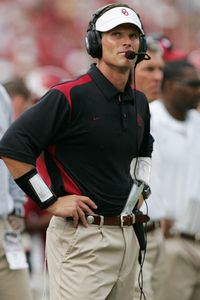 J.P. Wilson/Icon SMI
Defensive coordinator Brent Venables likes what he is seeing from LB Ryan Reynolds.
Being in the right place, Venables said, is the real reason Reynolds has been able to deliver one or two decleaters every game this season. Reynolds leveled Baylor quarterback Robert Griffin for a 2-yard loss in the first quarter Saturday. Griffin kept the ball around the end, and as he reached the line of scrimmage, Reynolds angled at him from behind the scrum. Griffin went from vertical to horizontal in an instant.
"There's a lot to positioning, a lot to assuredness, a lot to knowledge," Venables said. "Confidence is knowledge, and [with] confidence and knowledge together, you're going to be able to make those hard hits."
The preseason doubts about the Sooners' linebackers spurred Reynolds to prepare. He feels better because the knee injury that knocked him out of the 2006 season is that much further behind him. He also had to deal with changing positions, getting used to having open field on both sides of him.
"I'm a lot more comfortable in the middle," Reynolds said. "It allows me to see the whole offense, what they're doing, be able to make the call. … It's just a better position for me than the weak side."
Venables grumbled a little bit Saturday about how Lewis and Clayton lined up on a couple of plays against Baylor's spread offense. But this defense in general, and these linebackers in particular, are a big reason the Sooners are No. 1.
"It's nice for us as a group to rise above … and hopefully change a lot of people's opinions with the way that we play," Reynolds said. "We're not near where we need to be right now."
Maybe not, but you don't hear Lofton's name so much anymore.
Eyes On Texas Offense
The more you study the Texas offense, the harder it is to figure out exactly how the Longhorns average 47.2 points and 471.8 yards per game.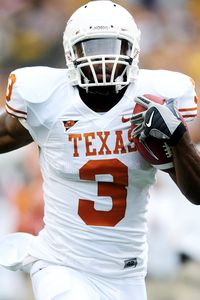 Dustin Bradford/Icon SMI
Chris Ogbonnaya gave the Texas offense a boost with 187 total yards against Colorado.
Texas is putting up those numbers without a tailback who can draw the defense toward the line of scrimmage. Sophomore Vondrell McGee has started three games. Senior Chris Ogbonnaya and redshirt freshman Cody Johnson have started one each. Together, they have rushed for 473 yards, which, if they were one back, would make them 35th in the nation.
Texas is putting up those numbers without a tight end who can catch a ball. Blaine Irby, who caught 10 passes in the first three games, dislocated a knee cap against Rice and is out for the season. Senior Peter Ullman started the Arkansas game and caught one pass for 4 yards. Ullman made room for sophomore Greg Smith, who didn't catch a pass at Colorado on Saturday. Ullman is back at the top of the depth chart for this Saturday's Oklahoma game (ABC, noon ET).
At his news conference Monday, Texas coach Mack Brown had questions, not answers, about tight end. "The last half of the season," Brown asked, "where do we go? What do we do?"
At tailback, there is some sense of comfort with Ogbonnaya, a fifth-year jack of all trades who produced 187 total yards and two touchdowns at Colorado. But Ogbonnaya had not started a game before this season. The hope remains that redshirt freshman Fozzy Whittaker, whose right knee injury has limited him to one game (12 carries, 72 yards at UTEP), will return healthy enough to carry a tailback's load.
"Every week, we've thought that he would play, and he just hasn't," Brown said. "He just hasn't been able to get cleared yet to play. What we've got to do is go back and now really review the first five games and try to figure out what situations is each guy best in."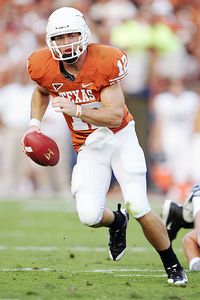 Brian Bahr/Getty Images
Colt McCoy is the Horns' leading rusher through five games.
The sooner that happens, the sooner that burden will be lifted from quarterback Colt McCoy's shoulders. All of which brings us back to the question of how Texas has been able to score so many points and gain so many yards. There is a veteran offensive line that learned, sometimes painfully, on the job last season and is reaping the benefits of that apprenticeship. There are the senior wide receivers, Quan Cosby and Jordan Shipley, who have exactly half of the Longhorns' completions (56 of 112).
The obvious answer is the talent of McCoy, whose accurate passing (fourth nationally in passing efficiency with 197.9) has been abetted this season by a newly displayed ability to run the ball. McCoy leads the Longhorns with 317 rushing yards, and he is the reason defenses must respect the Texas running game.
Brown is not immune to the charms of a running, passing quarterback. Vince Young led the Longhorns to the 2005 national championship. But this offense is so dependent on McCoy, Brown and offensive coordinator Greg Davis don't want to put him at risk.
"We're asking Colt to carry it about four times a game that are designed runs," Brown said in his office last week, "and then he does it on his own four or five times a game that are scrambles. As much as it sounds like he's been our running game … we're not trying to make him our runner. But when he's running it, he's making really good judgment, and he's making yards."
Ivan Maisel is a senior writer for ESPN.com. Send your questions and comments to Ivan at ivan.maisel@espn3.com.
3-Point Stance

Saban
1. At Alabama, coach Nick Saban suggested tailback Glen Coffee might carry a football into the dining hall this week after Coffee lost a fumble at the Kentucky 5-yard line. At Iowa, coach Kirk Ferentz, a former Saban assistant, suggested his Hawkeyes' three red-zone turnovers in their past two games resulted from a lack of experience and concentration. Given that the Tide won their game and the Hawkeyes lost both of theirs, maybe Ferentz should take a suggestion from his former boss.

2. The good news is that Michigan, despite its 2-3 record, has a .692 touchdown percentage in the red zone. The bad news is that, through five games, the Wolverines are only 9-of-13. Michigan's scoring average of 20.6 points per game is its lowest since the 1984 team averaged 17.8 points per game. That's also the last Michigan team that didn't finish with a winning record. Those Wolverines went 6-6, losing in the Holiday Bowl to eventual national champion BYU.

3. Although the Florida State-Miami rivalry doesn't attract national attention these days, it's worth pointing out that after the Seminoles' 41-39 victory, three of the past four games between the two teams have been decided by a field goal or less. But here's the amazing part: Florida State has won all three. Before that, Bobby Bowden had gone 0-8 against the Hurricanes in games decided by three points or fewer.
Ball Security

Oklahoma's 34-27 loss at Texas Tech on Nov. 17, 2007, turned on the Sooners' first offensive snap. Tailback Allen Patrick fumbled, the Red Raiders' Marlon Williams recovered and Sooners quarterback
Sam Bradford
suffered a concussion trying to make the tackle. Bradford lasted one more possession and left the game, and the Sooners never recovered.
What's significant about a play that cost Oklahoma a shot at last season's BCS National Championship Game? That remains the last fumble the Sooners have lost. Oklahoma has run 692 plays over nine games without losing a fumble. The Sooners have fumbled five times in that period, three of them this season, but have recovered all five.
Podcast: Ivan and Beano
Beano Cook joins Ivan in the ESPNU College Football Podcast to discuss the history of the Red River Rivalry, the Week 7 games and more. Listen

Put To The Test
As if the fifth-ranked Texas football team doesn't have enough to do in preparing for No. 1 Oklahoma this week: The Longhorns and the rest of the 39,000 undergraduates in Austin are taking midterms.

"The whole team will be going through midterms and classes and studying," Texas quarterback
Colt McCoy
said. "It will be hard to handle, but we got to do it. There's no way around that."
USC is finishing midterms this week as it prepares to play Arizona State. Penn State will take its midterms next week before the Michigan game. But neither of those games includes the tradition and passion of the game that will be played Saturday in Dallas.
Texas and Oklahoma have been playing on the second Saturday in October for as long as anyone can remember, and coach Mack Brown's players have had to deal with midterms and the Sooners at the same time for as long as he can remember.
"We actually have some kids who miss practice because of study sessions," Brown said. "You can't tell a kid, 'It's a great school, come and get a great education,' and not let him. We've adjusted practice sometimes for it. We've moved back. We've moved up. It is what it is. We try not to act like it's an excuse."
It doesn't have to be. Navy took its midterms the week of Sept. 22-26. At the end of the week, the Midshipmen upset Wake Forest 24-17.
Up And Running
It's hard to say one game means Army football is back. But in a decade in which the Black Knights had gone 17-80 before Saturday, the 44-13 victory at Tulane felt so good on so many levels. Army rushed for 291 yards and scored three unanswered touchdowns in the fourth quarter. Any team that dominates the fourth quarter doesn't do so by accident.

Coach Stan Brock's decision to return the Black Knights to an option-based rushing game this season is looking smarter. Army dumped the option when it fired Bob Sutton after the 1999 season. In the eight subsequent seasons through last year, Army rushed for more than 275 yards against Football Bowl Subdivision competition only twice.
That would suggest the Tulane game was a fluke, except for one fact. A week earlier, Army had rushed for 280 yards in its 21-17 loss at Texas A&M. Army football might not be back. But the Black Knights have started down the road back.
Poll Position
Notre Dame is making progress, yet it has not shown up in the polls, which leads us to the bad news for Notre Dame. Since The Associated Press began polling in 1936, no Fighting Irish team has been 4-1 and unranked. That might be the real cost of the Irish's 3-9 collapse last season. They used up all their credibility.

That's not to say Notre Dame should be ranked. None of the four teams the Irish have beaten has a winning record. In fact, it's been 33 years since Notre Dame began the season against five unranked teams. But a soft schedule never stopped voters from ranking the Irish before.
Take the 1964 Irish, coming off a 2-7 record. They began the season unranked. By the sixth game, after beating five unranked opponents, Notre Dame stood No. 2 in the nation.
Notre Dame will have a national stage Saturday at No. 22 North Carolina (ABC, 3:30 p.m. ET). The Tar Heels, like the Irish, have a 4-1 record after a subpar season (4-8 in 2007). However, North Carolina moved into the poll after routing UConn 38-12 this past Saturday. If the Irish beat a Tar Heels team very similar to them -- young and improving -- on the road, they will earn a little more credibility.