Stealth Fighting
The Ohio State team preparing to play No. 3 Penn State in the Horseshoe on Saturday night (ABC, 8 ET) is not the same team that lost at USC, 35-3, on Sept. 13. This team yet may be penalized for the sins of its elders, the Buckeye teams of 2006 and 2007 who played great up to, but without a doubt not including, the BCS National Championship Games.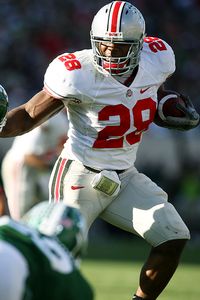 AP Photo/Al Goldis
A healthy Beanie Wells has made a big difference for the Buckeyes.
The Ohio State that won at Michigan State 45-7 and arrived for its matchup with Penn State at No. 9 in the initial BCS standings is different. It is powerful on offense, a direct result of the better health of tailback Beanie Wells. It's less impressive that Wells rushed for 140 yards against the Spartans than it is that he rushed 31 times. The right foot he injured in the opener is supporting his 230 pounds and the other 10 starters on offense.
A healthy Wells leaves fewer defenders to focus on freshman quarterback Terrelle Pryor, who plays with more confidence and more flair every Saturday.
Wells and Pryor may not be enough on Saturday. This Penn State team has had one mediocre half this season, last Saturday against Michigan, and responded by winning the second half, 32-0. But Ohio State has redeemed itself by regaining its poise out of the national spotlight.
The Buckeyes aren't the only stealth team out there.
Boise State is undefeated, ranked No. 12 in the BCS and in great position to win its second BCS berth in three seasons. Like the Buckeyes, the Broncos have jelled behind a freshman quarterback. Kellen Moore not only has shown the poise of an upperclassman but he is also sixth in the nation in passing efficiency (172.7 rating).
While BYU and its 16-game winning streak attracted the most attention, Boise State has put itself in great position to nail down an automatic bid. Yes, Utah is rated 11th, just ahead of Boise State, and has tougher opponents down the stretch. No. 14 TCU could defeat Utah next week and jump ahead of Boise State. And the Broncos play four of their final six games on the road against WAC opponents, beginning Friday night at San Jose State (ESPN2, 9 ET).
However, the point is Boise State has made it halfway through the season under the national radar.
No. 17 Pittsburgh lost its opener to Bowling Green and seemed to sign another year's lease on obscurity, in which the Panthers have played for several years. But the Panthers have won five in a row since the opener. They have wins over Iowa and No. 16 South Florida that will bulk up their computer profile. If Pitt can win at Notre Dame on Nov. 1 and at Cincinnati on Nov. 22, they will go into the Backyard Brawl against West Virginia on Nov. 28 looking like an Acela train.
The second-highest rated ACC team is No. 25 Florida State. You remember the Seminoles? Funny coach? Won 10 games every season? Two national championships? Florida State started slowly, winning two games against FCS opponents and then committing seven turnovers in a 12-3 home loss to Wake Forest. But in three consecutive wins, as the 18 players suspended in the academic fraud scandal became comfortable, Florida State has played well.
The Seminoles have played sound defense and emitted a spark or two on offense. Offensive coordinator Jimbo Fisher has found a quarterback in sophomore Christian Ponder. In recent seasons -- 2004, 2005, 2007 -- the Seminoles have started fast and faded, but this team feels different. The Seminoles are young and looking as if they are improving every week. They may not be the Florida State of old, but they're not the Florida State of recent times, either.
No Turning Back
USC is on the road again this week against an opponent that looks a lot more like the Oregon State team that beat the Trojans in their first Pac-10 game away from home than the Washington State team USC pounded in Pullman last week.
Trojans coach Pete Carroll, in discussing how his team has overcome its 27-21 loss to the Beavers, gave three reasons why USC has gotten back into the national championship race. They are fifth in the opening BCS standings.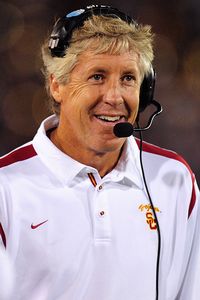 Robert Laberge/Getty Images
The Trojans have given Pete Carroll much to smile about lately.
1. The Trojans ended the midseason vacation they took after their 35-3 rout of Ohio State. After preparing for a game for eight months, and winning it, and having a week off to revel in it, the Trojans awoke in the second half at Oregon State and found themselves behind, 21-0.
"As much as I would like to think we could handle the big matchups," Carroll said, "which we played beautiful football against Ohio State, the aftermath and the time off that we had, for whatever reason, we didn't have the same energy that we need to play and we got our butt kicked."
2. The Trojans are paying attention to every opponent again. More often than not, that has been their downfall. USC has lost seven games since the beginning of the 2003 season. In five of them, the Trojans were favored to win by at least 10 points.
The most impressive aspect of the 69-0 victory at Washington State last Saturday is not the margin of victory in and of itself. It's that USC won by the appropriate margin. The Trojans are that much better than the Cougars.
"We played almost perfect," Carroll said by telephone Tuesday. "We matched up with great energy and great intensity in the game and we didn't care who they were. Or what was going on. That is what we've tried to do every week for years and every once in a while it doesn't happen."
Martin Stadium seats a few more than 35,000, and it was about two-thirds full for the USC game. That is to say, the campus libraries had more zip than the stands in Pullman on Saturday afternoon.
"We had to create our own energy and juice and all that and we did it," Carroll said. "We did it from start to finish. Our sideline was electric the whole game. Our guys were in it the whole time. The first guys were being supported by the second guys, and then it flip-flopped, the second guys were out there and the first guys were going crazy for them. That's bringing it. Everybody was in it the whole way. We didn't care who we were playing. That's our mantra around here and it always will be."
3. USC is healthy, as healthy as it has been at midseason since the national championship years. Thirteen Trojans have started every game, and another four have missed only one start.
"We had very few major surgeries in this offseason, so we had a lot of guys available. We weren't running guys into the ground, either," Carroll said. "We've played a lot of guys and we have rotated a lot of guys in there. And when our guys have come out of games, some missed games, the guys who stepped up have done really well and taken over some spots. So it's been really competitive on the practice field."
Plains Dealing
Coaches of struggling teams look forward to off weeks for the opportunity to teach. Most weeks are spent installing game plans. But for restless fans, off weeks are nothing but petri dishes for rumors. Auburn coach Tommy Tuberville, the subject of speculation for a week as the Tigers prepare to play at West Virginia on Thursday night, began his press conference Monday by refuting one piece of gossip after another.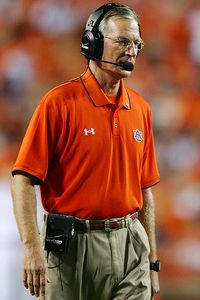 Doug Benc/Getty Images
Tommy Tuberville and the Tigers walk into their bye week at 4-3.
Tuberville hasn't had a stroke. He isn't tired of recruiting. He hasn't negotiated anything regarding a contract.
"It's just amazing the rumors that go around when things are not going as good as you would hope," said Tuberville, whose Tigers are 4-3. "No matter what happens anywhere, you're going to have years that things are not going to go perfect. That's my job to get it straightened out."
It is true Auburn's attempt to move to the hurry-up spread flamed out. It's true Tuberville fired offensive coordinator Tony Franklin 10 months after hiring him and six games into the season. It's true Auburn has begun to struggle just as rival Alabama has soared to No. 2 in the nation.
But it's also true the Tigers have led all seven of their games at halftime. Their three losses have come by a total of nine points. These are problems Ty Willingham of Washington or Greg Robinson of Syracuse would love to have.
"I just wanted to let you know," Tuberville said. "I've been here 10 years. I plan on being here 10 more. I'm looking forward to it. All these rumors get started. I'm 10 years an Auburn man and I'm 10 years more of an Auburn man than most because I've put my heart and soul in this thing and we ain't going to stop now."
Tuberville doesn't usually respond to Internet static. That he felt the need to respond this week indicates the havoc his failed offensive experiment has wreaked.
Ivan Maisel is a senior writer for ESPN.com. Send your questions and comments to Ivan at ivan.maisel@espn3.com.
3-Point Stance

1. Clemson athletic director Terry Don Phillips plans on interviewing five or six head coaching candidates after the season. But Phillips told interim coach Dabo Swinney he can "earn" the job if the Tigers finish strong. Swinney impressed South Alabama athletic director Joe Gottfried when he interviewed to become the Jaguars' program-starting head coach last year. "He's a sharp, young guy," Gottfried said. "He had a lot of things we were looking for."

2. The five BCS conference teams with the longest bowl droughts are, in order, Vanderbilt (last bowl: 1982), Baylor (1994), Duke (1994), Arizona (1998) and Stanford (2001). Four of the five are at .500 or better this season, and Baylor is hanging in there at 3-4. All of that in the same season in which Michigan, with the longest bowl streak in the country at 33 seasons, is going 2-5 and looking as if it will not play in the postseason. Weird.

3. Along the same lines, look at the NCAA rushing statistics: The top three teams are Louisiana-Lafayette (Sun Belt), Nevada (WAC) and Air Force (Mountain West). Rushing stats used to look like the Social Register of college football. Only the powerful need apply. Now only three teams in the BCS top 10 rank among the top 20 rushing teams: No. 2 Alabama (19th), No. 3. Penn State (10th) and No. 6 Oklahoma State (fifth).
Hurricane Force

Former Tulsa head coach Dave Rader, back in the city after his four years as Alabama offensive coordinator ended in 2006, has seen all four of the No. 19 Golden Hurricane's home games and is here to vouch that the offense putting up 56.6 points and 624.7 yards per game is for real.
"I don't know if there's no defense in Conference USA," Rader said. "I don't know what the offense would do in the SEC because the [defenses there] are so fast. Tulsa is fast and they have good personnel and the guy hardly ever gets hit."
The guy, senior quarterback David Johnson, is on pace to set an NCAA record in passing efficiency. He has completed 138-of-200 passes for 2,397 yards and 31 touchdowns. His rating of 212.82 is light years ahead of the season record of 186.0 set by Colt Brennan of Hawaii two years ago

Johnson
Johnson's best stat? He's averaging 12 yards per attempt. Any coach who gets eight yards per attempt out of his quarterback skips to and from the practice field.
Johnson has flourished under head coach Todd Graham and offensive coordinator Gus Malzahn. Of the wide open offense, Rader said, "What he does are all the things that you think, 'Yeah, we oughta do that,' but you never do it because you don't know how sound it is: reverses, fake reverses, play-action off reverses, no back, one back ..."
Tulsa has been slow to gain attention because of its soft nonconference schedule. However, after its game Sunday night against UCF (ESPN, 8 ET), the Golden Hurricane will play at Arkansas on Nov. 1. That's the previous employer of Malzahn, who coached there for the dysfunctional 2006 season on former Razorbacks coach Houston Nutt's staff.
Podcast: Ivan and Beano
Beano Cook joins Ivan in the ESPNU College Football Podcast to discuss the first BCS standings of the season, some title-game scenarios and more. Listen

Boston Common

So much for preseason analysis. What is supposed to be a rebuilding year for Boston College has begun to resemble the Atlantic Division championship run of a year ago. This season, however, the Eagles, 5-1 after defeating Virginia Tech, are dominant because of their defense, which is something rarely written when the final score is 28-23.
Boston College shut down young Virginia Tech quarterback Tyrod Taylor and limited the Hokies to 240 total yards. The Hokies drove into the red zone only once and produced only two field goals on their own. Those numbers are of a piece with what the Eagles have done all season. They lead the nation in pass efficiency defense (86.70 rating) and red zone defense (58 percent scores allowed, including only four touchdowns in 12 possessions).
The looming question is whether Boston College can continue to play at that level without fifth-year senior linebacker Brian Toal, out for the season after breaking his right leg Saturday. Veteran defensive coordinator Frank Spaziani, a guy who doesn't get near the acclaim that he should, just got more work dumped on his desk.
Operation Interception

It may not be fair to ascribe a season's worth of problems to one statistic, but this one will pique your curiosity: Indiana led the Big Ten last season with 19 interceptions. This season, the Hoosiers only have one, by junior free safety Nick Polk.
That could be a reason Indiana, which last season played in its first bowl in 14 seasons, is 2-5 and takes a five-game losing streak into its home game Saturday against No. 22 Northwestern.
The Hoosier defense misses corner Tracy Porter, an all-conference player who made six picks last season. And then there is the case of all-conference defensive end Greg Middleton, who led the nation with 16 sacks in 2007. He has one sack and 10 tackles in six games this season. Middleton missed the opener, serving a suspension for violating team rules. The Hoosiers do have 14 sacks, which could mean that the attention that offensive lines are paying to Middleton has left holes elsewhere.
However, opposing quarterbacks have a pass efficiency rating of 146.29, which sounds like they are getting plenty of time to throw. And the Indiana defense can't get off the field. Opposing offenses are holding the ball nearly 33 minutes per game and converting almost 40 percent of their third downs.
So Indiana's downfall isn't just on the secondary. But going from 19 interceptions to one forces you to take a look.
Political Science
Oklahoma political science professor Keith Gaddie, who sounds like the kind of political science professor I wish I had had, tracked the Texas-Oklahoma rivalry back to 1932. In years in which Texas has won or tied, the Democrats have been 8-3 (72.7 percent) in presidential elections. When the Sooners have won, the Republicans have won six of eight (75 percent).
I ran the numbers back to 1932 on the Notre Dame-USC, Ohio State-Michigan, Georgia-Florida, Clemson-South Carolina and Army-Navy rivalries, and back to 1948 on Auburn-Alabama (the Crimson Tide and the Tigers didn't play from 1907-47). Only one other trend emerged: When Democrats win the presidential election, Alabama is 6-0 against Auburn.
Given that Alabama is looking to break a six-game losing streak to its biggest rival, Tide fans may root for a Democratic victory. Given that the state of Alabama is redder than red, they may not.
But check this out: going back to 1932, when a Democrat wins, Navy is 5-4-1; When a Republican wins, Army is 4-4-1. The armed services remain neutral, as always.