Proving Ground
Now is the time to prove the nation wrong. For 8½ seasons, Texas Tech has won games. But the Red Raiders haven't won enough to convince the voters that Texas Tech belongs among the powers of the game. The fans chafe at the commonly held notion that head coach Mike Leach's offense picks on the afflicted and melts in the glare of the spotlight.
Now is the time to prove the nation wrong. Under Leach, the Red Raiders are 10-26 against ranked teams, 63-11 against everyone else. Now is the time to prove that Texas Tech has not bulked up its record on bought victories. In Leach's nine years, the Red Raiders have played five nonconference games against teams from automatic-bid conferences during the regular season, none since 2003.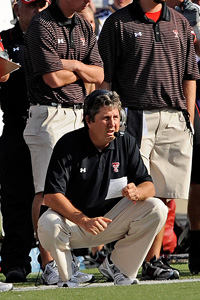 Peter G. Aiken/Getty Images
Mike Leach and the No. 7 Red Raiders can reach new heights Saturday with a win over No. 1 Texas (ABC, 8 p.m. ET).
This is the week. On Saturday night, No. 1 Texas brings its reputation, its history and tradition, and a team more resilient than ostrich boots into Jones AT&T Stadium. Texas has defeated three top-11 teams in the past three weeks. Texas Tech didn't face a ranked opponent until it went to No. 23 Kansas on Saturday. Here's the kind of respect the Red Raiders get these days. Kansas went into the game as a one-point favorite. Texas Tech won 63-21.
Now comes Texas.
"We aren't thinking about what's behind it," Texas Tech safety Darcel McBath said Monday in comments distributed by the university. "It's just another game and we are excited to play."
The Red Raiders don't have to think about what's behind it. They have nearly a half-century worth of players and alumni behind them thinking about it. Texas Tech has been trailing Texas and Texas A&M, first in the Southwest Conference and now in the Big 12 South, since the SWC invited the school into the league in 1960.
As the power in the SWC shifted -- from Texas to Arkansas, from Texas to Houston, from Texas to SMU, from Texas to Texas A&M -- Texas Tech remained on the outside looking in. In 1976, the last time the Red Raiders began the season 8-0, they climbed to No. 5 in the polls. No. 9 Houston, in its first year in the SWC, went to Lubbock and beat Texas Tech 27-19.
That's as close to winning a league championship on the field as the Red Raiders have ever got. Oh, they represented the SWC in the Cotton Bowl in 1994, but only because the NCAA had sent Texas A&M to its room for the postseason. In the 12 seasons of the Big 12's existence, the Red Raiders have contracted a bad case of Sooner-Longhorn disease. Texas Tech is 7-17 against the Twin Towers of the Big 12 South.
So this is it, no matter how much Red Raider coach Mike Leach dismisses it. "We just need to be the best we can be and worry about what we do," Leach said, as a thousand coaches have said before him.
Leach has earned national respect for his prolific offense and gained national attention for his quirks, such as his infatuation with pirates or his news conferences. His answers begin off the cuff, bounce off the wall and sometimes continue off into space. Behind the diffusion of answers is a smart guy with a law degree and an aversion to boredom.
On Saturday, he can earn national respect for winning. This is Texas Tech's chance. Now is the time.
Academic Center
Ryan McDonald is a graduate student in aerospace engineering, and in his spare time he starts at center for Illinois. Or vice versa. Either way, the fifth-year senior is one of the best in the nation. The National Football Foundation announced Wednesday that McDonald is one of 15 finalists for the Draddy Trophy, or, as it is coming to be known, the Academic Heisman.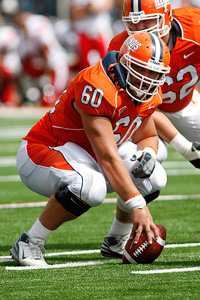 Scott Boehm/Getty Images
Illinois center Ryan McDonald is a finalist for the Draddy Trophy.
Among the nine FBS candidates are quarterbacks Chase Daniel of Missouri and Graham Harrell of Texas Tech, center Alex Mack of California, linebackers Quin Harris of Louisiana Tech and Jeff Horinek of Colorado State, defensive tackle Darryl Richard of Georgia Tech, wide receiver Brian Robiskie of Ohio State and punter/kicker Louie Sakoda of Utah.
From the smaller divisions, the six finalists are quarterbacks Ryan Berry of South Dakota State and Greg Micheli of Mount Union, defensive end Ryan Kees of St. Cloud State, corners Andrew Berry of Harvard and Casey Gerald of Yale, and offensive tackle Brian Freeman of Carnegie-Mellon.
Each of the finalists will receive an $18,000 postgraduate scholarship from the NFF. The winner of the Draddy will receive an additional $7,000 and join former winners such as quarterbacks Danny Wuerffel of Florida (1996) and Peyton Manning of Tennessee (1997) and center Dallas Griffin of Texas (last year).
McDonald, interviewed Tuesday, said being a finalist "would be quite an honor, honestly. It's just a great compliment. It's a magnificent award."
McDonald views the scholarship as recognition of how much work he has taken on since arriving at Illinois in 2004.
"They say we spend 20 hours a week," McDonald said, referring to the NCAA-imposed limit on practice and playing time. "The training room doesn't count. The extra time you put in studying film doesn't count. It's really been 25 to 30 hours for football. I have one class that meets four hours per week and the professor gives us 10 to 15 hours of work per week for just that class. That's been the biggest obstacle -- finding enough time. The coaches can tell when I'm in midterms. My eyes are kind of glazed over."
McDonald had been accepted into engineering school at Illinois before former head coach Ron Turner offered him a scholarship -- the only offer he received from a Big Ten school.
"It took a little convincing of the football program for me to pursue aerospace engineering," he said. One look at his early transcripts -- McDonald has made the dean's list every semester he has been on campus -- and McDonald had no more convincing to do.
He didn't have to convince any professors in the aerospace engineering department, either. It would never occur to them that one of their students plays football.
"I had a professor that stood up in front of class," McDonald said, "and said, 'I got my undergraduate degree from Penn State and my masters and Ph.D. from Michigan. I've been at football schools except for when I came here. Everybody in the class went 'Ooooooh.'"
When the professor figured out what McDonald did in his spare time, he apologized.
"It helped that we had a pretty good year," McDonald said, referring to the 2007 Rose Bowl team.
His teammates call him a nerd, of course, and a ghost. The three offensive linemen who are his roommates never see him. They won't see him on Dec. 9. He'll be at the Waldorf-Astoria in New York, where he will learn whether he wins the Draddy.
Tallahassee Turnaround?
Florida State fans could be forgiven if they cocked an eyebrow when the Seminoles began this season with a 4-1 record. In three of the past four seasons, the Seminoles began with at least a 4-1 record only to fade in the second half.
But the past two games have provided some ballast. Twice the Seminoles have rebounded from 10-point deficits in the first half to win by at least nine points.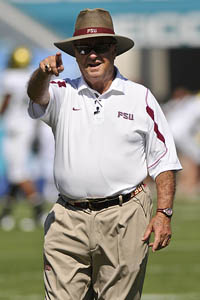 Fernando Medina/US Presswire
Bobby Bowden has No. 15 Florida State pointed in the right direction.
Coach Bobby Bowden, speaking by telephone from his practice field minutes before the team's practice Tuesday, said he trusted his team's success -- to a point.
"Yeah, I think it's what you are looking for," Bowden said. "It's still not of the caliber it was in the '90s. We're trying to get back to that."
Those expectations -- finishing in the top five -- no longer hover over the Seminoles. Their BCS standing of 15th this week is their highest since the 7-1 start in 2005. Since that start, through the end of the 2007 season, Florida State went 15-16, including 4-10 in games decided by seven points or fewer.
"We have lost so many close ballgames," Bowden said. "To be a good team you have to win the close games. This year, we have won the close ones. We haven't blown anyone out, except a couple of I-AA games. We're managing to get by. I'll take that. I'll take that every time."
If Florida State has not turned the corner, the blinker is on and the wheels are pointing in the right direction. In the lone loss this season, a 12-3 defeat by Wake Forest, the Seminoles committed seven turnovers. In those past two comeback victories, the Seminoles did not commit a turnover.
In the red zone last season, Florida State scored a touchdown on less than half of its possessions. This season, the ratio is nearly 2-to-1 (18-of-28, .643), plus kicker Graham Gano has made 13 consecutive field goals, a school record.
The running game has gained strength, even with an offensive line on which three freshmen start. The Seminoles rush for 197.9 yards per game, their highest average in 13 seasons. Redshirt sophomore quarterback Christian Ponder, who wrested the starting job from senior Drew Weatherford before the season, has done nothing but grow into the position.
"You know, the team that wins, you got to have good quarterback play," Bowden said. "If you got an average quarterback, you'll probably be average. So far, his statistics don't jump out at you. He's made third downs a lot."
The Seminoles have converted nearly half of their third downs (47-95), much better than a year ago (64-199, 32 percent).
The remaining teams on the Florida State schedule -- at Georgia Tech, Clemson, Boston College, at Maryland and No. 8 Florida -- are a combined 26-11 (.702). The Seminoles may finish this season no better than their past few. But there is hope. Penn State coach Joe Paterno may have gone from one behind Bowden in career victories at the start of the season to two ahead (381-379), but Paterno is 9-0. Bowden has stayed close.
"That danged Joe runs off and leaves me," Bowden said. "That sorry rascal."
He chuckled and went off to practice.
Ivan Maisel is a senior writer for ESPN.com. Send your questions and comments to Ivan at ivan.maisel@espn3.com.
3-Point Stance

1. I spent several days thinking that the sentiment to give Joe Paterno a last hurrah would cause the poll voters to push an undefeated Penn State into the BCS National Championship Game regardless of what happens in the Big 12 and SEC. Now that I've looked at the schedules of the teams in both leagues, my self-delusion has ended. Penn State, I think, needs a lot of help. But there are six Saturdays left. Who knows?

2. While Florida and Georgia play a BCS Championship elimination game on Saturday, Auburn and Ole Miss will play a bowl elimination game. Both teams are 4-4, and both have two games remaining against ranked teams and/or archrivals. Two more teams in postseason trouble: Clemson, at 3-4, will have to win at least two of three on road trips to Boston College, No. 15 Florida State and Virginia to become bowl eligible. Stanford (4-4) must defeat Washington State and either No. 24 Oregon, No. 5 USC or archrival Cal (5-2).

3. Arkansas looks a lot better at the end of October, after narrow losses to Kentucky and Ole Miss, than it did at the end of September, following blowout losses to Alabama and Texas. Coach Bobby Petrino's five losses are more than half of the nine he suffered in four seasons at Louisville. But the Razorbacks look as if they are starting to understand what he wants from them. Keep an eye on the Hogs.
Podcast: Ivan and Beano
Beano Cook joins Ivan in the ESPNU College Football Podcast to discuss Texas-Texas Tech, Florida-Georgia, Penn State's title chances and more. Listen

Replay Etiquette

Dear Abby,
If you know a play is being reviewed, do you tell the other coaches?
Conflicted in Columbus
Press box elevators are held for the coaches at the end of the game. As the Penn State and Ohio State coaches filed into a pair of elevators -- Buckeyes in the near one, Nittany Lions in the far one -- the referee announced that the Buckeyes' final play was being reviewed. If the replay official overturned Penn State corner Lydell Sargeant's interception, the Buckeyes would have another play. But the Buckeyes coaches didn't know about the review.
A couple of the Penn State coaches were watching the TV above the elevators with all the writers, who were impatient for the coaches to go down so that the elevators could come back and get them.
Penn State quarterbacks coach Jay Paterno stuck his head into the Ohio State elevator.
"Hey, guys," he said, "they're reviewing the last play."
Everyone froze for a moment, and then Ohio State offensive coordinator Jim Bollman and the others bolted to go back to their booth. The Penn State coaches didn't move as fast, and head coach Joe Paterno, cane in left hand, didn't leave the elevator at all.
A few seconds later, the referee announced the interception would stand. The Ohio State coaches filed into the elevator again. Game over.
Never seen that before.
Keeping The Faith

Ask most coaches to cite St. Augustine for inspiration, and they'll gush about someone like Florida junior tailback
Brandon James
of St. Augustine, Fla. But in this case, Penn State quarterbacks coach Jay Paterno got an idea of how to inspire his offense for the Ohio State game from St. Augustine, the 5th-century theologian.
"I was sitting in Mass this summer," Paterno said, "and heard that faith is believing in something unseen."
All last week, the Nittany Lions heard about how Penn State hadn't won at Ohio State in 30 years. Paterno thought of the reference to faith, and then of his father's first victories at Alabama in 1986 and at Michigan in 1994. Those also happen to be Penn State's last two undefeated teams. He asked the Penn State video crew to come up with highlights of those two victories. The offense watched them Saturday morning.
"There came a time when they used their faith in themselves and their teammates to do something that hadn't been done: belief in something unseen," Paterno said. "There came a time for both teams when they had to beat a great opponent in a big-time game on the road."
The message hit home for Penn State freshman Stephfon Green, one of the few offensive stars in the Nittany Lions' 13-6 victory. Green carried three times for 23 yards, getting two first downs, with the third carry setting up the game's only touchdown.
"That was real inspirational," Green said of the video. "I liked watching Ki-Jana Carter. I put myself in the same [situations] and see if I could make the same plays he could make. When my time came, I fed off that."
Faith may be a lesson to which the Nittany Lions refer again. When a team is ranked third in the BCS, believing in things unseen can come in handy.
Feeling Minnesota

Anyone for USC-Minnesota in the Rose Bowl? Anyone? Hello? Is this mike working?
We'll get to that in a minute. First, this note isn't meant to degrade the No. 17 Golden Gophers' turnaround from 1-11 to 7-1. Take a look at the other teams that won one game last season. The transformation from losing to winning:
Duke 4-3
FIU 3-4
Idaho 2-7
SMU 1-8
Second, what's remarkable about Minnesota's turnaround is that the Gophers not only have gotten to 7-1 without beating a ranked team, but could finish 11-1 without doing so. The remaining opponents -- Northwestern, Michigan, Wisconsin and Iowa -- are not ranked. Minnesota has played a ranked team -- No. 12 Ohio State, which won 34-21 at Columbus on Sept. 27. But the Gophers' Big Ten schedule excludes both No. 3 Penn State and No. 21 Michigan State.
If you think of teams that go 12-0 or 11-1 in the regular season without beating a ranked team, you think of the BCS Busters, Utah in 2004 and Boise State in 2006. They didn't even play a ranked team in the regular season, through no fault of their own.
To find a team with no more than one regular-season loss and without a win over a ranked team among the six automatic-bid conferences, you have to go all the way back to, uh, 2006. Only two years ago, Wisconsin went 11-1 with a loss to No. 6 Michigan. The Badgers didn't play Ohio State that year.
Now about that Rose Bowl: If Penn State wins out and goes to the BCS National Championship Game, the Rose Bowl may look to the Big Ten for a replacement. You might think that the way that USC thrashed Illinois 49-17 would give pause to the Tournament of Roses Association. But if you did, you wouldn't understand politics very well.
Dog Days

Seattle Post-Intelligencer columnist Art Thiel, writing Tuesday about the mess that Washington football has become under Tyrone Willingham, said in reference to legendary Husky coach Don James, "Even James in his prime could not have parachuted into the 2008 season and made it a winner."
James, 75, retired from Washington when he was 60 years old, two years removed from taking the Huskies to a share of the 1991 national championship. In April, I asked James what he thought about himself when he looked at his contemporary, 81-year-old Joe Paterno, still going strong.
"I think I could still do it," James said. But then he explained why he doesn't.
"The thing I thought about when I was about ready to retire," James said, "[was] in order to keep it going, you have an idea about what it takes: hours in the office, and recruiting, and I've seen coaches as they got older say, 'Well, I just won't have the night meetings any more. I'll let the assistants handle it.' And I knew you couldn't stay successful. I'd done it for 38 years."
Of the four coaches who have succeeded James, only one, Rick Neuheisel, has challenged for a national championship, when the Huskies won the Rose Bowl and finished third in 2000.
Washington could use a little Don James these days.