The results didn't change much, but the journey was interesting
All About The Journey
By Ivan Maisel, ESPN.com
The college football played Saturday embodied the wisdom found in self-help books and coaching manuals. You know, the one about the journey being more important than the destination. When the day concluded, only one of the top 15 teams had lost. Ho, meet hum. Seven teams began the day undefeated. They ended it that way, too. In the end, nothing much changed.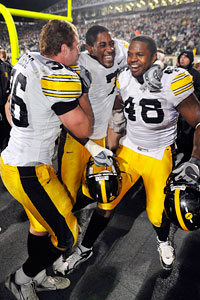 Jason Miller/US Presswire
Iowa has turned the miracle win into a routine occurrence this season.
Try telling that to fans in Tuscaloosa and Iowa City. No. 2 Alabama and No. 6 Iowa did not win until each team made a play with the clock on :00. Try selling that analysis to No. 1 Florida and No. 7 USC, which got pushed to the end by conference opponents who seemed to know just how to probe their vulnerabilities.
In the end, only No. 10 Miami lost, 40-37 in overtime, to Clemson. That seemed unlikely on a Saturday when eight of the top 13 teams in the BCS standings played on the road. No. 8 TCU asserted itself with a 38-7 crushing of No. 16 BYU. The Horned Frogs' victory would have stood out on its own merits.
But given the way that other top teams struggled, TCU's dominance of a ranked team indicates that No. 4 Boise State may have trouble holding on to its status as the top wannabe among the non-automatic-bid teams.
Crimson Tide defensive tackle Terrence Cody blocked his second field goal attempt of the fourth quarter on the final play of the game, saving a 12-10 defeat of longtime rival Tennessee. Cody's block arrested what had been a stunning reversal over the last three minutes of the game for the 8-0 Crimson Tide.
Tennessee forced Heisman candidate Mark Ingram to lose a fumble for the first time in his college career, scored a touchdown, recovered the onside kick and nearly escaped with a game that Alabama had dominated. Instead, Cody made another play, and the Tide escaped. If any team ever needed an off week, it's this one.
Iowa's 15-13, last-play defeat of Michigan State smelled nothing like escape. Ricky Stanzi's fourth-down, 7-yard touchdown pass became an instant legend. If Dr. Seuss ever had written a sports book, he would have named the hero Marvin McNutt. The Hawkeyes receiver made a great move at the line and got open on an inside slant.
Every championship team has one game that it wins almost in spite of itself -- Tennessee's hand-of-God fumble recovery against Arkansas in 1998; Nebraska's foot-of-God reception against Missouri in 1997. If you're an optimist, Alabama and Iowa had their moments Saturday. If you're a pessimist, both teams have offensive problems too great to think that a crystal football awaits them.
The Horns Peak
By Tim Griffin, ESPN.com
COLUMBIA, Mo. -- Texas served notice to the rest of the Big 12 on Saturday night.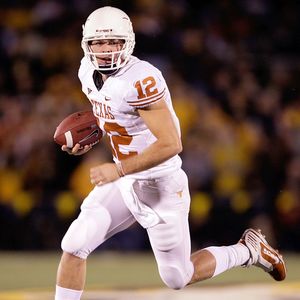 Jamie Squire/Getty Images
Colt McCoy threw for 269 yards and three touchdowns against Missouri.
The Longhorns are pointing to their first Big 12 title since 2005. If they play like they did Saturday night, it will be the Big 12 championship game and beyond -- like a trip to Pasadena for the BCS title game Jan. 7.
A convincing 41-7 victory over Missouri on Saturday night was the No. 3 Longhorns' most complete performance of the season.
They took apart the two-time defending Big 12 North champion on their home field from the opening kickoff, blowing the game open by scoring on four of their first five possessions.
Texas limited Missouri to a season-low 173 yards of total offense. And the Longhorns' special teams punctuated a first-half scoring binge with a blocked punt for a touchdown that boosted them to a 35-7 halftime advantage.
"I thought tonight in the first half is the best we've played for sure," Texas quarterback Colt McCoy said. "We looked complete and we look confident. We were feeling good and having fun."
To read the rest of Tim Griffin's story, click here.
Mountain Man
By Pat Forde, ESPN.com
TUSCALOOSA, Ala. -- The noise thundering through the stadium had changed. The confident roar heard all afternoon had morphed into a different sound.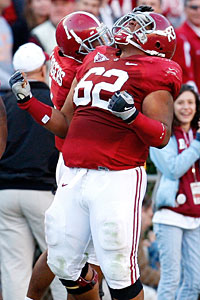 Kevin C. Cox/Getty Images
Terrence Cody was the difference in Alabama's surviving Tennessee.
Still deafening. But now unmistakably desperate.
Alabama led 12-10 but was on the verge of losing everything -- a game it had controlled, a season it had dominated, a national championship it coveted. Hated rival and major underdog Tennessee had risen from the dead in the final 3½ minutes and, after a stunning sequence of events, was a 44-yard field goal away from inflicting one of the most painful losses in Crimson Tide history.
Anxiety was rampant in the stands at Bryant-Denny Stadium. On the front row, a family of four suffered together. The gray-haired father in the crimson pullover hugged his arms to his body, almost folding into himself. His wife sat down, face set in stone. On her right, their two houndstooth-clad daughters nervously shook their crimson pompons.
They were a single swing of Daniel Lincoln's right leg from devastation.
"That's how fragile a season can be," Alabama coach Nick Saban said.
And that's when Mount Cody put himself on Alabama's Mount Rushmore of heroic defensive performances.
To read the rest of Pat Forde's story, click here.
Tebow Left Speechless
By Chris Low, ESPN.com
STARKVILLE, Miss. -- There were a couple of firsts for Florida quarterback Tim Tebow on Saturday night at Scott Field, neither one the kind we've grown accustomed to from the Gators' record-setting quarterback.
He threw two interceptions that were returned for touchdowns by Mississippi State freshman Johnathan Banks, the first one putting the Bulldogs right back in the game when it looked like the Gators were about to take command at the end of the first half.
The second pick was even more inexplicable. Tebow was trying to throw out of his own end zone with less than four minutes to play and the game already in hand when he was hit by Mississippi State's Pernell McPhee, and the ball fluttered right to Banks.
And then after the game, which No. 1 Florida hung on and won 29-19 despite repeated woes in the red zone and a determined effort by Dan Mullen's Bulldogs, Tebow declined to talk to the media for the first time in his career.
At least, the first time when he was healthy enough to talk to the media after a game.
Several Florida officials were asked about Tebow's availability, but they said he opted not to come down and speak with reporters and was already on the bus.
So all the way around, it wasn't one of Tebow's better performances, especially for a guy who's been showered with positive publicity throughout his career.
To read the rest of Chris Low's story, click here.
USC On Ducks' Mind
By Ted Miller, ESPN.com
SEATTLE -- Oregon defensive coordinator Nick Aliotti is thinking about food. First, a big meal on the short plane ride home after the Ducks' 43-19 win over Washington on Saturday. Then some vanilla ice cream when he gets home. On Sunday, he'll eat some breakfast with a grin on his face.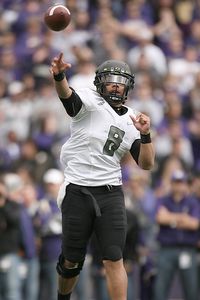 Otto Greule Jr./Getty Images
Jeremiah Masoli returned to Oregon's lineup to throw for one touchdown and rush for two.
Only after that will he start thinking about USC.
"My mind is not on SC right now," he said. "I'm going to enjoy this win."
He added, "It will be tomorrow."
Oregon, like many teams, has a 24-hour rule, when coaches and players are allowed to celebrate a victory or mourn a defeat for only one day before moving on and focusing exclusively on the next foe.
Coach Chip Kelly might be more obsessive than most about not looking back or forward but living only in the moment. He's repeatedly harped on how each Saturday is a one-game season and each game should be treated like a national championship.
That allowed for him to say this, which is great fun when taken out of context: "We're playing USC for a national championship."
To read the rest of Ted Miller's story, click here.
All Clear Now?
By David Bearman, ESPN Stats & Information
As long as Miami, Virginia Tech and Georgia Tech kept winning, the ACC Coastal Division was headed for nightmare tiebreaking scenarios. As coach Lee Corso would say on "GameDay," "Not so fast, my friends." Clemson's OT win in Miami over the 10th-ranked Hurricanes cleared up the picture in not only the Coastal Division, but the Tigers' own Atlantic Division as well.
Coastal Division: With Miami's (2-2) loss, Georgia Tech (5-1), Virginia Tech (3-1), Virginia (2-1) and Duke (yes, Duke at 2-1) all have one conference loss. The Yellow Jackets have already beaten Virginia Tech and Virginia and have Duke and Wake Forest left to play. Wins in those final two conference games would send Georgia Tech packing for Tampa and its second berth in the ACC title game.
Atlantic Division: Clemson put itself in position for its first trip to the ACC title game. The Tigers (3-2) are tied with Boston College (3-2) and a half-game ahead of Wake Forest (2-2). The Tigers have already beaten both teams, so wins over FSU, NC State and Virginia will give Clemson the ACC Atlantic Division title. Not bad for a team that started the season with losses in three of its first five games.
Long way to go, but the ACC is currently looking at Georgia Tech versus Clemson in Tampa, Fla., for the ACC title. Back in September, Georgia Tech won a thriller between the teams on a field goal with 57 seconds left.
Three Weekend Observations
By Ivan Maisel, ESPN.com

Tebow
1.
The more I see of
Tim Tebow
this season, the more I think the emperor isn't wearing his entire uniform. Hey, I'd love to have him on my team, and without him at quarterback I don't know where Florida would be. But whether it's the recovery from the concussion, the lack of downfield threats or just misfortune -- who gets two tipped passes returned for touchdowns? -- Tebow isn't meeting the standard he set for himself the last two seasons.

2.
Stanford may be 5-3, but with its 33-14 victory over Arizona State on Saturday night, the Cardinal have four victories by at least 19 points. That's more than No. 1 Florida, No. 6 Iowa or No. 7 USC. All four of those Cardinal wins came at home. However, Stanford has a lot to do to qualify for its first bowl since 2001. The remaining opponents are the Trojans, No. 11 Oregon, archrival California and Notre Dame. The good news is, only the USC game is on the road.

3.
If Michigan State (4-4) can pull itself together, watch out. The Spartans have three losses by a total of seven points, all of them heartbreakers. Michigan State gave up two scores to Central Michigan in the final 32 seconds to lose 29-27 and turned the ball over at the Notre Dame 4-yard line in the final minute to lose 33-30. No. 13 Penn State's scariest game isn't the visit from No. 19 Ohio State on Nov. 7. It's that season-ending trip to East Lansing two weeks later.
GameDay Crew Recap
GameDay Crew Final Thoughts
RECE DAVIS

How do you figure out the ACC and the Big 12 North? The Big 12 North appears to be a mosh pit of mediocrity. The ACC does have talented teams, but which ones show up week to week? How does Clemson lose to Maryland and win at Miami? You can criticize the mediocrity, but it sure does make for exciting football.
Helmet Stickers Go To:
• WR
DeMarco Sampson
, San Diego State
15 rec, 257 rec yards, 3 TDs in 42-28 win at Colorado State
• RB
MiQuale Lewis
, Ball State
26 rushes, 301 rushing yards, TD in 29-27 win at Eastern Michigan
---
LOU HOLTZ

It's a lot tougher to go through the SEC unbeaten than it is in any other conference. Alabama dodged a bullet, but it didn't get lucky. The Tide made the necessary plays to win the game. The way the landscape sits now, it wouldn't surprise me to see three or four undefeated teams at the end of the regular season.
Helmet Stickers Go To:
• QB
Bill Stull
, Pittsburgh
18-25, 245 passing yards, 2 TDs in 41-14 win vs. South Florida
• LB Jesse Smith, Iowa State
12 tackles, 2 TFL, INT, forced fumble, passes broken up in 9-7 win at Nebraska
---
MARK MAY

Florida and Alabama survived to stay unbeaten. However, the two best performances from undefeated teams Saturday came from the state of Texas. The Longhorns and the Horned Frogs both went on the road and dominated two good teams.
Mark Ingram
stays at the top of my Heisman list but
Colt McCoy
has moved up the Heisman board after his performance at Missouri.
Helmet Stickers Go To:
• RB
C.J. Spiller
, Clemson
88 rushing yards, 104 rec yards, 125 kickoff return yards, 2 TDs in 40-37 win at Miami
• QB
Ricky Stanzi
, Iowa
TD pass with no time left in 15-13 win at Michigan State
Highlights: Iowa-Michigan State
Blog Network: What We Learned

Georgia Tech and Virginia Tech are the ACC's top two teams this year.
ACC

Mike Sherman hasn't had a sweeter college victory than the one he had Saturday night against Texas Tech.
Big 12

Cincinnati, Pitt and West Virginia are all undefeated in league play, while everybody else has at least two conference losses.
Big East

It came down to the final play at Spartan Stadium, but Iowa once again found a way to win and continue its perfect season.
Big Ten

Cal seems to have solved its offensive woes, but now it appears the Bears' defense might hold them back.
Pac-10

Auburn's bubble hasn't just burst. It's completely evaporated. After starting the season 5-0, they've now lost three in a row.
SEC

Non-AQ:
The Horned Frogs needed a signature win to continue to move up in the BCS standings, and they got that with a win over BYU.
Around the nation
Highlights: Tennessee-Alabama
Blog Network: Helmet Stickers
Every week our bloggers will hand out helmet stickers to the week's top players, coaches, teams or anything else worth this honor.
Highlights: TCU-BYU