Closing The Gap
This defense led the nation last year against the run. It ranked eighth overall and forced 34 turnovers (6th in the nation). It ranked fourth in sacks with 44 and ranked sixth in tackles for a loss per game with 8.2.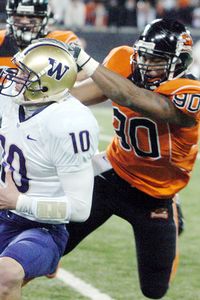 AP Photo/Greg Wahl-Stephens
Victor Butler registered 10½ sacks for the Beavers in 2007.
Does that sound like a defense you'd be interested in? Any guess whose it was? USC? Nope. UCLA? Nope.
Oregon State.
The Beavers had plenty of bite with their 4-3 "gap cancellation" scheme, masterminded by inexplicably unheralded coordinator Mark Banker. While Oregon State's mistake-prone offense ranged from mediocre to bad last season, its defense was stout enough to carry the Beavers to a 9-4 finish -- including seven wins over their final eight games -- and a final No. 25 national ranking.
The memories are satisfying, but the present is this: The entire starting front seven from 2007 is gone, as are five other players who saw extensive action. So there's a lot of work to be done this spring.
"We look at some of the young players we have and we can see some real athleticism in all of them, and in some cases an upgrade in speed," Banker said. "But we need to build up their football intellect. You can't replace game-time experience."
Banker compared the gap cancellation scheme to the "Desert Swarm" defenses run by Dick Tomey at Arizona in the 1990s. It actually was the brainchild of Greg Newhouse, who was the Beavers defensive coordinator in 1997 and is now the linebackers coach.
Most defensive schemes are about controlling a gap and then reading and reacting, which is dandy for schools capable of recruiting massive interior defensive linemen. The Beavers, instead, emphasize strength and speed during recruiting and put far less emphasis on size.
The scheme requires these quick but undersized linemen to penetrate all four gaps along the line of scrimmage -- to the heels of the offensive linemen, Banker said -- in order to spill the action outside, where speedy linebackers can make plays.
"We're taking an area by running through it and restricting the inside gaps," Banker said. "We try to truly penetrate the line of scrimmage, knock it back and create a new line of scrimmage."
Speaking of new: What about that inexperienced front seven? Well, it's not as green as it seems. Consider that ends Victor Butler and Slade Norris combined for 19.5 sacks last year and the linebackers, led by junior Keaton Kristick, aren't a bunch of wide-eyed freshmen who haven't seen any game action. Moreover, three starters are back from a good secondary.
The only experienced interior lineman, Pernnell Booth, will miss spring with a foot injury, but that will allow Banker to evaluate the newcomers, a list topped by JC transfer Stephen Paea. Another touted JC transfer, Simi Kuli, won't arrive until after spring practices.
Of course, if the Beavers' defense again thrives, Banker might lose his anonymity. He could become a hot commodity, either for a high-paying coordinator gig or even a head-coaching job.
Re-Cal-ibrating The Defense
California struggled on defense a year ago running a 4-3. The Golden Bears are much deeper at linebacker than along the defensive front. And they successfully adopted a 3-4 to foil Air Force in the Armed Forces Bowl.
That doesn't mean Cal is on the cusp of a scheme change, but there will be some experimentation this spring with different looks.
The Bears welcome back all three starting linebackers -- Worrell Williams in the middle and Anthony Felder and Zach Follett outside -- though only Follett played consistently well last year. Still, the talent and experience is there, and when Mike Mohamed is added to the mix, the four-linebacker scheme becomes an intriguing option, particularly with some other impressive young players waiting in the wings.
As for the line, new coach Tosh Lupoi will be looking for more production from a unit that managed only 10 sacks a year ago.
A three-man line likely would feature Derrick Hill inside, flanked by Rulon Davis, an impressive athlete who struggles to stay healthy, and either Cameron Jordan or Tyson Alualu.
If the Bears stick with a four-man front, the primary competitors for the other tackle spot would include Mika Kane, Cody Jones, Michael Costanzo and redshirt freshmen Solomona Aigamaua, Ernest Owusu and Scott Smith.
Raising The Kirton?
Washington coaches finally pulled the trigger on a move that should have been made years ago: Physically talented but underachieving senior Johnie Kirton was moved from tight end to the defensive line. A dominating high school running back, the 6-foot-3, 270-pound Kirton's work habits and intensity confounded his coaches the previous four seasons. While he showed flashes of potential as a tight end, he also was an indifferent blocker who dropped too many passes. With big holes on the D-line -- new coordinator Ed Donatell might experiment with some 3-4 looks this spring -- Kirton will get every opportunity to earn playing time.
Ted Miller is a college football writer for ESPN.com. Send your questions and comments to Ted at tedmillerespn@gmail.com.
Troy QB Sizzle Or Fizzle

The touted USC quarterback competition may be decided by default because neither
Mark Sanchez
nor
Mitch Mustain
has stepped to the fore. Both have been consistently inconsistent. That means Sanchez, who's got three years in the Trojans system, remains solidly ahead with spring practice nearing the halfway mark.
The Los Angeles Daily News reported Tuesday that coach Pete Carroll called it "improbable" that Sanchez would fall to No. 2 on the depth chart.
While Mustain hasn't broken through, fellow Arkansas and high school teammate Damian Williams, has been earning enthusiastic kudus. Though the receiver twisted his ankle this week trying to avoid a young fan watching practice, according to the Los Angeles Times, Williams' playmaking ability suggests he'll make an immediate impact, whoever starts at quarterback.
Hold That Line

There's no magic solution for a team that lost three starters from an offensive line that gave up 55 sacks -- third most in the nation. That much is clear after a week of spring practices at Arizona State, where the defense has dominated a unit that essentially is rebuilding a ruin (a ruin that, nonetheless, was a part of an impressive 10-3 debut for Dennis Erickson and was fairly adept at run blocking).
Moreover, it's the three most critical spots -- center and both tackles -- that will be manned by green starters against a schedule that includes a visit from Georgia, the likely preseason No. 1, and its athletic defensive line.
Starting this spring, Erickson will try to ease the pressure on the line three ways: (1) He wants to spread out defenses with four- and five-receiver sets; (2) he wants to simplify protection schemes; and (3) he wants veteran quarterback Rudy Carpenter to get rid of the ball quicker, even if that means occasionally playing it safe and hurling the ball 15 rows deep into the stands.
A Lot Bruin

New UCLA coach Rick Neuheisel didn't exactly inherit a full cupboard. While many will be fretting over the quarterback competition and injury issues at tailback, more pressing are huge holes on the Bruins' offensive line and in the secondary.
The only returning starter from 2007's standout secondary is cornerback Alterraun Verner. As for the offensive line, no returning player started every game last year, though three -- senior Micah Reed, a former walk-on who's moved from guard to center, and junior tackles Aleksey Lanis and Micah Kia -- combined for 21 starts last season.
Former defensive tackle Darius Savage is listed No. 1 at one-guard, opposite junior Nick Ekbatani.
Duck Call

Last week we attempted to present the many names in the mix to become Oregon's next quarterback, but apparently five names wasn't enough.
An e-mail from the football office noted we'd left out junior Cade Cooper, a BYU transfer who was a junior college All-American and is experienced with the spread-option offense.
So, for those keep score at home, rank Cooper in the mix with Nathan Costa (the frontrunner who will be limited during spring practices with a bum knee), Justin Roper, Cody Kempt, Darron Thomas and Chris Harper.
Good Bear/Bad Bear

Cal started spring practices with a pleasant and unpleasant surprise. First, shifty sophomore running back
Jahvid Best
, who suffered a worrisome hip injury that ended a sometimes spectacular debut season on Nov. 10, participated in individual drills and ran well. While it's highly unlikely he'll join full-contact action, this bodes well for a healthy return this fall.
On the downside, junior cornerback Syd'Quan Thompson, a two-year starter, is riding an indefinite suspension for breaking a team rule.