12:00 PM ET, September 29, 2012
MILAN PUSKAR STADIUM, MORGANTOWN, WV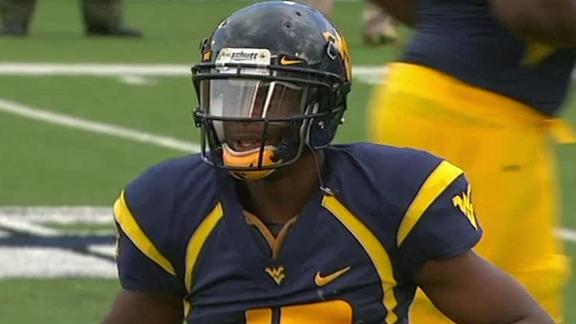 Geno Smith Tosses 8 TDs In WVU's Wild Win
Geno Smith Tosses 8 TDs In WVU's Wild Win
VIDEO PLAYLIST
MORGANTOWN, W.Va. -- No. 9 West Virginia and the Big 12, perfect together.
Geno Smith and the fast-moving, high-scoring Mountaineers proved they fit right in with their new conference, outracing No. 25 Baylor 70-63 on Saturday in the Big 12's highest-scoring game ever.
More From ESPN.com

West Virginia's Geno Smith and Baylor's Nick Florence were tremendous on Saturday. But both teams' defenses didn't exactly show up, writes Ivan Maisel. Story
• Stats & Info: Records fall
Smith tied a conference mark with eight touchdown passes and narrowly missed another one with 656 yards passing.
"It did feel like one of those classic Texas shootouts," said Smith, whose school moved over from the Big East this season. "That's kind of what the Big 12 is about."
Smith outdueled Baylor's Nick Florence, who broke Heisman Trophy-winning predecessor Robert Griffin III's school record with 581 yards. Florence threw for five TDs.
School, conference and FBS marks all got rewritten in this one.
The game also set a record for the most points scored involving a team ranked in The Associated Press poll. The previous mark of 124 was set in No. 12 Oklahoma's 82-42 win over Colorado in 1980.
How wild was it? Smith, the early Heisman front-runner, had more TD passes than incompletions (six). He finished 45 of 51 and still doesn't have an interception this season.
"Can you please tell me how you can improve on that?" West Virginia coach Dana Holgorsen said.
Maybe not on offense, but both defenses have plenty of work to do.
Geno Has Eyes on Heisman

Geno Smith is making a strong case to become the first West Virginia player to win the Heisman Trophy. Here are his numbers through the first four games compared to those of 2011 Heisman winner Robert Griffin III, whose former team, Baylor, lost to Smith and the Mountaineers on Saturday, 70-63:
2011
Griffin III
2012
Smith
Total yds
1,481
1,826
Comp. pct.
82.1
83.4
Yds/att.
11.7
10.2
TD-Int.
18-1
20-0
-- RGIII's team was 3-1. Smith's team is 4-0
-- ESPN Stats & Information
West Virginia amassed a school-record 807 yards, and the teams combined for 1,507 yards of offense and 67 first downs. Six receivers had at least 100 yards receiving.
The Bears' Terrance Williams set a Big 12 record with 314 yards receiving. The old mark was set minutes earlier by West Virginia's Stedman Bailey, who had 303 yards and a school-record five TDs.
Williams' 8-yard scoring catch brought Baylor (3-1) within 70-63 with 3:08 left.
But Dustin Garrison ran for 17 yards on third down and the Mountaineers ran out the clock to snap Baylor's nine-game winning streak, the second-longest in the nation.
"We expect to score that many points a game," Florence said. "But the goal is to score more than our opponent and we came up a little short today."
The combined 19 touchdowns tied an FBS mark, last reached when Navy beat North Texas 74-62 in 2007. That matchup set the FBS record for most points in a regulation game at 136.
Baylor, meanwhile, tied an FBS mark for the most points scored by a losing team.
Among the other records, Smith set school single-game marks for completions, yards and touchdown passes.
Bailey and Tavon Austin became the first FBS teammates with 200 yards receiving since 2007.
SportsNation: Is Smith Heisman favorite?

Geno Smith's performance against Baylor -- 45 of 51 for 656 yards and eight TDs -- has set the bar high for Heisman candidates. Is he the favorite for the Heisman Trophy?
Comment and vote!

Going back to the Orange Bowl, West Virginia has scored 10 touchdowns three times in its last five games.
"Statistically, it's my best game ever," Smith said. "But I think it's more about the team, and I think it just lets us know that we're going to have to battle it out every week against some really tough teams in the Big 12.
"I could care less about a Heisman Trophy. The big thing for us was that we won the game today. We're on a mission, and we want to win them all."
West Virginia went ahead for good early in the third quarter, but Baylor almost always had an answer.
Austin made long touchdown grabs three minutes apart while Baylor punted and missed a long field goal. Smith stayed in a groove, throwing three passes of 45 yards or more in the third quarter alone. His 47-yarder to Bailey set up Andrew Buie's second short TD run for a 56-35 lead.
The way this game was going, though, no cushion was safe.
Williams caught a 37-yard scoring pass from Florence and, after Baylor's defense forced a rare punt, Florence's sneak brought the Bears within 56-49, and there was still 14:14 left.
But Bailey scored on TD grabs of 87 and 39 yards after that.
"We fought hard," Baylor coach Art Briles said. "But we didn't respond well enough to win the game."
Holgorsen talked at length about how impatient he got watching Maryland's offense run the clock down before each snap last week.
More From ESPN.com


Looking for more information on this game? Check out our blogs for Instant Analysis.
There was no chance of a slowdown from Baylor.
The teams scored on 10 of their final 13 possessions of the first half. Seven of those drives lasted under two minutes.
Smith, whose passing yardage total was 5 yards shy of the Big 12 mark, completed a school-record 14 straight passes at one point. After a dropped pass, Smith completed 12 more in a row.
Smith's fourth TD pass came with 29 seconds left until halftime, but that was more than enough time for Florence. On second down he threw down the left sideline to Lanear Sampson, who juked two defenders and went 67 yards untouched to tie the score at 35-35.
The Mountaineers now must hope they can generate points on the road when they head to No. 12 Texas and Texas Tech in the next two weeks.
"Not every Big 12 game is like this," Holgorsen said.
Photo Wire
MORGANTOWN, WV - SEPTEMBER 29: Will Clarke #98 of the West Virginia Mountaineers celebrates after sacking Nick...
(Photo by Justin K. Aller/Getty Images)
Top 25 Overview
It was over when... We expected a shootout and we got it. Baylor stayed within 21 all day, but Geno Smith & Co. were too much.
Gameball goes to... To say Smith had a big day would be an understatement. He threw for 656 yards and 8 TDs, both school records.
Stat of the game... 88.2. Smith completed 45 of 51 passes. That's a completion percentage of 88.2. On the season, he has 84.1 rate.
Team Stat Comparison
| | BAY | WVU |
| --- | --- | --- |
| 1st Downs | 34 | 33 |
| Total Yards | 700 | 807 |
| Passing | 581 | 656 |
| Rushing | 119 | 151 |
| Penalties | 6-56 | 6-78 |
| 3rd Down Conversions | 11-16 | 12-15 |
| 4th Down Conversions | 1-1 | 0-0 |
| Turnovers | 1 | 0 |
| Possession | 25:40 | 34:20 |
Scoring Summary
FIRST QUARTER
BAY
WVU
TD
09:12
Jarred Salubi 1 Yd Run (Aaron Jones Kick)
7
0
TD
05:32
Andrew Buie 1 Yd Run (Tyler Bitancurt Kick)
7
7
TD
02:39
Glasco Martin 7 Yd Run (Aaron Jones Kick)
14
7
TD
00:42
J.D. Woods 7 Yd Pass From Geno Smith (Tyler Bitancurt Kick)
14
14
SECOND QUARTER
BAY
WVU
TD
09:00
Glasco Martin 1 Yd Run (Aaron Jones Kick)
21
14
TD
06:55
Stedman Bailey 47 Yd Pass From Geno Smith (Tyler Bitancurt Kick)
21
21
TD
06:21
Tevin Reese 65 Yd Pass From Nick Florence (Aaron Jones Kick)
28
21
TD
04:54
Stedman Bailey 20 Yd Pass From Geno Smith (Tyler Bitancurt Kick)
28
28
TD
00:29
Stedman Bailey 2 Yd Pass From Geno Smith (Tyler Bitancurt Kick)
28
35
TD
00:00
Lanear Sampson 67 Yd Pass From Nick Florence (Aaron Jones Kick)
35
35
THIRD QUARTER
BAY
WVU
TD
12:31
Tavon Austin 45 Yd Pass From Geno Smith (Tyler Bitancurt Kick)
35
42
TD
09:13
Tavon Austin 52 Yd Pass From Geno Smith (Tyler Bitancurt Kick)
35
49
TD
05:16
Andrew Buie 1 Yd Run (Tyler Bitancurt Kick)
35
56
TD
03:18
Terrance Williams 37 Yd Pass From Nick Florence (Aaron Jones Kick)
42
56
FOURTH QUARTER
BAY
WVU
TD
14:14
Nick Florence 1 Yd Run (Aaron Jones Kick)
49
56
TD
13:55
Stedman Bailey 87 Yd Pass From Geno Smith (Tyler Bitancurt Kick)
49
63
TD
10:49
Antwan Goodley 7 Yd Pass From Nick Florence (Aaron Jones Kick)
56
63
TD
05:55
Stedman Bailey 39 Yd Pass From Geno Smith (Tyler Bitancurt Kick)
56
70
TD
03:08
Terrance Williams 8 Yd Pass From Nick Florence (Aaron Jones Kick)
63
70
Research Notes
West Virginia receivers gained 351 yards after the catch, its most in any game during the last eight seasons.
Stedman Bailey
(154) and
Tavon Austin
(146) both had career highs in yards after the catch.
Geno Smith
completed seven of nine passes thrown 15 yards or more on Saturday, setting career highs in yards (311) and touchdowns (5) on these throws. It was the fifth straight game that he completed more than half of his 15-yard throws, all West Virginia wins. In his career as a starter, the Mountaineers are 18-0 when Smith completes over 50 percent of his 15-yard throws and 5-7 when he does not.
[+]
Baylor sent three pass rushers or fewer on 32 of
Geno Smith
's 56 dropbacks (57.1 percent) Saturday. Smith completed 27 of 31 passes for 413 yards and four touchdowns when Baylor dropped eight into coverage. He was under duress on just of three of those plays and was not sacked.
[+]
Geno Smith
started his Heisman campaign early. In his five games since RG3 won last year's Heisman, Geno has thrown for more than 2,100 yards and has a sparkling 26 TD to 0 interceptions. Started His Campaign Early Since Last Year's Heisman Trophy Announcement Pass Yds TD-Int vs Baylor 656 8-0 vs Maryland 338 3-0 vs James Madison 411 5-0 vs Marshall 323 4-0 vs Clemson<< 407 6-0 >>In 2012 Discover Orange Bowl
Both Teams With 35 Points at Halftime Since 2004 2012 Baylor 35, West Virginia 35 2010 Wake Forest 35, Duke 35 2008 Eastern Michigan 42, Central Michigan 35 2007 North Texas 49, Navy 45 2007 Louisville 38, Middle Tennessee State 35 2005 Wisconsin 35, Bowling Green 35
ESPN Stats & Information