Not the Big 12 opener Kansas had envisioned
January, 9, 2010
01/09/10
11:36
PM ET
MANHATTAN, Kan. -- Six years ago when Kansas athletic director Lew Perkins came calling, coach Bonnie Henrickson couldn't pass up the opportunity he offered. He wanted her to start a Jayhawks renaissance.
[+] Enlarge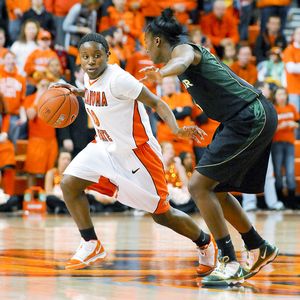 AP Photo/Brody SchmidtOklahoma State's Andrea Riley dropped in 43 points Saturday to help stun No. 5 Baylor 78-65.
Perkins, who'd overseen the rise of UConn as a national championship program in women's basketball, saw an opportunity for big things in Lawrence, Kan. While at UConn, he'd admired the success of Henrickson at Virginia Tech. So when longtime KU coach Marian Washington retired during the 2004 season, Perkins knew right away where he'd look for her successor.
We bring up the history because, on this frigid Saturday in the Midwest, Henrickson might just wish she were still in Blacksburg, Va. She watched her Jayhawks play about as badly as a team with talent can play, falling to Kansas State 59-35.
It wasn't the only upset on the Big 12's opening day: Oklahoma State ended No. 5 Baylor's 13-game winning streak with a 78-65 victory behind 43 points from senior guard Andrea Riley.
She has become known for such offensive pyrotechnics, and Saturday she made a statement that Big 12 favorite Baylor and freshman sensation Brittney Griner are not unconquerable.
KU's Big 12 player of the year candidate, Danielle McCray, hoped to open conference season in similar dominant style. Instead, she and her Kansas teammates got dominated.
That the Jayhawks had their beaks handed to them by their in-state rivals -- it was K-State's 17th win in the last 18 meetings with KU -- was bad enough for Henrickson. That KU, which was picked to finish tied for second with Texas in the Big 12, looked so atrociously awful in the loss made it worse. No. 20 Texas, meanwhile, also lost its league opener, 91-70 to 10th-ranked Texas A&M.
The Jayhawks missed their first 11 shots from the field. But when they'd rallied to trail by just two points at halftime, it seemed they were about to get it in gear. Instead, the entire engine fell out of the car in the second half for KU.
After the break, the Jayhawks missed their first 14 shots. It was as if the rim at KU's end had turned into the polar ice cap, with shots clanking and bouncing away. When, that is, the Jayhawks actually got off shots. They also turned it over a lot, too.
By the time freshman Monica Engelman made the Jayhawks' first basket of the second half, K-State had a 25-point lead and the purple crowd at Bramlage Coliseum wasn't even going really berserk. And not because K-State's fans don't love beating KU, mind you, because that's what these folks live for.
There is a Jayhawks billboard alongside Interstate 70 between Topeka and Manhattan, and I always wonder why KU bothers with this particular spot. It's just a little too close to Manhattan for K-Staters to allow it to go unmolested. Something Wildcat-related is usually spray-painted over it; this year, it's the acronym "EMAW."
(That stands for the K-State slogan, "Every Man a Wildcat!" which, obviously, goes back to the days when there wasn't women's athletics at K-State. Now it probably should be EPAW -- Every Person a Wildcat! -- or maybe EHAW -- Every Human a Wildcat! -- but we won't hold our breath waiting for that change.)
Anyway, of course the Wildcats fans love beating the Jayhawks more than anybody else, but … in this case, I think the K-Staters were stunned it was happening so easily. They'd come out in single-digit temperatures to cheer on a gritty group of just nine players, led by seniors Ashley Sweat and Kari Kincaid, trying to hang with the favored Jayhawks. They weren't expecting to almost feel sorry for KU for playing so badly.
K-State lost three starters off last season's team; one of them, Atlanta Dream point guard Shalee Lehning, was just named an assistant coach at K-State this past week. So Sweat and Kincaid are playing with three freshmen, three sophomores and one junior.
KU and K-State had one common opponent during nonconference play: Creighton. KU beat the Bluejays by 21 points, K-State lost to them by nine. Nobody -- and I mean nobody -- expected K-State to clobber Kansas on Saturday.
Now, was the idea of a Wildcats victory totally far out? No, because as stated, they've dominated the series the past eight years, and KU has seemed to freak out a lot coming here. But even those who thought coach Deb Patterson's bunch might win figured it would have to be a squeaker that went down to the wire. Not a complete blowout by the Wildcats.
Afterward, the Jayhawks had no explanation for what happened. They said they weren't sick. They said a disappointing road loss at New Mexico State last Sunday wasn't hanging with them.
For her part, Henrickson sounded as though she had no idea what was wrong with her team. She expressed disappointment with seniors McCray (10 points, 3-of-14 shooting) and Sade Morris (zero points, zero rebounds, 0-of-4 shooting) for not providing leadership the way that Sweat (24 points, 5 rebounds, 4 steals, 3 assists) did for K-State.
"She's a tough kid -- that's the poise you want in your seniors," Henrickson said of Sweat, adding she told her seniors, "'You've left me speechless probably for the first time in my career. I don't know what to say. That you two could be that bad … how can we help you? What do you need from us?' They don't know what to say. They're great kids; they don't intend to come in and do this."
The Jayhawks lost their Big 12 opener at Kansas State by 33 points last year. So McCray and Morris finish their careers having never won in Manhattan. KU hasn't been victorious here since 2001, and the Jayhawks haven't made the NCAA tournament since 2000.
It's not as if the Jayhawks' hopes of returning to the Big Dance went down the drain Saturday -- it was just the first conference game, after all. But it was a game most people expected them to win, and by a comfortable margin.
"We've got to be resilient, we've got two days to get ready and find a way to beat Oklahoma State," Henrickson said of the Jayhawks' game Tuesday (ESPNU, noon ET). "You have to let it go, and not let it drag you down."
But losing big to K-State and next having to face a red-hot Riley? Definitely not the way the Jayhawks wanted to begin Big 12 play.