Discussion
Carolinas are ready to battle it out
STANFORD, Calif. -- Dawn Staley's trip to Africa last summer on behalf of the Clinton Foundation was the inspiration for the "Be the change..." T-shirts the South Carolina players wear as they move through this NCAA tournament.
The Gamecocks' head coach returned from the trip awed by the need she saw and compelled to help, and she wanted her team to embrace the spirit of lending a hand.
She made the famous Gandhi quote her team's theme for the season and began a "50,000 ...

Read full story
NCAA CHAMPIONSHIP GAME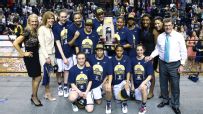 UConn beat Notre Dame 79-58 to cap a 40-0 season to win it second consecutive NCAA title and record ninth championship overall.
ANALYSIS
VIDEO
TOURNEY 411