Discussion
Appel takes lead for Stanford
Likely high pick in the WNBA draft is relishing moment instead of looking too far ahead
Originally Published:
November 10, 2009
By
Graham Hays
| ESPN.com
STANFORD, Calif. -- As Stanford guard JJ Hones tells it, when the Cardinal find themselves wandering through unfamiliar territory on a road trip, it's often Jayne Appel who takes the lead.
Occasionally, Appel even knows where she's leading her teammates. More likely, Appel, a 6-foot-4 Kokopelli in flip-flops, just wants to see how long it takes someone to call her bluff.
"I'm sure you could ask anyone on the team, and there's probably like some joke or trick she's pulled ...

Read full story
2009-10 Season Preview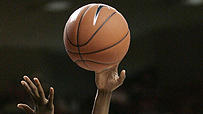 Get ready for 2009-10 with ESPN.com's women's college basketball preview.
Friday, Nov. 13
•
ESPN.com's Preseason All-America teams
•
Moore is preseason player of year (again)
•
Voepel: Baylor's Griner set for debut
•
Voepel: Spartans ready to move on in Big Ten
Thursday, Nov. 12
•
Voepel: UConn's Charles all-business
•
Hays: Greene fits holes, roles for Huskies
Wednesday, Nov. 11
•
Top five players at each position
•
Voepel: A difficult decision
•
Hays: Players to watch
•
Voepel: OU shifts to guard-oriented attack
Tuesday, Nov. 10
•
Hays: Appel leads Stanford
•
Voepel: Academics first for Ogwumike
•
Hays: Mid-major top 10
Monday, Nov. 9
•
ESPN.com preseason top 10
•
Voepel: Five questions
•
Hays: Teams to watch
MORE WOMEN'S BASKETBALL HEADLINES