Discussion
Texas A&M takes aim at defending title
Aggies return some key components, hope to get boost from transfer Kelsey Bone
Sydney Carter talks about the Aggies' hopes of repeating as NCAA champions.
There was this rather odd scenario at Big 12 media day in Kansas City last month. Texas A&M, the team that did the conference proud by winning the 2011 NCAA title, was being told in no uncertain terms to not let the door hit it on the way out. The person saying this was Baylor's Kim Mulkey, the coach of the other Big 12 women's basketball team to win a national championship since the league formed ...

Read full story
2011-12 Season Preview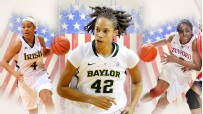 Get ready for 2011-12 with ESPN.com's women's college basketball preview.
Friday, Nov. 11
Thursday, Nov. 10
Wednesday, Nov. 9
Tuesday, Nov. 8
Monday, Nov. 7
espnW
MORE WOMEN'S BASKETBALL HEADLINES