Discussion
Baylor leads the way as 2011-12 opens
But as last season proved, the run to Denver could hold many surprises
A lot has gone on in the college sports world since Texas A&M triumphed for the women's basketball title in Indianapolis last April -- much of it not very good. Football programs for Ohio State and Miami, in particular, were revealed to have bigger problems than we might have imagined even at our most cynical.
The conference realignment merry-go-round got to spinning again, with Texas A&M leaving the Big 12 for the SEC, and Missouri apparently soon to follow. Syracuse and Pittsburgh ...

Read full story
2011-12 Season Preview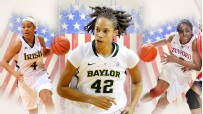 Get ready for 2011-12 with ESPN.com's women's college basketball preview.
Friday, Nov. 11
Thursday, Nov. 10
Wednesday, Nov. 9
Tuesday, Nov. 8
Monday, Nov. 7
espnW