Discussion
Kurt Budke worked his way to the top
Coach revitalized Cowgirls, established himself in D-I after successful juco career
Kurt Budke had that way about him that people have when they've started on the basement floor and climbed up. He came by that determination by watching his parents. His father, John, worked for Southwestern Bell in Kansas for 45 years. Started as a lineman and moved all the way into management, Kurt was proud to say.
"I liked what my dad did, and how he did it," Budke said in 2006 after a game as we talked about his career. "He went through the whole thing, he scaled the poles. He ...

Read full story
Oklahoma State Tragedy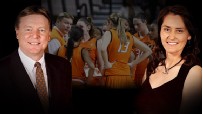 Oklahoma State coach Kurt Budke and assistant Miranda Serna were among four who died the night of Nov. 17 in a small-plane crash in Arkansas while returning from a recruiting trip.
NEWS
COMMENTARY
VIDEO
MORE WOMEN'S BASKETBALL HEADLINES