Discussion
Return to court will help healing process
Program must find way to persevere without two of its most important figures
STILLWATER, Okla. -- You could say that now is when the hardest part begins for the Oklahoma State women's basketball program.
On Monday afternoon, many of the people who loved Cowgirls coaches Kurt Budke and Miranda Serna, and OSU boosters Olin and Paula Branstetter, gathered at the arena where they'd all spent a lot of their best days and nights.
Budke and Serna were in their seventh season at the school. The Branstetters, who married in 1952, were alums who had met ...

Read full story
Oklahoma State Tragedy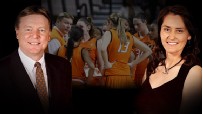 Oklahoma State coach Kurt Budke and assistant Miranda Serna were among four who died the night of Nov. 17 in a small-plane crash in Arkansas while returning from a recruiting trip.
NEWS
COMMENTARY
VIDEO
MORE WOMEN'S BASKETBALL HEADLINES