Discussion
Assistants play even bigger roles
Pat Summitt's longstanding practice of empowering staff made transition more fluid
KNOXVILLE, Tenn. -- It will occur to Holly Warlick some evenings as she's driving home from the always-busy Tennessee women's basketball office. It's then that the thoughts to which she doesn't want to give airtime in her mind sometimes sneak in anyway.
One of the most important, influential, beloved people in her life -- her coach for four years and her mentor/boss for more than a quarter-century -- is facing an opponent that defies any scouting report and is considered ...

Read full story
COACHING WITH DEMENTIA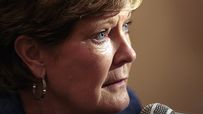 In August, Tennessee coach Pat Summitt, 59, revealed that she has been diagnosed with early-onset dementia, Alzheimer's type.
COMMENTARY
NEWS
VIDEO
ARCHIVES