Discussion
The stuff legends are made of
Updated:
April 19, 2012, 10:30 AM ET
ESPN.com
Some say the road to Pat Summitt's success all began 38 years ago, when she took over Tennessee in September 1974, then co-captained Team USA to a silver medal at the 1976 Olympics. Others argue that Summitt truly broke onto the national scene in the '80s, when she coached the USA to its first gold medal in women's basketball in Olympic competition (1984) and won her first two NCAA titles.
Either way, Summitt ensured her legendary status in the 1990s, when she won four national championships, ...

Read full story
PAT SUMMITT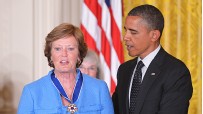 Pat Summitt, who resigned in April after 38 seasons, 1,098 victories and eight NCAA titles, was awarded the Medal of Freedom by President Barack Obama on Tuesday.
COMPLETE COVERAGE
VIDEO AND PODCASTS
BY THE NUMBERS
FROM THE ARCHIVES
MORE WOMEN'S BASKETBALL HEADLINES