Discussion
Pat Summitt: Coaching a 'privilege'
Updated:
April 22, 2012, 10:12 AM ET
Associated Press
KNOXVILLE, Tenn. -- A relaxed and smiling Pat Summitt said it's been a "great ride" and it is the right time for her to step down after coaching the Tennessee Lady Vols for nearly four decades.
"It has been a privilege," the Hall of Fame coach said Thursday during a news conference. Summitt will become head coach emeritus and longtime assistant Holly Warlick has been promoted to replace her.
"I just felt like it was time for me to step down knowing that Holly was going to be ...

Read full story
PAT SUMMITT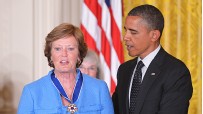 Pat Summitt, who resigned in April after 38 seasons, 1,098 victories and eight NCAA titles, was awarded the Medal of Freedom by President Barack Obama on Tuesday.
COMPLETE COVERAGE
VIDEO AND PODCASTS
BY THE NUMBERS
FROM THE ARCHIVES
MORE WOMEN'S BASKETBALL HEADLINES