Discussion
Summitt always larger than life
Pat Summitt had what was perhaps her last big news conference Thursday in Knoxville, Tenn., on the Thompson-Boling Arena court that's named after her. Watching it was a reminder of the things that have made Summitt so likable and larger-than-life.
She was gracious and generous. She made a few jokes and some sweet gestures, such as giving her practice whistle to Holly Warlick, the longtime assistant now moving into the head coach's role at Tennessee. She gazed fondly at the newest ...

Read full story
PAT SUMMITT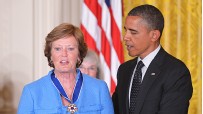 Pat Summitt, who resigned in April after 38 seasons, 1,098 victories and eight NCAA titles, was awarded the Medal of Freedom by President Barack Obama on Tuesday.
COMPLETE COVERAGE
VIDEO AND PODCASTS
BY THE NUMBERS
FROM THE ARCHIVES
MORE WOMEN'S BASKETBALL HEADLINES