Discussion
Summitt awarded Medal of Freedom
President Obama presents Summitt, 12 others nation's highest civilian honor
WASHINGTON -- In 1963, John F. Kennedy established the Presidential Medal of Freedom as it is currently defined: the highest honor any civilian can receive in the United States. That same year, Bob Dylan released "Blowin' In the Wind." Toni Morrison was teaching at her alma mater, Howard, and thinking of her first novel.
John Glenn was still being feted as the first American to orbit the Earth, which he'd done the previous year. John Doar was assistant attorney general and a calming ...

Read full story
PAT SUMMITT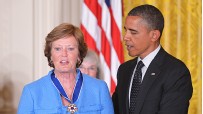 Pat Summitt, who resigned in April after 38 seasons, 1,098 victories and eight NCAA titles, was awarded the Medal of Freedom by President Barack Obama on Tuesday.
COMPLETE COVERAGE
VIDEO AND PODCASTS
BY THE NUMBERS
FROM THE ARCHIVES
MORE WOMEN'S BASKETBALL HEADLINES