Discussion
Tenn Questions: Isabelle Harrison
Updated:
January 16, 2013, 5:35 PM ET
espnW
This season, as we take a Total Access look at Tennessee, we'll also have quick visits with the Lady Vols. Sophomore Isabelle "Izzy" Harrison, a 6-foot-3 center averaging 10.5 points and 8.5 rebounds, stands up to our Tenn Questions survey:
1. What's the hardest thing about being from a big family with 11 siblings?
Isabelle Harrison: The hardest part was getting your own clothes and shoes. I've had a lot of hand-me-downs. There wasn't a lot of new stuff. Once my sister ...

Read full story
TENNESSEE TOTAL ACCESS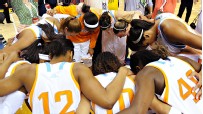 Total Access will go behind the scenes every other Wednesday this season, presenting in-depth looks at the people and personalities that make up Tennessee basketball.
FEATURES
TENN QUESTIONS
MORE WOMEN'S BASKETBALL HEADLINES