Discussion
Sports a Spani family tradition
Taber Spani wasn't yet 3 years old, but Grandpa Frosty still felt sure she could follow along. Thus, Spani started learning about "X's and O's" well before she had even mastered the alphabet.
Now here is the Tennessee senior -- just turned 22 last weekend -- in the final months of her college career. Sunday, she'll be back home in Missouri -- she's the only Show-Me Stater who has competed for the Lady Vol hoops team -- as Tennessee takes on the new-to-the-SEC Tigers. And it's ...

Read full story
TENNESSEE TOTAL ACCESS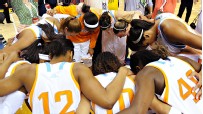 Total Access will go behind the scenes every other Wednesday this season, presenting in-depth looks at the people and personalities that make up Tennessee basketball.
FEATURES
TENN QUESTIONS