Discussion
Tenn Questions: Ariel Massengale
Updated:
February 13, 2013, 11:58 AM ET
espnW
This season, as we take a Total Access look at Tennessee, we'll also have quick visits with the Lady Vols. Sophomore Ariel Massengale, a 5-foot-6 point guard averaging 8.2 points and 4.6 assists per game this season, stands up to our Tenn Questions survey:
1. Is there a story behind your first name, because it of course makes us think of Disney's "Little Mermaid"?
Ariel Massengale: There's no story behind my name. At first, my mom was going to name me Constance. But one ...

Read full story
TENNESSEE TOTAL ACCESS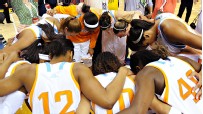 Total Access will go behind the scenes every other Wednesday this season, presenting in-depth looks at the people and personalities that make up Tennessee basketball.
FEATURES
TENN QUESTIONS
MORE WOMEN'S BASKETBALL HEADLINES