Discussion
Bracket has familiar feeling
One dark, Midwestern winter evening I was driving home from a basketball game … OK, we could be talking about a lot of nights here. They're all pretty much the same, add or subtract the dangerous elements of snow and freezing rain.
I know there wasn't either of those, though. Instead, the "scary" element of the drive was a CD of Stephen King short stories.
One of which was called, "That Feeling, You Can Only Say What It Is in French." A couple is driving on vacation, ...

Read full story
EIGHT IS GREAT FOR UCONN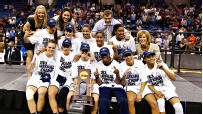 Connecticut routed Louisville 93-60 to win its eighth national title
Tourney home » Bracket » Challenge » Video »
NATIONAL CHAMPIONSHIP
VIDEO
BLOGS
MORE ON TOURNEY
MORE WOMEN'S BASKETBALL HEADLINES