Discussion
Savor Delle Donne, Diggins, Griner
There's no other way to say this. I'm a big sap.
I cry at most movies, even the lousy ones. I can't get through "Parenthood" on Tuesday nights without a stack of tissues. During the days leading up to my daughter's high school graduation last year, I was a weepy, sniffling mess.
And don't even talk to me about "Toy Story 3." Wait, I think I have something in my eye.
I'm a sucker for a romantic ending, a sad plot twist or a heartfelt speech, but it's ...

Read full story
EIGHT IS GREAT FOR UCONN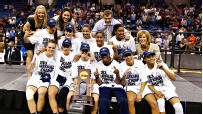 Connecticut routed Louisville 93-60 to win its eighth national title
Tourney home » Bracket » Challenge » Video »
NATIONAL CHAMPIONSHIP
VIDEO
BLOGS
MORE ON TOURNEY
MORE WOMEN'S BASKETBALL HEADLINES