Discussion
League closing gap with Stanford
How long has it been since the Pac-12 Conference has been a national afterthought, a place that only infrequently captures anyone's attention east of the Mountain time zone?
Stanford's run of five straight Final Four appearances cemented the league's one-horse status for half a decade, and then Cal took a sledgehammer to that wall, breaking through in New Orleans in a way that opens things up for the entire conference just a season later.
That doesn't mean every team in the ...

Read full story
2013-14 SEASON PREVIEW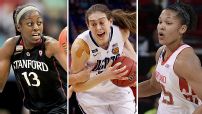 Get ready for 2013-14 with espnW's women's college basketball season preview.
TOTAL ACCESS
VIDEO