Losses by Maryland, UNC leave ACC feeling empty
AP Photo/Elaine Thompson
Not a happy ending for the ACC
By Mechelle Voepel
ESPN.com
The selection committee always says that it never thinks about conference affiliation when doing the bracket. The funny thing is, that's always what we observers think about when the NCAA tournament is being played out. And this year, it's not a very happy ending for the ACC. The league got two No. 1 seeds, North Carolina and Maryland, but both of them lost in the Elite Eight on Monday. The losses were different -- the Tar Heels were outdefended, the Terps were outscored -- but there's a lot of disappointment on both ends because expectations were so high. It has been an unusual season for Maryland, competing much of the time with coach Brenda Frese unable to travel because of her pregnancy. The Terps adjusted to that, and the only game they lost in the ACC regular season was in double overtime at North Carolina. Maryland lost in the ACC tournament semifinals to Duke and then did not play well in its first two NCAA tournament games. The Terps came into the Sweet 16 having given up an average of 64.1 points per game this season, which put them in the bottom portion among fellow ACC teams. Against Vanderbilt in the regional semifinals, the Terps allowed 66 points … but won easily by scoring 80. But on Monday, their defense didn't stop Stanford at all -- the Cardinal shot 50.8 percent for the game -- and it's hard to outscore a team that puts up 98 points on you. Even when you're Maryland. So the ACC is now out of the tournament -- and here's how it breaks down for the league: • No. 10 seed Georgia Tech fell by three points to No. 7 Iowa State in Des Moines -- 30 miles from the Cyclones' campus -- in the first round. • No. 11 Florida State almost pulled a big upset over No. 3 Oklahoma State in the second round, but fell in overtime. Lots of us picked the Seminoles as the biggest at-large surprise of the field, so they proved us wrong on that. • No. 4 Virginia had to play No. 5 ODU in Norfolk, Va., and lost on a late 3-pointer in overtime. • Duke got as far as projected, losing as a No. 3 seed to No. 2 Texas A&M in the Sweet 16. With the Blue Devils, we'll have to see what shakes out in the offseason for a program that had some turmoil behind the scenes with a new coach. Joanne P. McCallie and some of the Blue Devils have to work -- and it shouldn't all fall on the players -- to mend fences. Are they up for it? • North Carolina got shut down offensively for the second year in a row in the tournament. The Tar Heels scored just 50 points in both of their season-ending losses in 2007 and 2008. They'll have three starters back but lose a lot of experience and production on the front line. • Maryland, the young whiz kids of 2006, didn't get a second title for starters Crystal Langhorne and Laura Harper, whose college careers are over. As good as the Terps' fearsome foursome -- those two players plus juniors Kristi Toliver and Marissa Coleman -- has been in playing three seasons together, it shows just how hard it is to win twice. Let alone do what Tennessee (1996-98) and UConn (2002-2004) did in three-peating. The ACC is left with a little bit of a hungry feeling. The league has made 14 appearances in the Final Four since the women's NCAA tournament began in 1982. But it has won just two titles: Maryland's in 2006 and North Carolina's in 1994. Admittedly, three of those appearances came in the same Final Four, as Duke and Carolina were beaten by Maryland in Boston. But it's still a little frustrating for the league that it hasn't won it all more often. Then again, there is something to the fact that the ACC now has had at least one No. 1 seed in the field for the past eight NCAA tournaments starting in 2001. The ACC will continue knocking on the door … but when will it open again?
Stanford, Wiggins get help from Hones, Pedersen
By Graham Hays
ESPN.com
What you saw is what you get from Candice Wiggins. The emotion that spilled out as the final seconds ticked off the clock in Spokane was as genuine as the talent that fueled her second 40-plus-point performance of the first four rounds.
She really is that good and she really is that likable.
But even Wiggins' virtuoso performance against Maryland might not have been enough to finally get Stanford back to the Final Four, if not for a couple of players who had never stepped foot on a court in a game this big before Monday.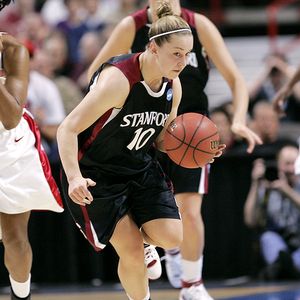 AP Photo/Elaine Thompson
Stanford got unexpected help from JJ Hones, who scored a career-high 23 points.
If Stanford has its tree, JJ Hones and Kayla Pedersen are the basketball team's Whomping Willows.
Long before the television cameras and trips to Tampa, back in that part of the fall reserved for preseason preparation, Wiggins offered a frank assessment of the team that lost in the second round of last season's NCAA tournament. In the end, by her account, that team lacked the mental toughness to handle adversity in the postseason.
"That team last year was the most talented team I've been on at Stanford," Wiggins said in October. "We were so deep, so talented, so motivated -- we were excited and basically knew we were going to go far and we knew it was a special team. But unfortunately, it was just missing that one piece. That one piece was our downfall. So I think we're a lot more aware of that this year than we were last year."
That team also didn't have Hones, who sat out the second half of her freshman season after suffering a torn ACL in the opening minutes of a game against Cal -- a game Stanford lost, ending a six-year winning streak against its Bay Area rival. And it didn't have Pedersen, who arrived this fall as a McDonald's All-American out of Arizona.
Both players were big on the scoreboard Monday night, including 23 points for Hones and a triple-threat line of 15 points, six rebounds and seven assists from Pedersen. And more than simply offensive production, which the Cardinal have often had in abundance, Hones and Pedersen add toughness to the lineup that allows them to go toe-to-toe with physical teams like Rutgers, Tennessee and Maryland and come away with wins.
Getting to the Final Four was tough, but with the right supporting cast, Stanford proved it was tougher.
Defense does it for LSU
Mechelle Voepel
ESPN.com
NEW ORLEANS -- They danced at half court of the New Orleans Arena when it was over. The LSU players were celebrating the program's fifth consecutive Final Four, and Sylvia Fowles is headed back home to Florida for this one. LSU beat North Carolina 56-50 … which eerily is the exact same score as last year's Tar Heel loss to Tennessee in the national semifinals.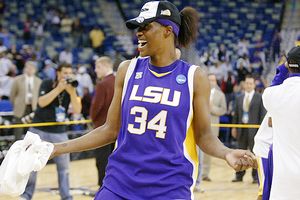 Crystal LoGiudice/US Presswire
New Orleans' most outstanding player, Sylvia Fowles, had 21 points and 12 rebounds for her SEC-record 85th career double-double.
UNC was trying to make its third trip in a row to the Final Four, and was leading the nation in scoring at 87.3 points per game. But the Tar Heels' offense was stagnant, and afterward they said they weren't sure why. Well, I think I have a pretty good idea -- LSU's defense was terrific as usual. Sometimes it's very hard for teams that get shut down to realize there was a reason it happened -- and it really wasn't because they screwed up. LSU came into this game holding foes to an average of 50.1 points per game. So what happened to most other teams this season against LSU happened to UNC, too.
More …
Second really is the best in Spokane
By Ted Miller
ESPN.com
SPOKANE, Wash. -- Two weeks ago, the NCAA selection committee told Stanford it was second-rate, creating a captivating piece of theater when the Cardinal women were captured on national television with expressions that ranged from hangdog to livid while, on the other side of the split television screen, Maryland wildly celebrated its No. 1 seed.
Suffice it to say, the scene was different Monday at the Spokane Arena. What once was No. 2 is now No. 1 in the Spokane Regional. Senior All-American Candice Wiggins bounced back from a poor Sweet 16 performance against Pittsburgh, spinning, stroking and bombing her way to 41 points to lead the Cardinal to an impressive 98-87 victory over a Maryland team that scrapped hard against a seemingly irresistible offensive display.
More …
Second-chance points to determine Rutgers-UConn third meeting
By Graham Hays
ESPN.com
GREENSBORO, N.C. -- Placed on a puzzling collision course, conference rivals Connecticut and Rutgers meet for the third time this season in Tuesday's regional final (ESPN, 9 p.m. ET). The rubber match marks just the second time since the NCAA tournament field expanded to 64 teams that conference foes seeded No. 1 and No. 2 will meet with a spot in the Final Four on the line; Vanderbilt and Tennessee had the dubious honor in 2002. It's a scenario no more pleasing to either side now than it was when the bracket first came out two weeks ago, especially given what the Big East's impressive overall performance suggests about the strength of the league. But here they are, familiar teams seeking a familiar goal in an unfamiliar place. Against their will, they fit the bill. No wonder both sides spent so much time worrying about second chances during and after Sunday's Sweet 16 games.
More …
Player of the night

Sylvia Fowles posted 21 points and 12 rebounds for her SEC-record 85th career double-double, leading LSU past No. 1 seed North Carolina, 56-50, in New Orleans. But with all due respect to the Lady Tigers' star -- whose team advanced to its fifth consecutive Final Four -- Stanford's
Candice Wiggins
gets the call. The senior scored 41 points on Monday to lead the Cardinal past Maryland, 98-87, and to its first Final Four since 1997. But Wiggins -- as reported by ESPN researcher Brett Edgerton -- also became the first player to post a pair of 40-point games in the NCAA tournament (she netted 44 points -- the third-best single-game effort in NCAA tournament history -- vs. UTEP in the second round). Even better, Wiggins is the only player to have multiple 40-point performances for her career in the tournament. Only eight other players have scored at least 40 points in an NCAA tournament game, which Wiggins has now done twice in three games. … And Candice -- we loved your postgame interview. Don't ever apologize for that unbridled emotion.
-- ESPN.com
LSU knocks off No. 1 seed North Carolina
Offensive juggernaut Carolina held to season low
NEW ORLEANS -- North Carolina's 50 points in its loss to LSU on Monday was the fewest the Tar Heels have scored this season -- by far. Their previous low was 71 points against UConn on Jan. 21 -- which also happens to be the last time North Carolina lost before falling in the regional final. "We played like -- excuse my language -- like (expletive) on offense," UNC's Erlana Larkins said, using what little kids sometimes refer to as the "s-word." We can't print it here, but we trust you can guess. "We didn't move the ball like we were supposed to. At times we did a great job getting LaToya [Pringle] the ball inside, but for the most part, we did not move. We stood still." Pringle said, "I agree. It wasn't necessarily their defense. We played against great defense in the ACC, but I just feel like it was us not moving on offense. We didn't move as fluidly as we usually do. I don't know what contributed to that." LSU knew, however. It really was the defense. "I think it's the best we've played all year," LSU's Sylvia Fowles said of her squad's defense. "We were focused and ready for everything they threw at us." And Erica White said, "I think our defense in this game last year was excellent, and this team is a veteran group." She was referring to the effort last season in the Elite Eight, when LSU also held UConn to the same amount of points as it did Carolina on Monday. LSU won that game 73-50, and another thing that was similar was how dominant Fowles was. Against UConn in the Fresno Regional final, she had 23 points, 15 rebounds and six blocked shots. Monday, she had 21 points, 12 rebounds and five blocks. "I thought Sylvia was outstanding," said LSU coach Van Chancellor, whose team committed just 14 turnovers. "She was tremendous on Larkins; she held her to five points. "I told [the players] that if we didn't turn the ball over more than 15 times, that was the first key, because that fuels their offense. And I thought their offensive rebounding did not hurt us."
-- Mechelle Voepel

Candice Wiggins gets emotional over win
A little research goes a long way
• Rashanda McCants and Erlana Larkins rank first and third, respectively, for UNC in scoring. But they didn't show it Monday. The two combined for just 14 points on 6-for-24 shooting (25 percent). Larkins (2 of 11) had five points, while McCants added nine. The two were especially ineffective in the second half. Larkins was held scoreless (0-for-7) and McCants scored five points on a pair of late buckets. • Stanford's 98 points against Maryland ties the most points ever allowed by a 1-seed in the NCAA tournament. In another Elite Eight game 20 years ago, second-seeded Long Beach State posted 98 against top-seeded Iowa (which was coached by Rutgers' C. Vivian Stringer). The score was the exact same as Monday's: 98-87. • Stanford's 14 3-pointers against Maryland (14 of 28) were the most ever in any game beyond the second round. It's also tied for the third-most in any tournament game behind Harvard's 16 treys against Vanderbilt in 1996 and Iowa State's 15 3-pointers vs. St. Francis (Pa.) in 2000. • North Carolina was held to fewer than 30 points in a half three times all year -- including twice Monday (21 in the first, 29 in the second). The only other time it happened was in a loss to UConn (27 points in the second half) in January. • For as much as LSU made its matchup with UNC a defensive battle, Stanford and Maryland had no problem generating offense. In the first eight minutes of Spokane's regional final, the Cardinal and Terps combined for as many points (45) as LSU and UNC did in the entire first half of the New Orleans final. • LSU joins Connecticut (2000-04) as the only programs to advance to five consecutive Final Fours. But though the Huskies won three national titles during that stretch, the Lady Tigers haven't made it out of the semifinals. • Stanford's win Monday snapped a six-game losing streak in the Elite 8 for the Pac-10, and sends a conference team to the Final Four for the first time since the Cardinal went in 1997. In fact, this is the first time since '97 that a team west of Austin, Texas, has reached the Final Four.
-- ESPN researcher Brett Edgerton

Monday's Sweet 16 scores
• NEW ORLEANS
LSU 56, North Carolina 50 • SPOKANE
Stanford 98, Stanford 87
Cardinal headed to first Final Four in 11 years
On Tap For Tuesday
(all times Eastern)
• OKLAHOMA CITY
No. 2 Texas A&M vs. No. 1 Tennessee
(ESPN, 7 p.m.) • GREENSBORO
No. 2 Rutgers vs. No. 1 Connecticut
(ESPN, 9 p.m.)
Hornbuckle as important as Parker
When you have a player as great as Candace Parker -- someone who doesn't just do everything, but does it all incredibly well -- it's easy to fall into the trap of thinking it doesn't matter who surrounds her. Parker could have won a national championship and be trying for another Final Four no matter who she had as a supporting cast, right?
Nope … and she would be the first one to say that. Or maybe, before she even could say it, Pat Summitt would emphatically state, "You've gotta be kidding." Because there's one player without whom Tennessee simply would not be Tennessee. The Orange Crush always has seemed to have at least one inextinguishable energy source on all its championship teams. This group has Alexis Hornbuckle. Here's how Summitt, whose program goes for its 18th Final Four on Tuesday (ESPN, 7 p.m. ET) against Texas A&M, described Hornbuckle during Monday's news conference in Oklahoma City: "I think her game starts with defense, and just her commitment to get in the passing lanes. She's great on the ball. She is even more dangerous off the ball because she does have great awareness, great anticipation, and she is a risk taker. … She'll gamble, but for the most part, she's so heady in making those reads, and [is] one of the best all-around guards I've coached at Tennessee." More from Mechelle Voepel …