Cardinals crush Orange Crush in most historic upset ever
AP Photo/Ed Reinke
Ball State notches biggest NCAA tournament upset ever
By Mechelle Voepel
ESPN.com
Plenty of people, as they filled in their brackets, moved Tennessee along to the Sweet 16 -- or even further. After all, we've seen Pat Summitt's crew in difficult seasons before, relatively speaking, come through when it really counted. Many kept thinking the "real" Tennessee would show up in March, and do the kinds of things it always had done as it piled up an absurd 18 Final Four trips. But Ball State -- a No. 12 seed playing in the NCAA tournament for the very first time -- crushed the Orange Crush. Most historic upset ever in the women's NCAA tournament? Yes. More so than what most people previously considered the most historic: No. 16 Harvard's upset of No. 1 Stanford in 1998.
More ...
Maryland avoids first-round déjà vu
By Graham Hays
ESPN.com
COLLEGE PARK, Md. -- For Kristi Toliver, the last three seasons have been about living up to the legend she created as the freshman who hit the shot heard round the women's basketball world in the 2006 Final Four. So it's fitting she'll play her final home game not just under the championship banner she helped earn but against the last team she faced as a rookie with championship aspirations rather than expectations. Of course, there are a few other not-so-subtle differences between then and now. And Maryland assistant coach Daron Park isn't afraid to point them out.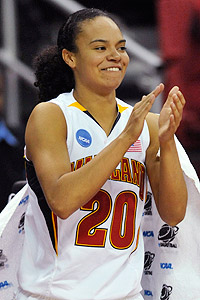 AP Photo/Gail Burton
Kristi Toliver scored 27 points on 11-for-14 shooting Sunday. At halftime, she had 23 points -- so did Dartmouth.
As a former assistant at Utah, Park nearly helped engineer one of the bigger surprises in recent NCAA tournament memory, when the fifth-seeded Utes came within a few seconds of defeating the Terrapins and advancing to the Final Four. Instead, a precocious bunch of Terps escaped in overtime and went on to cut down the nets in Boston. Even after hitting 4-of-7 shots in that overtime period in Albuquerque three years ago, Maryland shot just 39 percent from the floor in the game, in no small part because the Utes focused on making a pair of talented freshmen play like, well, talented freshmen. "Really, the biggest thing that we took into that game was … how we could take away their best thing -- Marissa [Coleman] had her go-to move and Kristi had her go-to move," Park said. "At Utah, [head coach] Elaine [Elliott] does a great job scouting and game planning, and we talk a lot about taking away the opponent's strengths. And if you do it individually, then collectively, they're not as good as a team. And so that's really the mind-set.
"So those five starters from that Maryland team, we spent a good amount of time trying to talk about if we could limit the one thing they do really well, then maybe that brings them back to the field a little bit and gives us a chance to hang around. So that was our mind-set that night. And I'm sure that will be their mind-set again for Tuesday night." But, as Park also mentioned, Toliver and Coleman do a lot of things -- just about everything, in fact -- really well these days. Just 11-for-28 from the floor in her three previous first-round games, Toliver had 23 points by halftime against Dartmouth and wasn't about to let this turn into a repeat of last year's iffy opener against Coppin State. She finished with 27 points on 11-of-14 shooting in 26 minutes, while Coleman chipped in nine points, 13 rebounds and five assists, including some near-telepathic connections with Toliver in transition. "I think we knew we were ready before the game today, because I think we were extremely focused and had good practices. We jumped out early," Coleman said. "Even though this was a first-round game, I think we were ready and we were extremely confident once we stepped out on the floor." And no déjà vu in the opening round makes it less likely that Tuesday's reunion with Utah (ESPN2, 7 p.m. ET) will have a familiar feel, no matter who is on the sideline.
Baylor by the numbers
By Graham Hays
ESPN.com

Is Baylor done? We'll know more when it's clear what roles point guard Kelli Griffin and coach Kim Mulkey will have Tuesday night (ESPN2, 9:30 ET) against South Dakota State in Lubbock, but history doesn't bode well for the Lady Bears (neither does a dwindling bench that at this point has possibly the lowest population density in the tournament). When it reached the Final Four and eventually won the national championship in 2005, Baylor dispatched Illinois State by 21 points in the first round. As it turns out, even that was a close call by recent standards. No team that reached the Final Four in the last three seasons won its first-round game by fewer than 24 points (North Carolina against UC Riverside in 2006 and LSU against Florida Atlantic the same year). In fact, the average margin of victory for eventual semifinalists was 41 points. Give UT-San Antonio credit for showing it was better than a typical No. 15 seed and pushing the Lady Bears to overtime Sunday. Give Baylor's Melissa Jones even more credit for coming through with 21 points, 10 rebounds, three assists and three steals when her shorthanded team needed those numbers more than ever. But at least for the moment, hold off on giving the Lady Bears a ticket to a potential regional final against top-seeded Maryland. While they showed in the conference tournament there's nothing more dangerous than a disrespected Bear, that might prove to have been a better measure of this team's tenacity than of its postseason potential.
No one-trick Rabbits
By Graham Hays
ESPN.com

Candace Parker put up 34 points, 12 rebounds and eight assists in her WNBA debut. The Tampa Bay Rays went to the World Series in their first playoff appearance. "The Dark Knight" grossed more than $150 million in its first weekend. So at least No. 7 seed South Dakota State has company atop the list of most impressive recent debuts after the Summit League champions demolished 10th-seeded TCU 90-55 in the program's first NCAA tournament game at the Division I level. But in tying a tournament record with 16 3-pointers (a record also tied Sunday by Iowa State), the Jackrabbits might have left some with the mistaken impression they fit a familiar mid-major upstart mold as a team that rises, and eventually falls, on the long ball. Sure, when they shoot like they did Sunday, hitting 16-of-31 overall with four players hitting multiple 3-pointers, they're going to be tough for anyone handle. But because they're also simply tough, they won't be an easy out on an off night. Consider the teams South Dakota State ranks ahead of in some non-marksman categories. • Assist-to-turnover ratio: Maryland, Baylor, Ohio State
• Rebound margin: Kansas State, Vanderbilt
• Defensive field goal percentage: Maryland, Auburn, Tennessee
• Turnover margin: Duke, Louisville, Pitt Granted, all of those teams play in considerably tougher leagues than the Summit, and South Dakota State's numbers were boosted by conference play. But the Summit Bump (apologies to Stephen Colbert) isn't solely responsible for those numbers. This is still a team that stayed within three rebounds of Maryland, outrebounded Minnesota by 10 in Minneapolis and limited Gonzaga to 34 percent shooting in Spokane. South Dakota State is going to go well beyond Lubbock if it shoots 50 percent from behind the arc. But even if it doesn't, it still might need to pack for another weekend away from home. These aren't one-trick Jackrabbits
Duke does just fine, even without Waner
By Mechelle Voepel
ESPN.com

Duke was without Abby Waner, who has a knee sprain, in its victory over Austin Peay on Sunday. It's unknown if she'll be back for the second round against Michigan State (ESPN2, 7 p.m. ET Tuesday). But Duke is not in a bad position to deal with her absence. Waner brings her range (when she's on) and her energy, but she has also led the turnover-plagued Blue Devils with 103 giveaways. She is the team's top shooter from behind the arc, with 53, but Duke doesn't necessarily have to use the 3 to beat the Spartans. Middle Tennessee, which almost knocked off Michigan State on Sunday, had five 3-pointers. But the Blue Raiders focused a lot of their attack on going right at the Michigan State defense and 6-foot-9 Allyssa DeHaan, using 5-10 Alysha Clark to do it. Duke has 6-5 Chante Black inside, and guard Jasmine Thomas has really become more comfortable running this team. And Duke doesn't necessarily lose any edge defensively without Waner. It's still an uncomfortable thing for Duke to not have Waner, of course, if she is unable to play Tuesday. But it's not something that the Blue Devils can't handle.
Bon Voyage
By Graham Hays
ESPN.com

COLLEGE PARK, Md. -- With less than a minute to play and 16th-seeded Dartmouth predictably on the wrong end of a lopsided score against No. 1 Maryland, Big Green coach Chris Wielgus momentarily looked more like the coach on the opposite end of the sideline and the scoreboard. As senior Koren Schram jogged slowly toward the bench for the last time, Wielgus waited near the scorer's table, arms outstretched with room to spare, and waited to embrace the diminutive sharpshooter from Arkansas. It was a bittersweet moment, but the coach's almost celebratory consoling was pitch-perfect. Sometimes it makes more sense to celebrate than mourn. "This year has been amazing, the best team I've ever played on," Schram said later in the quiet of the hallway around the corner from Maryland's crowded locker room. "As a team in general, we're so close, such a great coaching staff. We're a really close team, and the bond between us, we're going to keep it forever. And how far we've gotten from the beginning of the year to the end, it's almost miraculous how much we've progressed. "It's been a great trip, a great journey. And I'm going to miss it." Writing about a sport with as wide a scope as college basketball, it's inescapable that most stories exit your cerebral air space soon after entering it. With all the worthy stories out there, stacked up like planes over O'Hare, there's no escaping it. It's a cast of hundreds, if not thousands, many of whom you know very little but few of whom you know very well. Schram certainly fits in the former, and yet her story lodged firm. After talking to her last summer about a summer job working in pediatric hematology and oncology research at New York's Presbyterian Hospital, she and Dartmouth came to be an unwitting companion for this season -- the car you travel in sync with for 300 miles on the highway, whose occupants you'll never meet. Every once and awhile paths crossed -- as Dartmouth struggled in its season opener against Hartford, nearly knocked off Michigan State on the strength of Schram's shooting at a Thanksgiving tournament in Vermont and finally went down with a fight against Maryland in March. "It's kind of set in," Schram said. "Darcy [Rose] and I were in there, kind of looking at each other, talking about how our careers are over. It doesn't seem like it's time yet; we feel like we have a good two, three more years in us. It hasn't quite hit me yet but a little bit." And while she's going to do some amazingly cool things in this world when she turns the focus that honed her jump shot full bore on medicine -- things that might bring happiness to even more than the 10,847 fans who savored the home team's win Sunday -- she offered one last reminder of the hold a game can have on all of us. "I'm kind of hoping to keep playing basketball somewhere, overseas," Schram said, still clad in green jersey and shorts. "But right now, I don't know where that's going to be or what that's going to be about. And then eventually, med school." As paths diverge, here's a quick word of gratitude for sharing the road for a portion of the journey.

"Player" of the day

We can't limit it to just one player on this special day -- rather, the entire Ball State team gets the nod. The No. 12 seed Cardinals didn't just beat No. 5 Tennessee -- they won going away, 71-55. "It hasn't hit me yet," Ball State senior Kiley Jarrett said. "It is just unbelievable." Three Cardinals scored in double figures, led by senior Porchia Green with 23. Audrey McDonald had 18 points and Jarrett 14. Ball State, which has won 12 games in a row, had its best season ever in the Mid-American Conference, going 14-2. Then the Cardinals upset Bowling Green in the league tournament final. The Falcons didn't get an at-large bid. But Ball State's win over Tennessee seems pretty good evidence that the Falcons should have.
-- Mechelle Voepel
SportsCenter Highlight of the Night
NCAA tournament first-round scores
•
BERKELEY
Ball State 71, Tennessee 55
Michigan State 60, Middle Tennessee 59
Duke 83, Austin Peay 42
Iowa State 85, ETSU 53
•
RALEIGH
Baylor 87, UT-San Antonio 82 (OT)
Louisville 62, Liberty 42
Utah 60, Villanova 30
Maryland 82, Dartmouth 53
LSU 69, UW-Green Bay 59
South Dakota St. 90, TCU 55 •
OKLAHOMA CITY
Oklahoma 76, Prairie View 47
Georgia Tech 76, Iowa 62 •
TRENTON
Texas A&M 80, Evansville 45
Connecticut 104, Vermont 65
Minnesota 79, Notre Dame 71
Florida 70, Temple 57
For the complete scoreboard, click here.
UConn scores 104, crushes Vermont
On Tap For Monday
(All times Eastern)
•
BERKELEY
No. 11 Miss. St. vs. No. 3 Ohio St. (ESPN2, 7)
No. 10 SDSU vs. No. 2 Stanford (ESPN2, 9:30)
•
OKLAHOMA CITY
No. 6 Purdue vs. No. 3 UNC (ESPN2, 7)
No. 7 Rutgers vs. No. 2 Auburn (ESPN2, 7)
No. 12 Gonzaga vs. No. 4 Pitt (ESPN2, 9:30)
•
RALEIGH
No. 5 Kansas St. vs. No. 4 Vandy (ESPN2, 9:30)
•
TRENTON
No. 6 Arizona St. vs. No. 3 Florida St. (ESPN2, 7)
No. 5 Virginia vs. No. 4 Cal (ESPN2, 9:30)
All games also available on ESPN360.com. For the full schedule, click here.
Aggies advance past Evansville
Easy does it
Until such time, if it ever happens, that a No. 16 seed upsets a No. 1 again, Stanford fans will have to brace themselves for the inevitable mentions of "that game" in the first round of each NCAA tournament. But they're through it for one more year, as all four No. 1 seeds cruised their way through first-round games Sunday, and so there doesn't have to be any more mention of "that game" again in this tournament. Connecticut started the day doing pretty much whatever it wanted against Vermont, 104-65, led by Tina Charles' 32 points. Like the Huskies, Maryland is playing its first two rounds at home. The Terps breezed past Dartmouth 82-53, led by Kristi Toliver, who scored 27 points but possibly could have had 72 if she'd wanted.
More of Mechelle Voepel's blog ...
Michigan St. rallies, beats Blue Raiders by one
2 for the road
PISCATAWAY, N.J. -- Auburn isn't on a typical road trip. For one thing, the SEC regular-season champion has set up shop this weekend in the palatial locker room usually occupied by the Rutgers men's basketball team at the Louis Brown Athletic Center. It's a perk accorded to the pod's highest seed, and the traveling party of the 2-seed Tigers looked comfortable checking out other games on the big screen after beating 15-seed Lehigh on Saturday. But the New Jersey Turnpike still beckons in the distance, and the home crowd Monday night (ESPN2, 7 ET) will be anything but welcoming when the Tigers face 7-seed Rutgers.
More from Graham Hays ...
Utah holds Villanova to 30 points
Gophers? Go figure
Just when you thought you might have Minnesota figured out this season … you really didn't. The Gophers at one point had won six of seven games, including a victory on the road at Ohio State. But then they lost three of their next four. Two of those were against Purdue and Ohio State, so that's understandable. But the other loss was to Northwestern. Then the Gophers went to East Lansing and defeated Michigan State. But that was followed by a loss to Illinois in Minnesota's home finale. Then, after a loss to Iowa in the Big Ten tournament, the Gophers -- at 19-11 -- had to hold their breath about getting an NCAA tournament bid. So they weren't exactly the most likely candidate to upset home-court advantage in the NCAA tournament. But that's just what the Gophers did on Sunday. Emily Fox had 23 points, Katie Ohm had 15 and No. 10 seed Minnesota beat seventh-seeded Notre Dame 79-71 in South Bend, Ind. The Gophers made eight 3-pointers and shot 49.1 percent from the field against Notre Dame, which is not insignificant given the Irish defense. They will need a similar effort against second-seeded Texas A&M, which was expecting to have to face the Fighting Irish on their home court. -- Mechelle Voepel
Auriemma happy with Huskies' opening effort