Jackrabbits sprints past No. 12 Penn State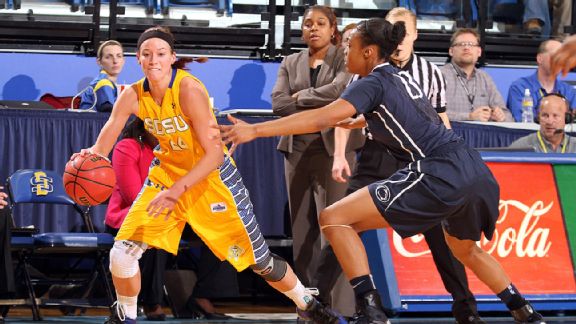 South Dakota State University AthleticsMegan Waytashek and South Dakota State (8-4) have won four consecutive games.
Megan Waytashek watched more basketball during her first two years at South Dakota State than she ever had before or likely ever wants to again. As injuries separated her from the court for the first time in her life, all she could do was sit and watch. Game after game after game.
As Wednesday night crept toward Thursday morning, watching a game was all she wanted to do. Over and over again.
No matter that the final exam period began the next day for Waytashek, a mechanical engineering major, and others at the school in Brookings, S.D., an hour north of Sioux Falls and four hours west of Minneapolis. Those headaches could wait a few hours more. She just wanted to keep watching scenes from South Dakota State's 83-79 victory against No. 12 Penn State from earlier that night, the one in which she had 18 points and eight rebounds in 31 minutes. The one in which she was in the middle of the celebration at the final buzzer.
"

To get a win like that in Frost [Arena], it just helps put our program on the map.

"

-- South Dakota State's Megan Waytashek
It sometimes seems that upsets like these come out of nowhere. There is a lot more to them than that.
"All of us girls were all smiles after the game," Waytashek recounted over the weekend. "It's hard to describe how much fun it was out there. We have a little highlight reel after the game, our coaches always put that together, and I think I watched that about five times before I went to bed. I couldn't stop watching it. It was just so cool.
"And it was such a cool moment to share with Frost Arena."
South Dakota State is no stranger to making life difficult for programs from more affluent basketball neighborhoods than the Summit League. Five seasons ago the Jackrabbits spent much of the campaign ranked in the Top 25 and lost by two points against Baylor in an NCAA tournament second-round game. Last season they beat then-No. 15 Nebraska in Brookings. But in nearly a decade as a Division I program, they had never beaten a team ranked where the Lady Lions were ranked as they made their first visit to the state.
In a season-opening loss at BYU, South Dakota State trailed by 16 points at halftime and lost by an even bigger margin. In a loss against Stanford at a tournament in Mexico over Thanksgiving, it fell behind by 21 points at halftime, a deficit that made its one-point advantage in the second half inconsequential. The Jackrabbits fell behind again against Penn State -- for all of 32 seconds. By halftime, they led 55-35.
They shot 51 percent from the field in the half, including 50 percent on 16 attempts from the 3-point line, and held a 25-16 edge on the boards against the bigger Big Ten team.
"We just came out early with so much intensity," Waytashek said. "For the years I've been here, I think that's one of the games where we've come out with so much intensity and fire."
It helped having her on the court. While Penn State's Maggie Lucas struggled through more fouls than field goals in the first half, Waytashek totaled 17 points before the break, more than double anyone else.
"

[Coach Aaron Johnston] was just telling us to … play within our roles, because when we each individually play within our roles, that's when we play the best as a team.

"

-- Megan Waytashek
A rare top-100 recruit for the Jackrabbits (HoopGurlz ranked her No. 81 in the same class that included Lucas at No. 36), Waytashek played just 22 times over her first two seasons. An ACL tear midway through her freshman season sidelined her just as she worked her way into the starting lineup.
She was back on the court by the third game of the following season but scored just 13 points in six appearances, the return complicated by bone bruises. Instead of trying to play on as what she feared would be a shell of herself, she took a medical hardship season and watched some more. Only last season did she finally arrive as one of the Summit League's best players.
Penn State made its run in the second half, too good a team to simply fade away. From a deficit of as many as 23 points early in the second half, the Lady Lions cut the margin to single digits with nine minutes to play, to four points with 2:22 to play and one point with 1:17 to play.
But they never pulled even. What Waytashek was in the first half, Steph Paluch was with 11 points in the second half, or Tara Heiser and Clarissa Ober were as reserves who totaled 10 rebounds between them after halftime. As their own shooting faltered and the lead shrank, the Jackrabbits didn't panic.
"[Coach Aaron Johnston] was just telling us to be aggressive and play our game but to play to our roles, not to try to do too much just because they're Penn State," Waytashek said of the second half. "Play how we know how to play. Play within our roles, because when we each individually play within our roles, that's when we play the best as a team."
Even if some of those roles were a long time coming.
An 87-82 victory against Central Michigan on Sunday, not an opponent any team with tired legs or distracted minds would relish facing, brought a wildly successful week to a close. But if Waytashek or any of her teammates wanted to sneak a few more looks at the highlights from Wednesday, who could blame them.
"To get a win like that in Frost, it just helps put our program on the map," Waytashek said.
To find it, just go west from Minneapolis or north from Sioux Falls. Those who toil there are worth watching.
espnW.com
Graham Hays covers college sports for espnW, including softball and soccer. Hays began with ESPN in 1999.
Comebacks completed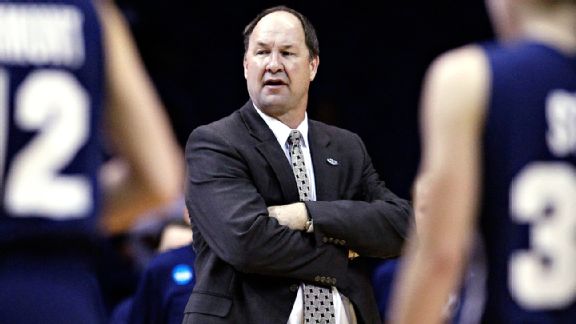 AP Photo/Nam Y. HuhJeff Judkins' BYU Cougars won nine straight to open the season before losing Saturday.
South Dakota State found just enough in reserve to stop Penn State short of an epic comeback, but that seemed less the rule than the exception over the past week.
BYU helped produce espnW's player of the week by surrendering a lead against Utah, but that was just a matter of a few points. What the Cougars did earlier in the week was history, even if not a lot of people pay attention to history made on a Tuesday night in Ogden, Utah.
Down by 24 points with 17:41 remaining in the second half, and still down by 13 points with five minutes to play, BYU rallied for a 90-85 win at Weber State. The 24-point turnaround was the fifth-biggest in NCAA women's basketball history.
It would have been the biggest comeback ever if we still lived in a world of "The West Wing" on first-run television and "Wedding Crashers" in movie theaters. Texas State set the all-time standard when it rallied from 32 points down in the first half against UTSA on Feb. 18, 2006 (it also trailed by as many as 30 points in the second half in that game).
Until that effort, the record was 22 points. Curiously enough, all four instances in which a team rallied from a deficit greater than that faced by BYU against Weber State occurred in the past seven years.
By comparison, Illinois erasing a 20-point deficit against Seton Hall on Monday looks almost pedestrian, but that, too, ranks among the 20 biggest comebacks.
All the more impressive was that the Illini trailed by 20 points with as little as 8:45 remaining in the game and actually drew level with almost a minute to spare before Nia Oden's free throw with four seconds left provided the final margin in a 71-70 win.
Clearly, leads of 20-plus points aren't what they used to be.
She Also Starred

Madi Buck, North Dakota: As good as espnW player of the week Michelle Plouffe was in saving Utah in a rivalry game, hers might not even have been the weekend's best save in a derby game. North Dakota's Buck scored 26 of her career-best 37 points in the second half to lead her team to an 88-83 comeback win against North Dakota State on Saturday.
Buck had already scored 26 points by the time her team found itself trailing by eight points with five and a half minutes to play in regulation. Her final 11 points then came as part of a 19-6 run that closed the game and erased the deficit, including a 3-pointer to give her team the lead with 87 seconds remaining. She entered the game having hit just eight 3-pointers in her first six games this season but converted on 5 of 6 attempts against the Bison.
Grand Forks and Fargo might not make the cut as stops on many basketball bucket lists, but Saturday's game was the 80th meeting between North Dakota and North Dakota State. And that includes a nearly decade-long hiatus that ended last season. North Dakota's advantage in the all-time series now stands at 43-37.
Iona and Columbia are actually geographically closer than either BYU and Utah or North Dakota and North Dakota State, but the Gaels and Lions lack what might be described as a storied rivalry. All the same, we'll gladly break up the theme of the week to mention Damika Martinez. The Iona junior scored 42 points in a win against Columbia this week. And before you start thinking she's a volume scorer, Martinez knocked down an incredible 17 of 22 shots in the win, including 6-of-9 from the 3-point line.
Fluke? It was Iona's only game of the week, but in its previous game, she scored 33 points on 12-of-16 shooting. She took one more shot than the other four starters combined across those two games -- and there's a strong case to be made that she was being too unselfish.
Team of the Week

Iowa State: This wasn't a week in which ranked teams had much opportunity to make noise. Only three games pitted ranked teams against each other, with weekend offerings limited to Stanford routing Gonzaga on Saturday and Penn State moving on from its loss in South Dakota with a win against Texas A&M on Sunday. For most teams it was a week to think more about tests off the court. Iowa State nevertheless passed one on it with an 83-70 win against Iowa.
Excluding the Hawkeyes, Iowa State's opponents owned a 30-39 record as play began Sunday. With Eastern Washington, North Dakota, Northern Iowa and South Dakota on that list, it was missing only Western Illinois to hit for the compass cycle. But its in-state rival was a real opponent, and Iowa State led by as many as 21 points in the second half and cruised to a win in which the Cyclones attempted 49 free throws, 27 3-pointers and just 29 two-point field goals, more or less a dream formula for Bill Fennelly.
Is this really the best 3-point shooting team Iowa State has had in a few seasons, as its overall shooting numbers suggest and Brynn Williamson (pictured above right) tried to reinforce with her effort against Iowa? Will the free throws -- and the Cyclones have attempted more than twice as many as their opponents -- continue when the road games come more frequently? It's too soon to say. But because of what they showed in a game that mattered, the questions still matter.
The headline on Arizona's site Sunday used the phrase "bounces back" to describe a win against Texas Tech. There is presumably a bounce that comes with falling into the Grand Canyon, too, but let us be generous in this holiday season. No team needed a win more than the Wildcats. There have been close losses, to be sure, back-to-back overtime losses to start the season and five losses by single digits. Still, a 1-7 record entering the day was tough to explain away as bad luck, especially on the heels of a great many more losses the past two seasons. But behind 23 points from Candice Warthen and 53 rebounds from the team, including 15 by LaBrittney Jones, the Wildcats earned an honest-to-goodness quality win.
Before Next Weekend
Connecticut at Duke (ESPN2, 7 p.m. ET Tuesday): What, you heard these teams were playing? The season's most anticipated game could turn on any number of things, but put turnovers near the top of the list. Duke is a model of offensive efficiency, shooting 51.5 percent overall and 43.9 percent on selective attempts from the 3-point line. But that's only when the Blue Devils keep the ball long enough to shoot. They turn it over nearly eight more times per game than Connecticut. As good as the Blue Devils are, they aren't eight possessions better than the Huskies. The teams were actually dead even in turnovers when they played a season ago -- about the only way in which they were equal on that night in a 79-49 Connecticut win -- but any attempt to win this time around means not running a deficit.

Florida Gulf Coast at LSU (Tuesday): LSU looked a little like a team that had been off for nearly two weeks in Sunday's 58-51 win against Arkansas-Little Rock, hitting just 15 field goals and finishing with twice as many turnovers as assists. Then again, playing UALR on its court can do that to teams. Talk about a contrast of styles. LSU has attempted just 86 3-pointers all season. Florida Gulf Coast can do that in a good weekend.
North Carolina vs. South Carolina (Wednesday): The annual battle of the Carolinas in Myrtle Beach, S.C., provides South Carolina with a good stage to show its offense is for real (you know a Dawn Staley defense is for real). The Gamecocks have topped 70 points in seven of nine games this season. The schedule hasn't been grueling, but consider that if you look to see when they topped 70 points for the seventh time a season ago you will be searching for a long time. It didn't happen. One big reason for the improvement? Khadijah Sessions had 36 assists and 49 turnovers in 33 games as a freshman. She's at 37 assists and 12 turnovers through nine games as a sophomore.
Purdue at Green Bay (Wednesday): Other than Wisconsin and Marquette, teams from major conferences don't go to the Kress Center in Green Bay. The last such team from outside the state to visit was DePaul on Dec. 2, 2009. It lost by 11 points. The current Phoenix are having some growing pains, losing to South Dakota State and Wichita State at home the past two weeks. Purdue's Courtney Moses and KK Houser might be able to do this on their own, as they did to some degree at Kansas on Sunday, but the story of the season for the Boilers will be finding other options.
Oklahoma State vs. Michigan State (Thursday): From Puerto Rico, it's a matchup of some people's preseason picks to win the Big 12 and Big Ten, respectively (all right, maybe I was the only one on that particular limb). The Spartans needed a big second half to beat Oakland on Sunday and end a three-game losing streak. It's a long-running theme, but they operate at a different level when Klarissa Bell is on top of what can be a brilliant all-around game. She hit just 5 of 27 shots during the losing streak. Oklahoma State has played arguably the softest schedule of any ranked team.