Four takeaways from the weekend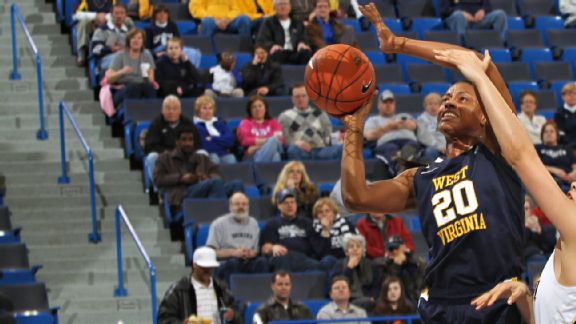 Bob Stowell/BIG EAST Conference/Collegiate Images/Getty ImagesAsya Bussie had 13 points, seven boards and five blocks as WVU won its 13th straight game.
Four thoughts gleaned from the first full weekend of conference play:
1. West Virginia's defense derailed perfection: Even with a chance to watch it a second time, it's still difficult to figure out how West Virginia came away with a 71-67 victory against previously undefeated No. 11 Oklahoma State. Coach Mike Carey talked in a television halftime interview of his frustration at allowing Oklahoma State 10 offensive rebounds in the first half. The Cowgirls had 12 in the second half. Carey talked about needing to do better than six assists and seven turnovers in the first half. The Mountaineers had four assists and nine turnovers in the second half. The coach talked (he didn't skimp with his answer) about getting Asya Bussie more involved. All right, that worked at least a little. She had 11 points in the second half and at least partly countered the effects of a terrific game from Oklahoma State center LaShawn Jones (18 points, 10 rebounds).
But for all that it didn't do, West Virginia still overcame a 12-point deficit with 6:18 to play. So what did West Virginia do? Start with stymying Tiffany Bias. Oklahoma State's point guard was brilliant in a win against Texas earlier in the week, but she hit just 3-of-18 shots against the Mountaineers. Time and again Oklahoma State tried to run pick-and-roll action for Bias from the left wing, but whether switching on the screens with interchangeable defenders or going under the screens and daring Bias to beat them with an improved but still inconsistent jumper, the Mountaineers kept the ball in her hands and took away her distribution.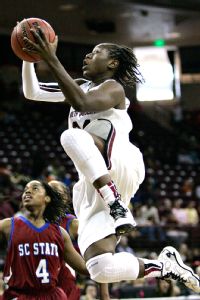 AP Photo/Mary Ann ChastainSeven Gamecocks are from South Carolina, including the team's backbone, junior Aleighsa Welch.
Traditionally a physical defensive team, West Virginia seemed a likely candidate to suffer from the emphasis on freedom of movement this season. But so far, the Mountaineers are averaging 19.1 fouls per game, down from 20.5 per game a season ago, and their opponents are averaging 19.6 free throw attempts, down from 23.4. They endured a few more whistles and a few more free throws than those averages Saturday but not enough to force them out of their defense. West Virginia's offensive numbers this season might be somewhat schedule-aided, but the defense is for real.
2. South Carolina starts big in SEC: LSU made the big splash in the SEC with a road win at Tennessee on Thursday. Florida did the same with a victory at Kentucky on Sunday. But there are also ripples that could affect the conference championship race from No. 13 South Carolina's wins at Arkansas on Thursday and against Vanderbilt on Sunday.
South Carolina had an interior presence a season ago, when it ranked second in rebound margin in conference play. But it was a stretch to call size an asset when most of that board work came from a pair of 6-footers, Aleighsa Welch and then-senior Ashley Brunner, and there wasn't much offense, inside or outside. What a difference a year makes. Welch is still there piling up offensive rebounds with an impressive all-court game, but Sunday was a chance to show off the size in a 76-66 win against the Commodores. Freshman Alaina Coates had 24 points and 10 rebounds and Elem Ibiam added 11 points and eight rebounds, both 6-foot-4 players posting up at the same time on occasion.
Granted, if South Carolina couldn't take advantage of its size against a Vanderbilt team playing without any, it never would. But the tandem of Coates and Ibiam, not as the focus of the offense but as complements to Tiffany Mitchell, Welch and Khadijah Sessions, when she returns from injury, makes this a team with a higher ceiling than a season ago (not to mention the defensive end, where the Gamecocks have almost matched last season's block total).
3. Big East? Big deal: Reports of Creighton's demise have been greatly exaggerated. Sure, a typically tough nonconference schedule, and some uncharacteristically poor 3-point shooting, took a toll on the Bluejays early this season. But behind 38 points from McKenzie Fujan, Creighton beat Big East preseason favorite DePaul on Saturday to improve to 3-0 in its new conference. (It's worth pointing out that if you throw in the 24 points she scored against Syracuse in the first round of last season's NCAA tournament, Fujan, typically overshadowed by teammates Sarah Nelson and Marissa Janning, averaged 22 points in her past four games against Big East teams.)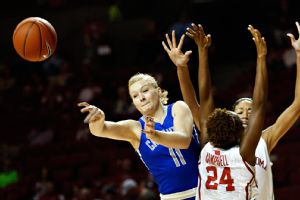 AP Photo/Garett Ray FisbeckMcKenzie Fujan scored 38 points to help lead Creighton past DePaul.
Creighton is unleashing its inner Creighton. The Bluejays launched 43 3-pointers in a win at Georgetown this past week and toned it down only slightly with 25 against DePaul. They are hitting those shots at a 36 percent clip in the (very) early going, about the same as a season ago but a night-and-day improvement over earlier this season.
More surprising is that fellow Big East newcomer Butler is one basket away from a 3-0 start. The Bulldogs lost their conference opener at home against Marquette last weekend by two, but they earned road victories at Providence and Seton Hall this week behind big performances from a Big East veteran, Cincinnati transfer Daress McClung.
4. Amy Kame keeps San Diego unbeaten: Had espnW's mid-major rankings come out this past week, Saint Mary's would have been No. 1 after an overtime thriller against Gonzaga. A week later, the Gaels are 1-2 in the WCC after losses at San Diego and BYU. Now it's the former who at least temporarily claims bragging rights (the next rankings come out Jan. 15) after San Diego improved to 15-0 with that win and Saturday's victory against Pacific (even if careless ball control frittered away a 20-point lead against Pacific and eventually sent the game to overtime).
The Toreros are one of five remaining unbeaten teams, and Amy Kame is a name to know. The senior guard had 23 points, eight rebounds and seven assists against Saint Mary's, and 28 points, 11 rebounds and four steals against Pacific. She's high-risk, high-reward, and the former might cost San Diego at some point, but the latter is fun from a player who wants the ball when the team needs a big shot.
Now the tougher part. San Diego's best wins this season came at home. This week brings a trip to Gonzaga.
espnW.com
Graham Hays covers college sports for espnW, including softball and soccer. Hays began with ESPN in 1999.
Jarosz returns for Red Foxes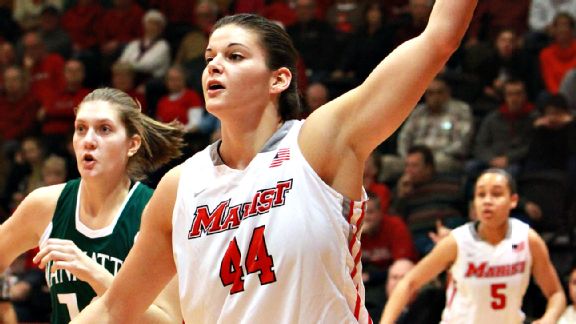 Courtesy of Marist University
A second chance to make a first impression hasn't been the problem for Tori Jarosz. The stumbling block is staying on the court for a second impression.
Seconds after Jarosz took the court for Marist during a New Year's Eve game against Canisius, the ball was in her hands in the post. She turned toward open space on the baseline side and shot.
She missed. Her momentum took her too low and the shot deflected off the backboard. It was a move with a lot of nervous energy behind it. Nearly four years' worth, really.
"There was this year, and there was last year," Jarosz said of nerves in her season debut. "I feel like I've been a freshman for four years now, so there is always that nervous energy. But you know what, I didn't get hurt this game, so I can only get better from here.
"I'm just going to continue to keep working hard every day and just be better next time."
Next time turned out to be Friday, when Marist defeated Manhattan 70-46. Jarosz played 13 minutes and contributed 11 points and three rebounds.
It marked just the second time in four years that she played in back-to-back games.
There are plenty of stories of players persevering through repeated injuries -- Iowa's Theairra Taylor and Louisville's Tia Gibbs two notable examples of players making the most of additional eligibility. But good luck finding a player who experienced more frustration -- or played less -- through her first three and a half years than Jarosz. After a freshman season at Vanderbilt in which she played just 15 minutes in six appearances, she transferred to Marist and sat out the 2011-12 season as required by rule. A season later, she scored 14 points in Marist's opener. It turned out to be her only game last season; a wrist injury sustained during her 18 minutes on the court sidelined her the rest of the way.
After three years, the ledger read seven appearances and 33 minutes on the court.
Which is what she was working to change when she suffered a ruptured Achilles this past summer. She began her fourth season in street clothes. Again.
So you can understand the nerves, or why her blocked shot in the closing seconds of the first half mattered for reasons beyond the two points it saved.
"I was nervous for her," senior Leanne Ockenden said. "I could tell she was excited -- the whole team was just so excited to see her out there working. She's been working so hard this week in practice. Getting that block, yeah, our whole team got excited for her because we know what she can do and every little thing she does will help this team."
Marist coach Brian Giorgis was perturbed at the undue pressure when Jarosz received preseason all-conference recognition before she ever played a game a season ago, but she is an undeniably intriguing figure. Even for a program as successful as the Red Foxes, 6-foot-3 post players with athleticism and a mid-range touch are something of a winning lottery ticket in the MAAC. With its collection of shooters and veterans, Marist doesn't need Jarosz to be its best player. But if she shakes off the rust between now and the postseason, that's a scary thought for potential opponents.
"I knew that when I came back, I've been through so much adversity that I realize I need to give it everything I've got," Jarosz said. "I can't be scared to get hurt or fall or anything because anything can happen at a moment's notice."
She Also Starred

Katherine Plouffe, Marquette: Basketball isn't the sum of who Plouffe is as person. But it's a part of who she is, something to which she has devoted countless hours, days, weeks and years, as have all of her peers. It's what she does. So it's what she did Saturday.
After missing three games over the past two weeks because of a death in the family, Plouffe returned to the court (as did twin sister Michelle at Utah) in time for Marquette's game at Georgetown. It was some performance. In the midst of what is already a career season, Plouffe scored a career-best 33 points, including 11 points in overtime, and added 11 rebounds in an 82-80 victory sealed on Brooklyn Pumroy's late free throws.
These overtime epics are becoming something of a trademark for the sisters. Michelle was named espnW's player of the week after a similar performance in a win against BYU in December.
Also spotted: The reigning Big 12 freshman of the week, Jadda Buckley, didn't score in No. 14 Iowa State's easy win at TCU on Thursday to open conference play. That marked the first time in her admittedly young career she finished a game without a point. Perhaps she was just saving up for a more opportune time. Buckley scored 29 points, including 6-of-7 3-point attempts, in her team's overtime victory Sunday at No. 25 Oklahoma, taking top shooting honors on a court that included her teammate Hallie Christofferson and Oklahoma's Aaryn Ellenberg and Morgan Hook.
It's a significant result for the Cyclones, whose only other meaningful win, at least in terms of a would-be national contender, came at home against Iowa (Buckley had 19 points in that one, so she seems to like these games). And Buckley is a significant addition for what looks more and more like Iowa State's best shooting team in a few seasons.
Team of the Week
Florida: LSU's win in Knoxville was a surprise because, frankly, it's still a surprise when any visiting team wins in Thompson-Boling Arena. But let's face it; put aside the orange and the history, and No. 16 should be able to beat No. 5 on the road every now and again. Unranked Florida winning on the road at No. 6 Kentucky? Now we're talking long odds.
The Gators actually came close to beating Kentucky in Lexington in each of the past two seasons, but close is what it is. They didn't win. In fact, they hadn't defeated a ranked team in a true road game since 2008. That changed with an 83-73 victory Sunday at Memorial Coliseum. Add in a win against Mississippi State on Thursday, and it's the first time in nearly two calendar years that the Gators won two SEC games in the same week.
The Gators had people step up in both games, but credit Jaterra Bonds for her consistency. She led all scorers with 23 points Sunday. It wasn't the most efficient scoring, and someone with a positive assist-to-turnover ratio had six turnovers and no assists. But sometimes you just need your go-to scorer to score points. She did that all week.
Also spotted: Let's not get ahead of ourselves and label it a turning point, but Wisconsin coach Bobbie Kelsey and her players at least deserve some restful sleep this week.
Wisconsin twice made second-half comebacks en route to overtime wins, first against Green Bay and then in its Big Ten opener on the road at Illinois on Friday. Why do those two results have special meaning? Green Bay, with a fraction of its in-state neighbor's resources, had beaten Wisconsin in each of the past four seasons. And the architect of the first three of those results? Illinois coach Matt Bollant.
As you might have seen on a SportsCenter highlight, the single biggest spark that lit the fire came from Nicole Bauman, whose heave from somewhere around 30 feet as time expired sent the game against Green Bay to overtime and capped a 14-point comeback. She had an even better game, minus a shot that will live in lore, with 12 points and seven assists against Illinois. But it was Taylor Wurtz who had one of the games of the week with 27 points and 19 rebounds as the Badgers overcame a seven-point second-half deficit to beat the Illini 76-64.
That from a 6-foot redshirt senior guard who this time a year ago was getting ready for season-ending back surgery.
Before Next Weekend
Indiana at Purdue (Monday): It has been some time since this rivalry had national appeal. Indiana was 12-3 when it beat Purdue, which entered with a 12-5 record, early in Big Ten play in 2008-09, but the series has mostly been the Hoosiers looking up at the Boilermakers. Aside from shaky free throw shooting, Indiana's win against Iowa on Thursday was impressive stuff. The Hoosiers committed just 11 turnovers, hit 11 3-pointers and finished with more rebounds than the Hawkeyes, including 16 offensive rebounds. All of those areas have been strengths this season for Curt Miller's team, but none of the previous efforts came against an opponent as good as Iowa.
Baylor at West Virginia (Wednesday): Slowing Tiffany Bias, one of the nation's best point guards, was impressive. But now it's Odyssey Sims in front of them. Sims didn't have huge games against the Mountaineers a season ago, but she didn't need to because, well, you know, Brittney Griner (who was one block shy of having two triple-doubles against the Mountaineers in their first pass through the Big 12). Sims didn't let the start of conference play slow her down, scoring 70 combined points in wins at Kansas State and against Kansas this past week.
Illinois-Chicago at Green Bay (Wednesday): Green Bay got back on the court with a resounding win against Maine two days after the painful loss at Wisconsin, so at least that is out of the way. But this might be the first leg of the decisive Horizon League series. Behind Louisville transfer Rachel Story (19.6 points per game), UIC has quietly been one of the season's best turnaround stories and enters this game with an 11-game winning streak.
Kentucky at South Carolina (Thursday): One reason South Carolina's bigs can be effective is the rest of the team does a good job of getting them the ball. Just about every player who handles the ball has a positive assist-to-turnover ratio this season (another change from a season ago). The notable exceptions to that ball control? A neutral-court loss against North Carolina -- the opponent whose capacity for pressure most closely resembles what the Gamecocks will face against the Wildcats -- and Thursday's game at Arkansas, one of those played without Khadijah Sessions.
Nebraska at Michigan State (Thursday): Someone might need to remind the Huskers where their bags are, as they head on the road for just the third time this season. But it seems like Rachel Theriot is ready for the exposure. The sophomore, ostensibly Lindsey Moore's replacement at point guard, had 19 points, eight assists and six rebounds in 40 minutes in the Big Ten opener against Northwestern. For the season, she's averaging exactly as many assists (5.7) as Moore did a season ago and doing it with a slightly better assist-to-turnover ratio.
BYU at Gonzaga (Thursday): Maybe it's too early to say BYU saved its season with an overtime win against Saint Mary's on Saturday, but after a loss at home against Pacific two days earlier, it was in danger of digging a Wasatch-sized hole for itself. The numbers don't necessarily show it, but Jennifer Hamson was again a warrior, finishing both games with black eyes and gauze plugging her nose after getting hit in the face in successive games. BYU is a different team with her on the block, which makes for a fascinating matchup against Gonzaga's assorted big bodies.