Little separates top teams in Big Ten
EAST LANSING, Mich. -- Any temptation to make Sunday's game between No. 16 Penn State and Michigan State, the team ahead of the Lady Lions in the Big Ten standings when the ball tipped, into a game with immediate championship implications vanished, along with much feeling in fingers, on the walk from the parking lot to the doors of the Breslin Center.
And this was what looks like it will hold up as the warm day this week in East Lansing.
Still, there aren't wind chills like this in March and April, when trophies come out of storage and nets get shorn. This is January. Just January.
Closing out a weekend in which nine ranked teams lost to opponents that were either ranked lower or unranked, Penn State was content to avoid such a fate, take a 66-54 win short on artistry and head gratefully back home with the same 4-1 conference record as both Michigan State and Michigan. Let Sochi deal with artistic impression.
"It'd be great if we won every game by 50, but it's not always going to be pretty," Penn State coach Coquese Washington said. "You're not always going to have a great shooting night. But there are certain fundamentals you can focus on defensively, making other teams take tough shots. When you don't shoot the ball well, then you've got to be solid defensively. If you can do that you've got a shot every night."
That was the message delivered with the detachment of a professor Sunday, as well as that delivered presumably less sanguinely after an 84-74 loss at home against Purdue a week ago. Only once in the past two championship seasons had Penn State allowed as many as 84 points in a conference game. Thursday it allowed 42 points in a win against Ohio State. Sunday it allowed all of 20 points after halftime and held Michigan State more than 20 points below its season scoring average.
All Penn State had to do was find enough points. It had just enough options.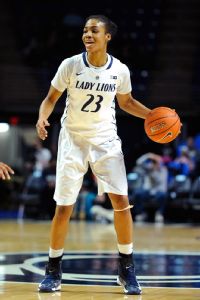 Rich Barnes/USA TODAY SportsAriel Edwards tallied 16 points and six rebounds, and had no turnovers in 39 minutes.
Maggie Lucas, Dara Taylor and Ariel Edwards attempted 46 of Penn State's 57 field goals and 24 of its 36 free throws against the Spartans. As heavy a load as that was, it isn't far from the norm. Those three entered the game having attempted more than 60 percent of the Lady Lions' field goals this season. No team ranked ahead of Penn State in last week's top 25 relied nearly as heavily on three players. Washington said she would like more balance. It is difficult to see where it will come from.
There aren't many players in the Big Ten, or any conference, better defensively than Michigan State's Klarissa Bell. She got a few minutes of rest on the bench, and the Spartans did their share of switching, especially when Lucas came around the double screens Penn State likes to run for her, but mostly it was her job to shadow the sharpshooter. She did well. Lucas scored 16 points on 5-of-16 shooting and is shooting 34.5 percent in four games against Michigan State since the beginning of last season. But even if Lucas struggled, the trio combined for 50 points.
You know where the shots are coming from with the Lady Lions, but it's difficult to stop them.
"I think that was different," Bell said of the concentration of shots. "Especially Dara Taylor and Ariel Edwards; they'd come off that ball screen and they were just going. So we couldn't find an answer for that, unfortunately, tonight. They were making their layups and taking it to the basket and getting fouled. They were just the more aggressive team."
Edwards might be the single biggest reason Penn State remains where it is in the standings. Not that she's better or more valuable than Lucas or Taylor, but in addition to a defensive asset as a big body on the perimeter, she has been the third scorer the Lady Lions desperately need because they don't have a fourth or fifth scorer.
"She's super versatile," Taylor said. "She's a very tough matchup for a lot of defenses. She can push in transition, she can finish, she can shoot the jump shot, post up. She can defend '1' through '5,' basically. I think just her confidence is continuing to grow, and I think we're seeing that game in and game out."
When Edwards arrived in State College four seasons ago, she was a post player who had never logged minutes as a guard.
"You watch her play now and you can't tell that," Washington said. "You wouldn't know that she was kind of a back-to-the-basket low-block player. She's worked to transform her game to being a wing player, to being able to defend on the perimeter."
None of which means Penn State is now the favorite in the Big Ten (or again the favorite). A week ago, it was the team looking for lessons in defeat. Just as Michigan was after a loss against Michigan State last week. Just as Purdue was after a loss against Michigan on Wednesday. Just as Michigan State was Sunday night. You get the picture. There might not be a conference where less separates first and last, or at least first and seventh or eighth.
"You just got to look at the negatives and say we weren't playing together offensively very well tonight, and you've got to look at the other four games, when we were playing really well together," Bell said of the team's strong start in conference. "And we've just got to weigh the positives and the negatives and know we can't do what we did tonight. We've got to keep playing like we did those first four games. We were boxing out and getting those defensive rebounds and pushing it in transition."
All Big Ten teams can do right now is try not to get left out in the cold.
espnW.com
Graham Hays covers college sports for espnW, including softball and soccer. Hays began with ESPN in 1999.
A trio of talking points
1. Sunday struggles for ACC elite: No major conference was immune from the weekend weirdness. In the Big 12, there was Kansas beating Baylor and some other struggles we'll get to momentarily. In the SEC, Kentucky nearly dropped a game at Auburn and Vanderbilt scored a mild upset against LSU. Colorado kept losing and Washington State kept winning in the Pac-12, while the Big Ten is one giant 50-50 proposition. But top billing, such as it is, goes to the ACC.
On what should have been a quiet Sunday, Georgia Tech led Maryland at halftime, Virginia Tech trailed Duke by a single possession in the closing minutes and Florida State and NC State lost by a combined 26 points on the road.
2. And then there were three (Big 12 contenders): To repeat, it's too early to settle conference championships. But darned if some erstwhile Big 12 contenders aren't testing the notion that it's too early to write off teams.
Tied at the end of regulation when they met on Jan. 5, Oklahoma and Iowa State appeared equally viable contenders. Iowa State won that game, but it didn't much matter. Neither has stopped stumbling since. Oklahoma lost at West Virginia on Saturday and dropped to 2-3 in the conference. Iowa State served up the bigger head scratcher in a loss at Kansas State that came on the heels of rare back-to-back home losses against Oklahoma State and West Virginia.
Iowa State forced a total of 27 turnovers in those games. By itself, that isn't necessarily damning. Not every team tries to be Kentucky, and the Cyclones weren't forcing all that many turnovers during a 14-0 start (14.4 per game). But if a team isn't forcing turnovers and can't dominate the boards the way it did against a soft early schedule, it has to get stops somewhere. Oklahoma State, West Virginia and Kansas State combined to shoot 44.4 percent in their wins. Of the three, only Oklahoma State is shooting that well for the entire season (and barely, at 44.5 percent). Yes, the Cyclones shot poorly from the 3-point line in the first two losses and couldn't get Hallie Christofferson going against the Wildcats on Saturday, but it's the other end of the court causing them headaches at the moment.
Guess which two teams play Tuesday in Ames with the loser staring at four conference losses?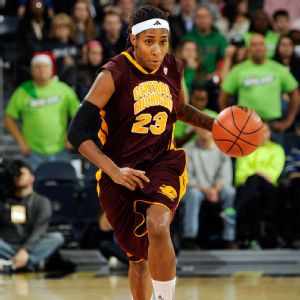 AP Photo/Joe RaymondCrystal Bradford (13 points, 15 rebounds, seven blocks, five assists, eight steals in 42 minutes) helped Central Michigan beat Bowling Green 82-79 in overtime.
3. Big drama, small settings: Conference titles aren't won or lost in the middle of January, but a string of key games this past week did set the parameters of some races. While fans understandably watched Monday's drama between Baylor and Connecticut, Iona went to Poughkeepsie and beat Marist on a jumper in the closing seconds from Damika Martinez (fourth nationally in scoring entering the weekend). The road win not only means the MAAC race now runs through New Rochelle, N.Y., but it broke Iona's 29-game losing streak against eight-time reigning conference champ Marist.
On Wednesday, Middle Tennessee asserted its claim to Conference USA supremacy with a 69-58 win against UTEP, forcing 25 turnovers and finishing with 10 more field goal attempts and 15 more free throw attempts than the Miners. UTEP, which began the week 13-2, then went to Charlotte and gave up 92 points in a loss, including 32 points on 12-of-15 shooting from Hillary Sigmon. Thursday brought Youngstown State's win against Green Bay.
But the weekend provided the best of them all when Central Michigan rallied from a 12-point deficit with less than four minutes to play in regulation to beat Bowling Green in overtime in a game between MAC unbeatens. For the first 36 minutes, Bowling Green was methodical, if a bit too careless with the ball in what proved a bit of foreshadowing. The Falcons made sure the game was played at the pace they wanted, not the pace desired by the team that put up more than 90 points at Purdue. Bowling Green's Alexis Rogers is one of the few players in the league who can stay with Central Michigan's Crystal Bradford, at least for stretches, and the latter was mired in a shaky shooting performance.
And then it all turned on its head in 223 crazy seconds, a span in which five Bowling Green turnovers led directly to eight points, and the Chippewas needed two offensive rebounds to finally get the tying basket with 29 seconds to play. Da'Jourie Turner was the scoring hero for Central Michigan down the stretch, but in not even nine minutes of the comeback and overtime, Bradford had five rebounds, four steals, three blocks, two points and one assist. She is one of a kind in the MAC. She might just be one of a kind.
She Also Starred

Rachel Theriot, Nebraska: It will be difficult for any player to play a better game this season than Theriot played against Minnesota on Thursday.
Start with the numbers because, well, the numbers are Don Larsen-esque. Theriot played all 45 minutes in an 88-85 overtime win. She finished with 33 points on 11-of-15 shooting from the floor, including 3-of-4 shooting from the 3-point line, and a perfect 8-for-8 from the free throw line. She had nine assists and nary a turnover. But it goes beyond the stats. She did it all while going big moment for big moment, consciously or unconsciously, with Minnesota's Rachel Banham, who also scored 33 points and hit the 3-pointer that forced overtime. Even more impressively, Theriot never strayed into "heat check" mode where her hot hand tempted her to force shots. She buried mid-range jumper after mid-range jumper down the stretch, but when a passing lane opened, she calmly entered the ball to Emily Cady in the post.
Colts fans got Andrew Luck after Peyton Manning; Huskers fans get Theriot after Lindsey Moore.
Also spotted: Kelsey Plum, Washington. It was the final upset of a weekend full of them, and came at the same time a football team was playing a moderately important game downtown, so Plum isn't going to get top billing many places. The freshman scored 35 points in Sunday's 81-72 win against No. 21 Colorado. That came after she tied for a team high with 14 points and played all 45 minutes in Friday's overtime win against Utah. And talk about a kid wise beyond her years. Plum hit 18-of-19 free throws against the Buffaloes and averages more than six free throw attempts per game. She is also one of Washington's two main 3-point assets, but kudos to a freshman willing and able to take advantage of the emphasis on freedom of movement by getting to the line.
New Mexico State's Abby Scott began the week averaging 7.1 points per game. She finished the week averaging 9.7 points per game -- and when a team is more than halfway through its schedule, it takes something out of the ordinary to move the need that much in such a short span of time. Something like Scott scoring 36 points in a victory against Chicago State and 25 points in a win against Kansas City, both in WAC competition.
Team of the Week
Youngstown State: It wasn't easy to get the ball rolling again for a program as downtrodden as Youngstown State. But for coach John Barnes and junior Heidi Schlegel, an equally impressive feat is preventing that same ball from rolling back over them, Indiana Jones-style, now that it has some velocity. Youngstown State was one of last season's more notable success stories when it won 23 games with a senior class that had been part of an 0-30 season as freshmen. But the two most recognizable architects of that success, coach Bob Boldon and standout forward Brandi Brown, moved on prior to this season (Boldon to the University of Ohio and Brown to a professional career overseas).
Enter Barnes, in his first year as coach after an assistant's role with Kevin Borseth at both Michigan and Green Bay, and Schlegel, a returning starter but newly cast as the team's go-to player.
After a slow start that fed the suggestion of one-year wonders, including losses in six of their first seven games, the Penguins are 4-0 and alone in first place in the Horizon League. To get there, they needed to do something that even Boldon didn't do in reviving the program: Beat Green Bay. And they needed to do it with Schlegel stuck on the bench for most of the game in foul trouble. But behind 20 points from Jenna Hirsch, Youngstown State beat Green Bay for the first time in nearly a decade and just the second time in all 31 games between the two schools.
Schlegel was back in form with 20 points in Saturday's win against Milwaukee. Through 17 games, she is just seven points behind Brown at the same point a season ago.
Also spotted: Pick an upset, any upset. Mechelle Voepel has the Kansas stunner against Baylor well covered, so let's give a nod to Virginia, which deserves credit for fighting back against a brutal schedule. After splitting its first two ACC games, Virginia faced four games in 12 days against Notre Dame, Duke, Florida State and Maryland. So, yeah, good luck with that. The Cavaliers actually put a scare into Notre Dame to begin the ordeal, but they looked every bit the afterthought in Thursday's 90-55 loss at Duke. To turn around and not just beat Florida State on Sunday but win going away behind 26 points from Faith Randolph and 18 points and 10 rebounds from Ataira Franklin.
Before Next Weekend
Stanford at Arizona State (Monday): If it's not the main event Monday night because of the game in Knoxville, it's one heck of an undercard. Maybe Washington State really is as good as its conference start, maybe the back-to-back games against Cal at the end of the month are the real tests, but this trip to Tempe could be Stanford's biggest hurdle in the Pac-12. That said, while the Sun Devils beat Cal on Friday while shooting 56 percent from the free throw line and 9 percent from the 3-point line, that won't work against the Cardinal. Freshman Lili Thompson has quietly amassed 24 assists and just six turnovers and is averaging 10.2 points per game in Pac-12 play.
Notre Dame at Tennessee(ESPN2 and WatchESPN, 7 p.m. ET Monday): Tennessee leads the all-time series 20-3. Notre Dame's three wins came in the three most recent meetings. Does any of that matter? Probably not nearly as much as whether Tennessee can stop Kayla McBride, Jewell Loyd and others from doing what they want with the ball. In what was supposed to be the response to the Vanderbilt loss, the Lady Vols made Mississippi State's Katia May and Kendra Grant look suspiciously like Jasmine Lister and Christina Foggie. Maybe Meighan Simmons, who came off the bench in that game, can go crazy, but odds are Tennessee has to control the paint to win this game.
Saint Joseph's at George Washington (Wednesday): Saint Joseph's follows this with a game against Dayton on Sunday, so a team that looked so good early this season could be in a world of A-10 hurt if it loses to the Colonials for a second time. Curiously, because it isn't one of the team's strengths, Saint Joseph's hasn't been outrebouned since George Washington clobbered them 49-37 on the boards in that Jan. 5 win. The latter lost its showdown at Dayton this past week, but it got back leading scorer Megan Nipe. She missed the first game against Saint Joseph's.
Duke at Florida State (ESPN3, 7 p.m. ET Thursday: Florida State played a gutsy, coherent laudable game against North Carolina a week ago and nearly won despite playing without Natasha Howard much of the game. Either that effort took its toll or the Seminoles played way above their heads that day because they weren't very good in losses against NC State and Virginia this past week. In the first two games without Chelsea Gray, Tricia Liston scored 43 on 16-of-24 shooting and added 18 rebounds and six assists. She averaged 12.5 points per game and hit 6-of-19 shots in two games against Florida State a season ago.
Drexel at James Madison (Thursday): Along with Jacksonville at Florida Gulf Coast, this is one of only two games during the week between unbeaten conference foes, albeit only two for unfortunate reasons after a bomb scare at Mississippi Valley State led to the postponement of a scheduled game against fellow SWAC unbeaten Southern. Drexel freshman Sarah Curran averaged 17.3 points on 64 percent shooting in her first three CAA games, but the Dukes did not allow any of their first three conference opponents to shoot better than 36 percent.
USC at California (Friday): Washington State has claimed the surprise spotlight in the Pac-12, but USC is right there after two comfortable wins against the Oregon schools this past weekend improved the Women of Troy to 6-1 in the league. The Bay Area trip this coming weekend will test that positive momentum, but this is obviously the more likely game to steal. That said, USC has struggled this season against dynamic point guards who like to attack pressure, losing against Tiffany Bias, Kate Gaze and Samantha Logic among others. Is Brittany Boyd next?