Trio closing in on scoring marks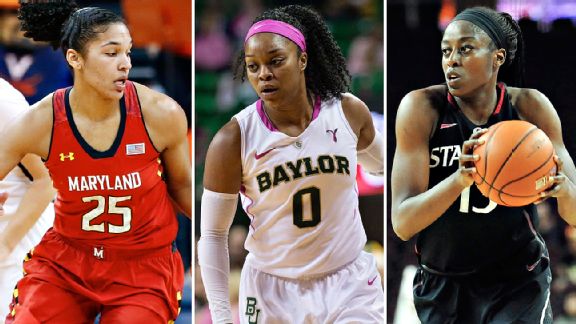 USA TODAY Sports
Several of the season's top stars -- including three Need to Know players -- are on the verge of rewriting record books:
• Alyssa Thomas
The Maryland senior already made headlines this week when she became just the third woman to win ACC player of the year three times. Now Thomas needs just 14 points to break Maryland's career scoring mark. The record could fall as early as Friday.
Entering Friday's ACC tournament quarterfinal (ESPN3, 8 p.m. ET) against North Carolina, Thomas ranks No. 2 at Maryland in scoring (2,234 points) and rebounding (1,167 boards). Crystal Langhorne holds the scoring record at 2,247 points.
Thomas, one of four players in NCAA history with at least six career triple-doubles, also needs just 62 rebounds to tie Langhorne's school rebounding record (1,229).
Thomas, who averages 18.7 points and 10.8 rebounds per game, is just 35 points shy of tying Juan Dixon's school scoring record (2,269).
• Chiney Ogwumike
The Stanford senior already is the Pac-12's all-time leading rebounder and has established a new single-season Pac-12 scoring record. Ogwumike now is closing in on becoming the conference's all-time leading scorer.
Ogwumike entered Friday's Pac-12 quarterfinal (which started at 3 p.m. ET against Colorado) with 2,580 points. That's 49 short of tying the all-time mark of 2,629, held by Stanford alum Candice Wiggins.
Ogwumike has 1,483 rebounds (the old Pac-12 record was 1,266, by Kayla Pedersen). Chiney's 810 points this season broke sister Nneka Ogwumike's single-season Pac-12 scoring record of 809.
• Odyssey Sims
The Baylor senior has her sights set on an even bigger record. Can Sims topple Jackie Stiles' NCAA Division I women's single-season scoring record?
Stiles scored 1,062 points in the 2001 season for Missouri State. Heading into the Big 12 tournament, which opened Friday, Sims has 887 points this season. That's just 42 behind the Big 12 single-season scoring mark of 929 points, set by Brittney Griner in 2011-12.
Does Sims have a realistic chance of breaking Stiles' record? That depends on how many more games Baylor plays this season and whether Sims can maintain her off-the-charts scoring average.
Sims leads the nation in scoring at 29.6 points per game. Baylor, the top seed in the Big 12 tournament, would play three more games in the conference tournament if the Lady Bears reach the championship. Charlie Creme currently projects Baylor as a No. 2 seed; the Lady Bears are a host in the early rounds of the women's NCAA tournament.
Sims already holds school records in career assists (612) and 3-pointers made (248). Sims' 88 3-pointers is the Baylor single-season mark.
W Debate: Who should be player of the year?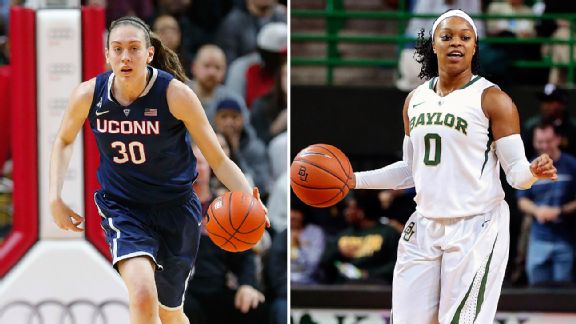 USA TODAY Sports
Connecticut's Breanna Stewart makes the stars around her play even better.
Baylor's Odyssey Sims carries her team on her shoulders.
Graham Hays and Charlie Creme debate which star should be the national player of the year. More …
McBride for national player of the year?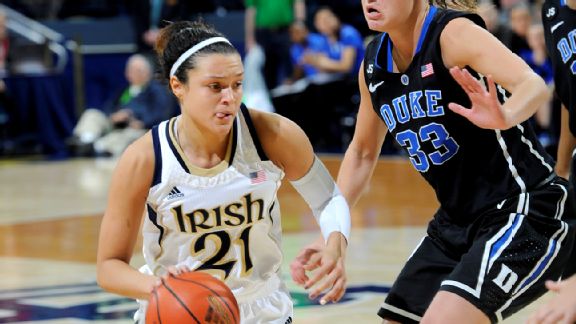 AP Photo/Joe RaymondSenior guard Kayla McBride and second-ranked Notre Dame are 27-0.
More than a decade has passed since a player was awarded Associated Press national player of the year honors for a season in which she averaged fewer than 18 points per game, not since Connecticut's Diana Taurasi in 2002-03.
It probably won't happen this season. Not with Stanford's Chiney Ogwumike and Baylor's Odyssey Sims at or near the top of the national scoring charts for teams that need those points to maintain familiar Final Four aspirations.
Not with Breanna Stewart following in the footsteps of Taurasi and others for an undefeated team at Connecticut.
But good luck finding someone who makes 17.5 points per game matter more than Kayla McBride. More ….
espnW.com
Graham Hays covers college sports for espnW, including softball and soccer. Hays began with ESPN in 1999.