Five observations from the first round
Sunday's results yielded no surprises. It was a day any elementary school teacher from the 1970s would be proud of: full of chalk. With the exception of ninth-seeded Iowa over No. 8 seed Miami (hardly an upset), every higher seed won its game. There were, however, some eyebrow-raising moments along the way as some big favorites made their games more difficult than anyone expected. That's where Sunday's five observations begin.
• 1. Slow starts: Does Baylor trailing 6-5 to Prairie View A&M qualify? Probably not. But a few high seeds found themselves in a bit of trouble. Top-seeded Stanford, No. 2 seed Kentucky and third-seeded North Carolina were all either tied or trailing at the half.
The Cardinal spent the first half watching Tulsa scrap, claw and fight its way to a 24-24 draw. That's about the time the whispers of 1998 -- when another No. 16, Harvard, won at top-seeded Stanford -- entered Maples Pavilion. Those soft voices finally drifted off four minutes into the second half as the Cardinal began to assume control. Thanks in large part to 29 points and nine rebounds from Chiney Ogwumike, Stanford survived, 72-56. Worth noting: This was the third straight game Stanford failed to lead at halftime.
The troubles for No. 2 seed Kentucky didn't run quite as deep in Queens, N.Y., but the Wildcats trailed Navy by one at the half. Better defense and a little bit of everything from DeNesha Stallworth, including 18 points and 11 rebounds, got the Wildcats through, 61-41.
The toughest day belonged to the Tar Heels, who trailed Albany 28-23 at the half and were still down by four with less than 10 minutes to go. Tierra Ruffin-Pratt bailed out her teammates with 30 points and a number of key plays down the stretch.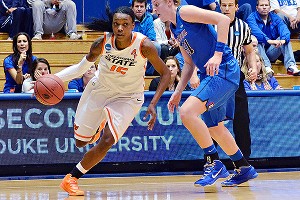 Rob Kinnan/USA TODAY SportsToni Young tallied a double-double with 25 points and 13 rebounds in Oklahoma State's victory over DePaul.
• 2. Home-court advantage is overrated: Plenty of noise was again made about low seeds getting higher seeds on their home court because of the pre-determined sites. And through the first round, and as it goes most seasons, this has had next to no ramifications on the tournament. Iowa's win over Miami in Iowa City notwithstanding (and again, a 9 seed over an 8 is an even game), no lower seeded host won its game. On Sunday, No. 10 seed St. John's came close. The Red Storm's furious comeback pushed Dayton to double overtime, but the seventh-seeded Flyers survived on St. John's home floor.
Not only did Iowa State also win at Gonzaga on Saturday, but lower seeds Kansas and South Florida actually won on the home courts of higher seeds. Historically, this has actually not been a major issue other than a second-round loss by top-seeded Duke at Michigan State in 2009.
This year's second round provides two more of these games -- No. 3 seed North Carolina at No. 6 seed Delaware and No. 3 seed Penn State at No. 6 seed LSU. Once again, this is is a complaint that elicits more discussion than actual impact.
• 3. More To See: The game's three biggest stars were in action on Sunday. Brittney Griner was dominant with 33 points as Baylor coasted by the Prairie View. Elena Della Donne also had 33 -- and Delaware needed all of them in its comeback over West Virginia. Skylar Diggins had just 10, but Notre Dame was in cruise control most of the second half against UT Martin.
However, some other performances are worth noting. Ruffin-Pratt was everything to North Carolina with her 30 points, despite playing the last 9½ minutes with four fouls. Without her performance, Albany might have been the first No. 14 seed to win a game in the tournament. Heather Butler's UT Martin Skyhawks didn't win, but her 37 points were the high mark of the day. The quickness of the 5-foot-2 Butler shook up the Irish at certain times. And if it's possible to put up a quiet double-double, Oklahoma State's Toni Young did it with 25 points and 13 rebounds in the Cowgirls' win over DePaul in Durham.
• 4. ACC A-OK: Sure, Miami stumbled in one of the last games of the day, but otherwise the ACC is intact after wins by Duke, North Carolina and Florida State on Sunday. With Maryland also winning Saturday, the league went 4-1 in the first round and has a reasonable shot at sending three teams to the Sweet 16 (sorry Seminoles, you are playing Baylor next).
• 5. Welcome back, tourney success: That performance by Young helped Oklahoma State, the WNIT winner a year ago, win its first NCAA tournament game in three years. Iowa, which also got a double-double from Samantha Logic, snapped a two-game tournament losing streak with that win over Miami. The Seminoles, who beat Princeton 60-44, got back in the tournament win column after missing it altogether last season. All three programs are jealous of Purdue, which has won 16 first-round games in a row.
Dunk is 'old hat' for focused Griner, Baylor
Kara Lawson comments on Sunday's dunk from Baylor's Brittney Griner, who has thrown down 15 dunks in her NCAA career.
Watch: Today's Top Videos
Sunday's Best

Elena Delle Donne, Delaware: In the first half, the senior hit 6-of-11 shots -- mostly difficult looks -- to keep the Blue Hens in the game. After the break, she got to the free throw line 13 times, scored 20 points -- and West Virginia had no answer for her. Delle Donne finished with 33 points, seven rebounds, four blocks and two assists. For more on Delle Donne and Delaware, check out Graham Hays' take from Newark, Del.
NCAA Tournament Snapshots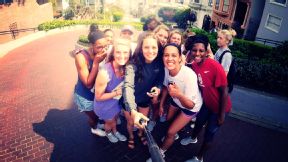 @OU_WBBall/Twitter
Check out the latest photos teams and players are sharing during the NCAA tourney. Photos »
Second Round Schedule
Monday on ESPN2 and WatchESPN
• Vanderbilt vs. Connecticut, 7:05 p.m.
• Creighton vs. Tennessee, 7:10 p.m.
• Oklahoma vs. UCLA, 7:15 p.m.
• Michigan St. vs. Maryland, 7:20 p.m.
Monday on ESPN2 and WatchESPN
• Kansas vs. South Carolina, 9:35 p.m.
• Nebraska vs. Texas A&M, 9:40 p.m.
• South Florida vs. California, 9:45 p.m.
• Georgia vs. Iowa State, 9:50 p.m.
• Complete schedule and results
• Coverage maps, channel listings
All tipoffs ET.