Five who got the last laugh
He or she who laughs last, gets closer to New Orleans. Maybe that's not exactly how the phrase goes, but the second week of the NCAA tournament served as an opportunity for players, coaches and even conferences to make a point.
• 1. Cal and the Pac-12: As Cal might say, do you still think this conference is Stanford and the 11 dwarves? Sure, the team from Berkeley came mighty close to squandering a golden opportunity to reach its first Final Four. Cal trailed Georgia by 10 points with less than seven minutes to play in Monday's regional final, but behind Layshia Clarendon, rebounding and, well, Layshia Clarendon, it becomes the first Pac-12 school other than Stanford to reach the Final Four since USC in 1986. And it's safe to say that no matter what happens Tuesday night, it will be the only team in New Orleans with all but one player on its roster being in-state products. The West Coast can play some basketball.
• 2. Monique Reid, Louisville: Anyone unfamiliar with Louisville before Sunday's historic upset against Baylor saw Reid bounce back. After missing the front end of a late one-and-one opportunity, she hit two of the most pressure-packed free throws in women's college basketball history to reclaim her team's lead after driving to the basket against Brittney Griner in the closing seconds. But for those who remember Reid before injuries took their toll on a player who averaged better than 18 points per game as a sophomore, it was doubly sweet to see the fifth-year senior make the most of limited minutes.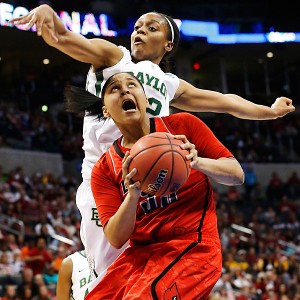 AP Photo/Sue OgrockiMonique Reid and Louisville are one win away from the program's second Final Four.
Reid had this to say last season as she sat out injured and hoped for one more opportunity: "Most kids wanted to go to UConn, Tennessee; I wanted to go to Louisville."
• 3. Breanna Stewart, Connecticut: All the freshman had to do was come in and immediately be Maya Moore and Diana Taurasi, with a dash of George Gervin thrown in for good measure (the Gervin reference came from Geno Auriemma in the preseason, suggesting even he wasn't immune to the giddiness that greeted her). Through much of the middle of the season, Stewart looked like she wasn't quite sure who she was on the court. But beginning around the time of the Big East tournament and continuing through a confident 21-point effort against Kentucky, she looks more and more like a player who can make all the difference for Connecticut in its sixth consecutive Final Four appearance.
• 4. Holly Warlick, Tennessee: So the program in Knoxville was going to fall apart without Pat Summitt? Not so fast. First, Warlick signed the top recruit in next year's class and proved Rocky Top remains a prime destination. But she's not waiting for Mercedes Russell to show us why Tennessee still matters. The Lady Vols are one win from their first trip to the Final Four since 2008 (the blink of an eye some places, but an eternity when you're Tennessee).
In three NCAA tournament games, Tennessee has yet to allow an opponent to shoot better than 33 percent from the field. Sounds a lot like a program that still knows its way around April basketball.
• 5. Notre Dame (tentatively): All right, this one hasn't happened yet, but Kentucky's exit Monday, on the heels of Stanford and Baylor exiting on successive days over the weekend, means four of the six teams ranked ahead of the Fighting Irish in the AP preseason Top 25 have been eliminated from the NCAA tournament. Skylar Diggins, Kayla McBride, Natalie Achonwa and the Big East champions meet one of the other two teams Tuesday night when they play Duke.
espnW.com
Graham Hays covers college sports for espnW, including softball and soccer. Hays began with ESPN in 1999.
Watch: Today's Top Videos
Today's Best

Layshia Clarendon, Cal: The senior held things down when the Bears' offense was going nowhere. Facing a double-digit deficit in the second half, Clarendon remained composed, finishing with 25 points in a 65-62 overtime victory that clinched Cal its first Final Four berth. Her overtime dagger -- Clarendon brought down the ball methodically, let the time burn and then easily hit a pull-up jumper with 37.9 seconds left in the extra period -- stretched Cal's lead to 63-57. Her touch-perfect shot and unflappable poise are the main reasons the Bears are bound for the Bayou.
Schedule
Tuesday: Elite Eight
• Duke vs. Notre Dame, 7 p.m. (ESPN)
• Louisville vs. Tennessee, 9 p.m. (ESPN)
• Complete schedule and results
All tipoff times ET.
NCAA Tournament Snapshots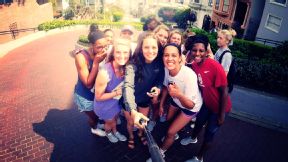 @OU_WBBall/Twitter
Check out the latest photos teams and players are sharing during the NCAA tourney. Photos »