They've got next
Of this year's 3 To See, only one remains standing. Notre Dame's title-craving Skylar Diggins carries the torch for this year's crop of extraordinary women's basketball talent into the Final Four in New Orleans.
But if this year's unpredictable, thrilling tournament has taught us something, it's that there are other players worthy of our time, attention and admiration all over the top ranks of the game.
And with the Final Four set -- Notre Dame and Louisville joined the party on Tuesday after Cal and Connecticut earned their spots on Monday night -- this next group of young players already has reached star status as they make their Final Four debuts.
• 1. Breanna Stewart, Connecticut: Stewart -- or "Stewie," as her teammates call her -- is starting to truly live up to the hype of her arrival in Storrs as the top freshman in the country. It was a roller-coaster season for the nation's most-watched rookie. She hit a midseason slump, but has been steadily coming out of it and on Monday night against Kentucky, she had a huge night on a big stage. The 6-foot-4, 18-year-old finished with 21 points, four rebounds and three blocks against the Wildcats. She was named the regional's most outstanding player, the only Connecticut freshman ever to earn that honor. She comes to New Orleans riding a wave of great performances that Connecticut and Geno Auriemma would love to ride to another national title. Stewart has averaged 17.2 points, 5.3 rebounds and 2.3 blocks in six postseason games dating back to the Big East tournament.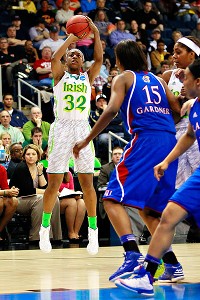 Geoff Burke/USA TODAY SportsJewell Loyd scored 17 points and had eight rebounds to help Notre Dame beat Duke.
• 2. Brittany Boyd, Cal: Boyd is the Bears' sophomore point guard, a tempo-pushing, bull-dozing dervish of a floor general who can make the flashy pass or head to the rim at full speed without trepidation. Boyd averaged 12.6 points a game along with 4.4 assists, and ranked No. 2 in the Pac-12 this season at 2.6 steals per game. With senior guards Layshia Clarendon and Eliza Pierre graduating, Boyd will become the Bears' emotional center next season, not to mention its go-to scorer on the perimeter.
• 3. Jewell Loyd, Notre Dame: When Diggins graduates at the end of this tournament, Loyd will already have established herself as the Irish's next great star player. Loyd was something of a surprise as the national freshman of the year, considering how much preseason attention went to Stewart at Connecticut. But she has been instrumental in allowing Notre Dame to pick up where it left off last year after its second straight appearance in the national title game. Loyd, who averaged 12.5 points a game this season, had a 17-point, eight-rebound night against Duke in the regional final to back Diggins, and put the Irish in position for another shot at a title.
• 4. Shoni Schimmel, Louisville: The fearless, dare-we-say cocky Louisville guard is the engine that drove the Cardinals to the Final Four for the second time in the last four years. Schimmel, a junior, dropped 20 pounds during the course of the offseason and season, became fitter, faster and more effective. She and coach Jeff Walz make a great combination because he knows how to get the best out of her. She is a dead-eye 3-point shooter when she's on and has no compunction about driving into traffic to score at the rim. And her spinning, scooping score over Baylor's Brittney Griner becomes a classic highlight replay from here on out. Schimmel came into the regional final averaging 14.2 points a game, but has saved some of the best performances of her college career -- certainly the biggest -- for the previous two wins. Schimmel scored 22 in the historic upset over Baylor and 24 against Tennessee in the regional final.
Contributor, espnW.com
Based in the San Francisco Bay area
Has covered pro and college sports for AOL Fanhouse and the San Francisco Chronicle
Founder of leftcoasthoops.com which covers women's basketball on the West Coast
Watch: Today's Top Videos
Today's Best

Skylar Diggins, Notre Dame: In foul trouble early, Diggins still stole the show with 24 points, nine assists and five steals in the Irish's 87-76 win over Duke. The Blue Devils actually led by six points at halftime, but three 3-pointers from Diggins in a two-minute span late in the first half saved it from being worse. After the break, Diggins helped spearhead a 15-2 run to seal the comeback, sinking another 3-pointer and notching assists on a no-look pass to Natalie Achonwa and an alley-oop to Jewell Loyd.
Final Four Schedule
Sunday: National semifinals
• Louisville vs. California, 6:30 p.m. (ESPN)
• UConn vs. Notre Dame, 8:30 p.m. (ESPN)
Tuesday: National championship
• Sunday's winners, 8:30 p.m. (ESPN)
• Complete schedule and results
All tipoff times ET.
NCAA Tournament Snapshots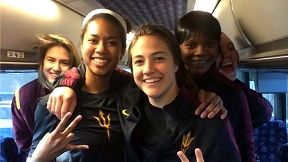 Courtesy of Arizona State University
Check out the latest photos teams and players are sharing during the NCAA tourney. Photos »