Four storylines for the Final Four
NEW ORLEANS -- The heavyweight matchup Sunday night is UConn-Notre Dame Part IV.
That game has the most buzz because the storylines are endless: the Big East rivalry, the last go-round for Notre Dame point guard Skylar Diggins, the up-and-coming play of UConn freshman Breanna Stewart. And, of course, the million-dollar question: Is it possible for the Fighting Irish to beat the Huskies four times in one season? Considering that between them UConn and Notre Dame have 19 appearance in the Final Four, it makes sense that Sunday's second semifinal is overshadowing the first, between No. 2 seed California and No. 5 seed Louisville. The Golden Bears are making their first appearance in the Final Four, and the Cardinals are making their second.
But even though the Cal-Louisville game is flying under the radar, there are some interesting subplots to pay attention to when the two teams tip off Sunday (ESPN, 6:30 p.m. ET). So we start with that game as we break down the key things to watch going into Sunday's national semifinals.
• 1. Defending the 3-pointer: As in -- how the heck will California slow down Louisville's production from beyond the arc? The Cardinals' recent numbers are incredible. In its past three games of the NCAA tournament, Louisville has made 31 shots from beyond the arc. The Cardinals made seven in a second-round win over Purdue, 16 in their upset of top-seeded Baylor and eight in their regional final victory over Tennessee. Louisville is getting these open looks off its dribble penetration, by forcing the rotation and swinging the ball to the open shooter. But the way Cal guard Layshia Clarendon sees it, the key is the on-ball defender keeping her player in front of her. "Which we have the guards to do without a doubt," Clarendon said.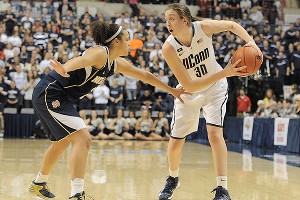 Bill Shettle/Icon SMIUConn freshman Breanna Stewart has been playing her best basketball of the season recently.
• 2. Harnessing their excitement: The Bears are the only newbies in this year's field, which means they're experiencing all of this for the first time. Obviously, a big question for them is whether they're starry eyed and over-excited (read: Just Happy To Be Here), or prepared to win a ball game over Louisville. Cal coach Lindsay Gottlieb said she has received lots of congratulatory text messages, including one from Adam Duritz of the Counting Crows. But she also said that she isn't worried about the focus of her group. "I think the easiest thing has been to be how we've been all year," Gottlieb said. "My philosophy, and this team's philosophy, has always been enjoying every moment that we can together, and then at the same time focusing and locking in when it's time to do so."
• 3. The Plan: Ever since Louisville found a way to shut down Baylor star center Brittney Griner, folks have been talking about the Cardinals' ever-changing defensive schemes. In the team's next game against Tennessee, Louisville coach Jeff Walz had his team play man-to-man through two passes, then switch into a zone defense. So, the question heading into Sunday night is whether Walz has something else up his sleeve, something to help limit Cal. Of course, Walz wouldn't discuss any game plan specifically, but he did have this to say about his coaching philosophy: "During that Tennessee game, at one point in time my staff is sitting there yelling, 'What are we in? What are we in?' And I turned around and said, 'I don't know. Shut up. Who cares? They're playing hard.' And they started laughing. And I'm like, 'Guys, at this point in time they're communicating with each other.'"
• 4. Breanna Stewart, Breanna Stewart, Breanna Stewart: Notre Dame has yet to see Stewart's best, has yet to see the kind of game she played in UConn's regional final victory over Kentucky. In that game, Stewart had 21 points on 8-for-14 shooting from the floor and 5-for-6 from the free throw line en route to earning most outstanding player honors at the Bridgeport Regional. Stewart's best performance against the Fighting Irish came in the Big East final, when she scored 16 points in 37 minutes of action. Still, that game didn't display all of Stewart's varied talents, which are many considering her 6-foot-4 frame and ability to shoot from the outside. In the other two meetings between Notre Dame and UConn, Stewart scored a combined 15 points on 6-for-24 shooting from the floor.
Columnist, espnW.com
Kate Fagan joined espnW in January 2012, after three seasons covering the 76ers for the Philadelphia Inquirer. She played basketball at the University of Colorado from 1999-2004.
Final Four big picture breakdown
NEW ORLEANS -- Kara Lawson, Carolyn Peck and Kevin Negandhi look ahead to both Final Four games. -- ESPN
Watch: Today's Top Videos
TV Schedule
Sunday: National semifinals
• Final Four Special, 6 p.m. (ESPN)
• Louisville vs. California, 6:30 p.m. (ESPN)
• UConn vs. Notre Dame, 8:30 p.m. (ESPN)
Sunday on ESPNU
• One on One: Pat Summitt, 8:30 a.m.
• Knight and Auriemma, 9 a.m.
Sunday on ESPN Classic
• Knight and Auriemma, 7:30 a.m.
• '01 Big East final: Notre Dame-UConn, 8 a.m.
• '01 NCAA semi: UConn-Notre Dame, 10 a.m.
• '12 NCAA semi: UConn-Notre Dame, noon
• '13 Big East final: UConn-Notre Dame, 2 p.m.
• '13 3OT game: UConn-Notre Dame, 6 p.m.
Tuesday: National championship
• Women's Championship Special (ESPN)
• Sunday's winners, 8:30 p.m. (ESPN)
Tuesday on ESPNU
• Crunch Time, 4 p.m.
• The Experts, 5 p.m.
• College Basketball Live, 6 p.m.
Tuesday on ESPN Classic
• '03 NCAA final: Tennessee-UConn, midnight
• 2000 NCAA final: UConn-Tennessee, 2 a.m.
• '09 NCAA final: Louisville-UConn, 7 a.m.
• '11 NCAA final: ND-Texas A&M, 9 a.m.
• '08 NCAA final: Stanford-Tennessee, 11 a.m.
• '04 NCAA final: UConn-Tennessee, 1 p.m.
• '10 NCAA final: Stanford-UConn, 3 p.m.
• '12 NCAA final: Notre Dame-Baylor, 5 p.m.
• Complete ESPN Final Four on-air schedule
All times ET.
NCAA Tournament Snapshots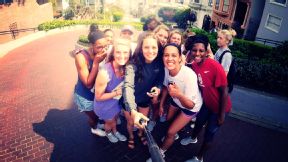 @OU_WBBall/Twitter
Check out the latest photos teams and players are sharing during the NCAA tourney. Photos »