Top five contenders for 2013-14
NEW ORLEANS -- The 2012-13 women's basketball season ended Tuesday, which means, of course, it's time to look at what we can expect for 2013-14. Here's a quick projection of which teams might be the preseason top five:
1. Connecticut: Sure, the Huskies will miss the energizing, selfless play of Kelly Faris. But realistically they have all the tools -- and then some -- to make an NCAA title defense. UConn will be in a new league, the American Athletic Conference, but expect the same old domination.
2. Duke: Especially if point guard Chelsea Gray is able to return to form after a knee injury cut short this season, the Blue Devils again have all the pieces to be a Final Four contender. But can they finally break through the Elite Eight wall that has stopped them the past four seasons?
3. Tennessee: Mercedes Russell, projected as the No. 1 recruit, joins a Lady Vols squad that returns one of the nation's top freshmen this season in post player Bashaara Graves. And guard Andraya Carter, who had to redshirt this season after seven games because of a shoulder injury, should be a big impact player if healthy.
4. Maryland: The Terrapins were badly hurt by season-ending injuries to their projected starting backcourt in 2012-13. If Laurin Mincy and Brene Moseley return in good shape to join national player-of-the-year candidate Alyssa Thomas, Maryland could be a real power.
5. Stanford: Speaking of player-of-the-year candidates, the Cardinal will have one in senior Chiney Ogwumike. She'll join Thomas, UConn's Breanna Stewart and Baylor's Odyssey Sims as strong contenders for that honor. If Stanford has guard Toni Kokenis back healthy and Amber Orrange continues her improvement, the Cardinal could make a run at a 12th Final Four.
Also worth noting
• Don't think Notre Dame and Baylor, despite big senior losses, are just going away. Although they have to replace Skylar Diggins at point guard, the Irish bring back four starters. Baylor loses four starters, but the Lady Bears do have their All-American point guard back in Sims.
• The ACC should be mighty interesting next season, with Notre Dame joining the mix and a freshman class at North Carolina that's projected to be the nation's best.
• Who's the favorite in the Big 12 after two seasons of Baylor running the table in the conference? Probably Oklahoma, led by Aaryn Ellenberg.
espnW.com
Mechelle Voepel joined ESPN.com in 1996 and covers women's college hoops, the WNBA, the LPGA, and additional collegiate sports for espnW.
Watch: Today's Top Videos
Today's Best

Breanna Stewart, Connecticut: It kind of feels like the Huskies freshman has taken up permanent residence in this spot. That's because she just completed one of the top rookie performances in the NCAA tournament. Stewart scored a game-high 23 points Tuesday as UConn won its eighth NCAA title. The 6-foot-4 forward finished the tourney with 104 points and became just the fourth freshman to earn Final Four most outstanding player honors. For more on Stewart, check out Michelle Smith's story.
TV Schedule
ESPN2 on April 15
• WNBA draft, first round, 8 p.m.
ESPNU on April 15

• WNBA draft, continued coverage, 9 p.m.
All times ET.
NCAA Tournament Snapshots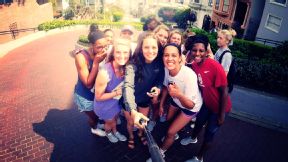 @OU_WBBall/Twitter
Check out the latest photos teams and players are sharing during the NCAA tourney. Photos »