Five observations from Tuesday's games
• 1. KML triple: Connecticut has eight national championships, 14 Final Four appearances and four unbeaten seasons. That makes what Kaleena Mosqueda-Lewis did on Tuesday night so impressive. She posted just the third triple-double in the storied history of the program, finishing with 20 points, 10 rebounds and 10 assists in the Huskies' 91-52 blowout of Saint Joseph's in front of the home crowd at Gampel Pavilion.
Diana Taurasi never had a triple-double. Neither did Maya Moore nor Sue Bird nor Nykesha Sales. Laura Lishness posted the first in school history, back in 1989, and the other came earlier this season by Stefanie Dolson (versus Oregon). Dolson tallied 17 points and six rebounds Tuesday in her final game in Storrs. Fellow senior Bria Hartley concluded her home career with 20 points.
The triple-double comes toward the end of a tough season for Mosqueda-Lewis. The junior, mostly known for her deep shooting and not rebounding and playmaking, has missed significant time, first with an elbow injury and later with mononucleosis.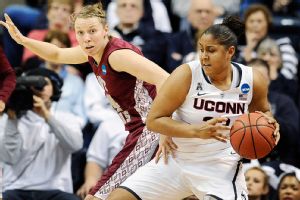 AP Photo/Jessica HillKaleena Mosqueda-Lewis' triple-double Tuesday was the second at UConn this season -- but just the third in program history.
• 2. Another No. 2 bids adieu: After two straight seasons in which the Nos. 1 and 2 seeds all reached the Sweet 16, a No. 2 seed was eliminated for the second straight day. Seventh-seeded LSU was the latest to slay a higher-seeded team, upsetting West Virginia 76-67. That came 24 hours after second-seeded Duke fell to another No. 7 seed, DePaul.
LSU used the cagey play of sophomore Danielle Ballard (22 points, 15 rebounds), an unexpected rebounding advantage (55-40), and a home crowd at the Pete Maravich Assembly Center to win just its third game since the first week of February.
Meanwhile, West Virginia's best season in school history came to an early end. The Mountaineers, playing with four seniors in their rotation, had a program-best 30 wins and a share of the Big 12 regular-season title, but failed to make the Sweet 16 for the 22nd straight year.
• 3. Terps, Thomas topple Texas: Alyssa Thomas has won three ACC Player of the Year awards and in each of those seasons, her Maryland Terrapins reached the Sweet 16. Texas made this trip as difficult on Thomas and her team as any of them. The All-American forward, who is no stranger to triple-doubles herself, was shut out in the first half. The young Longhorns had the score tied on Maryland's home floor.
Soon after the break, Thomas proved that great players can't be held down forever. By the first media timeout she had seven points and the Terrapins had a six-point advantage. Maryland never lost that lead. A late barrage of Texas 3-pointers made it interesting again, but a key defensive rebound and subsequent free throws by Thomas, who finished with 16 points, 11 rebounds and five assists, helped put the game away.
• 4. Lucas' magic number: With less help than she has had most of her career, this hasn't been the easiest of Maggie Lucas' four seasons at Penn State. But after cruising past Florida 83-61 in State College on Tuesday, the sharp-shooting senior and her Lady Lions are into the Sweet 16 for the second time in three years.
Lucas also joined an elite group in the process. Her 22 points against the Gators pushed Lucas past the 2,500-point mark. She joins fellow Lady Lion Kelly Mazzante and Ohio State alums Jantel Lavender and Katie Smith as the only Big Ten players to reach that milestone.
• 5. Burkholder goes out with a bang: James Madison's season might be over after Tuesday's 85-69 loss to Texas A&M, but it won't be forgotten for a long time in Harrisonburg. The greatest memory of a school record-tying 29 wins and first NCAA tournament win since 1991 might be the play of senior Kirby Buckholder, especially her free-throw shooting.
The CAA Player of the Year kept getting to the line and kept connecting against both Gonzaga and A&M. After going 17-of-18 in the first round, Burkholder made all nine of her free throws on Tuesday. She was the 10th most accurate shooter from the charity stripe all season at 88.7 percent, which was nothing compared to her 96.2 percent performance in the NCAA tournament. The 6-foot guard averaged 24 points and 14 rebounds in JMU's two games.
ESPN.com
Charlie Creme projects the women's NCAA tournament bracket for ESPN.com.
Watch: Today's Top Videos
Tuesday's Best

Danielle Ballard, LSU: The 5-foot-9 sophomore guard was the catalyst behind the Lady Tigers' upset of second-seeded West Virginia. Ballard tallied 22 points, 15 rebounds and six assists. As Charlie Creme wrote in his postgame analysis, Ballard's "drives into the lane and aggressiveness fueled the Lady Tigers when they were at their best." Now LSU is in its second consecutive Sweet 16.
NCAA Tournament Snapshots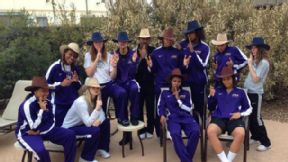 James Madison Women's Basketball Team
Check out the latest photos teams and players are sharing during the NCAA tourney. Photos »
Sweet 16 Schedule
SATURDAY ON ESPN & WatchESPN
Notre Dame Regional
• Kentucky vs. Baylor, noon ET
• Oklahoma St. vs. Notre Dame, 2:30 ET
Lincoln Regional
• BYU vs. Connecticut, 4:30 ET
• DePaul vs. Texas A&M, 7 ET
SUNDAY ON ESPN & WatchESPN
Louisville Regional
• Maryland vs. Tennessee, noon ET
SUNDAY ON ESPN2 & WatchESPN
Louisville Regional
• LSU vs. Louisville, 2:30 ET
Stanford Regional
• Penn State vs. Stanford, 4:30 ET
• North Carolina vs. South Carolina, 7 ET
• Complete schedule and results
• Coverage maps, channel listings