Connecticut's class act
Geno Auriemma, reflecting on his three decades as Connecticut's head coach, said one thing that hasn't changed is assistant Chris Dailey's attention to detail. Even when that "detail" doesn't necessarily involve the Huskies.
Take Tuesday night, for instance, when UConn was closing out a 91-52 victory over Saint Joseph's in the NCAA tournament's second round. As the final minute wound down, Dailey noticed some of the Hawks players were waiting at the scorer's table to come in. Yes, the game had been long since decided, but it was their chance to officially get in the books and at least be on the court during NCAA tournament play against the No. 1 seed.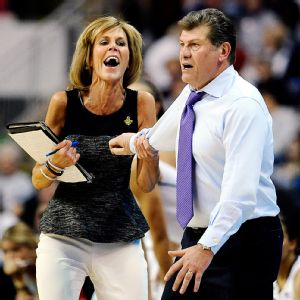 AP Photo/Jessica HillChris Dailey has been part of Geno Auriemma's coaching staff since he arrived at UConn in 1985.
Dailey, who doesn't miss anything, did not miss this. Saint Joseph's didn't have any timeouts left -- but UConn did. Dailey told Auriemma, who called time out with 33 seconds left, allowing the Hawks players to get into the game.
Dailey has been an assistant to Auriemma since he took over the UConn program in 1985, and she's an integral part of why the Huskies players conduct themselves with so much poise. And as snapshots like this one show, she and Auriemma care about players' college experiences even if those kids aren't wearing UConn jerseys.
• UConn's consistency: The Huskies are making their 21st consecutive Sweet 16 appearance, and they usually don't stop there. Since UConn won its first of eight NCAA titles, in 1995, the Huskies have lost in the regional semifinals just twice: in 1999 to Iowa State and in 2005 to Stanford.
• B1G downer: The league had five teams in the NCAA field, and three of them were hosting early-round games. But the only Big Ten team still alive in the Sweet 16 is No. 3 seed Penn State in the Stanford Regional.
Disappointment for the conference? It's hard to avoid that term. The league has not had a team in the Women's Final Four since 2005, when Michigan State made the championship game and lost to Baylor.
This season, Michigan State, Nebraska, Purdue and Iowa all lost in the second round.
• Scoring sensation: Baylor's Odyssey Sims scored 47 points in the Lady Bears' four-overtime loss to Kentucky in December. When Baylor meets Kentucky in the Sweet 16 on Saturday, Sims needs four points to become just the second player in women's NCAA Division I history to score 1,000 points in a season.

Sims
Can she end up on top of the list of single-season scorers? There's just one person ahead of her: Missouri State's Jackie Stiles, who set the NCAA Division I record with 1,062 points in 2000-01, when she led her team to the Final Four.
Stiles was the leading scorer that season in the NCAA tournament, averaging 28 points in five games. She shot 49.5 percent from the field and 85.7 percent from the line as Missouri State beat Toledo, Rutgers, Duke, and Washington before falling to Purdue.
Sims scored 31 points in a first-round win over Western Kentucky and 27 in a second-round victory over Cal. She is 66 points behind Stiles' record.
A look at the all-time leaders:
Most points in a season -- Women's Division I history:
1. Jackie Stiles, Missouri State, 2000-01: 1,062 points
2. Odyssey Sims, Baylor, 2013-14: 996 points
3. Cindy Brown, Long Beach State, 1986-87: 974 points
4. Jerica Coley, Florida International, 2013-14: 972 points
5. Genia Miller, Cal State Fullerton, 1990-91: 969 points
espnW.com
Mechelle Voepel joined ESPN.com in 1996 and covers women's college hoops, the WNBA, the LPGA, and additional collegiate sports for espnW.
Sweet 16 Schedule
SATURDAY ON ESPN & WatchESPN
Notre Dame Regional
• Kentucky vs. Baylor, noon ET
• Oklahoma St. vs. Notre Dame, 2:30 ET
Lincoln Regional
• BYU vs. Connecticut, 4:30 ET
• DePaul vs. Texas A&M, 7 ET
SUNDAY ON ESPN & WatchESPN
Louisville Regional
• Maryland vs. Tennessee, noon ET
SUNDAY ON ESPN2 & WatchESPN
Louisville Regional
• LSU vs. Louisville, 2:30 ET
Stanford Regional
• Penn State vs. Stanford, 4:30 ET
• North Carolina vs. South Carolina, 7 ET
• Complete schedule and results
• Coverage maps, channel listings
Watch: Today's Top Videos
NCAA Tournament Snapshots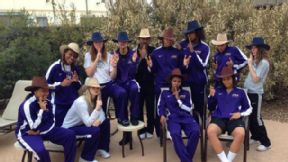 James Madison Women's Basketball Team
Check out the latest photos teams and players are sharing during the NCAA tourney. Photos »