Four soundbites from the coaches
It's a Final Four week media tradition. The day after the last regional finals have been played, the four coaches bound for the national semifinals hop on the annual media conference call. They talk about matchups, philosophy, expectations, their star players and their biggest challenges.
Let's call these the greatest hits from Wednesday's first take on the Final Four:
1. Connecticut's Geno Auriemma: The Huskies coach talked about the "pursuit of perfection" and his general resistance to storylines.
"I know how everyone throughout this season has wanted to make it about this inevitable march toward two undefeated teams playing for the national championship," Auriemma said. "I've kind of not bought into any of that. … I kind of don't like when you have a sense you're disrespecting people, and I wouldn't want either Maryland or Stanford to feel like, 'We're just there as filler for the Notre Dame-Connecticut big thing,' because I've been there.
"I know it's a great story, and I know everybody loves storylines, and in today's day and age, god forbid if you don't have a storyline. … But I caution everybody, there are two other teams out there that are good enough to win a national championship, so let's not write that story just yet."
2. Notre Dame's Muffet McGraw: The Irish boss discussed the aftermath of Natalie Achonwa's injury and how the team moves forward now that the senior is out for the remainder of the tourney with a torn ACL.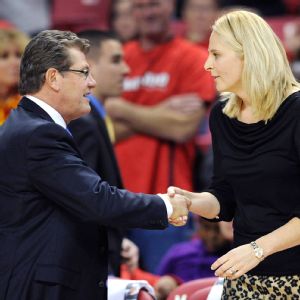 AP Photo/Gail BurtonGeno Auriemma warned the media not to overlook the two teams that don't have perfect records in Nashville, such as Brenda Frese's Terps, who have lost -- gasp! -- six times this season.
"Natalie Achonwa sets the tone for our team in everything that we do," McGraw said. "She's been the vocal leader for our team. When she went down on the floor and before she even left for the locker room, she bounced back up and went after the team and really gave them a very spirited talk and encouragement to finish that game. I think she set the tone right then. She came back onto the bench, she got up and cut down the nets, and she proved to them it's not about her, it's about the team.
"We talked about it in the locker room yesterday. There were no tears, there was no mourning. We are ready to move on, and Natalie is going to be on the sidelines doing everything she can do to help us win."
3. Maryland's Brenda Frese: The Terps coach addressed a question about whether Alyssa Thomas was overlooked among the top players in the nation this season.
"You know, she's received a lot of attention and rightly so because she's extremely talented," Frese said. "I guess if you wanted to compare and contrast in regards to the other players that are out there or are deserving of the attention as well, it's a great question to be able to ask.
"But you know what? At the end of the day, none of it really matters. What matters is that this team has taken her to a Final Four. … I know that the people within Maryland and what she's done to leave her legacy here is the most important thing for her."
4. Stanford's Tara VanDerveer: The Cardinal coach talked about "inevitability," and inevitably, it was a conversation about Connecticut and Notre Dame.
"You know, just, I think people, players in the tournament just kind of resent a little bit of the inevitability," VanDerveer said. "Like why have the tournament if it's inevitable? So we're just -- we definitely want to be party crashers."
Contributor, espnW.com
Michelle Smith has covered pro and college sports for AOL Fanhouse, the San Francisco Chronicle and espnW.
Sunday on ESPN Classic
As usual, ESPN Classic will be airing past championship and Final Four games heading into this year's national semifinals. A look at the schedule:
• 7 a.m. ET: UConn vs. Oklahoma, 2002 NCAA title game
• 9 a.m. ET: UConn vs. Louisville, 2009 NCAA title game
• 10:30 a.m. ET: UConn vs. Baylor, 2010 national semifinal
• 12:30 p.m. ET: UConn vs. Stanford, 2010 NCAA title game
• 2:30 p.m. ET: Baylor vs. Stanford, 2012 national semifinal
• 4 p.m. ET: Baylor vs. Notre Dame, 2012 NCAA title game
Final Four Schedule
SUNDAY ON ESPN & WatchESPN
Final Four
Bridgestone Arena, Nashville
• Maryland vs. Notre Dame, 6:30 p.m. ET
• Stanford vs. UConn, 8:30 p.m. ET
TUESDAY ON ESPN & WatchESPN
Bridgestone Arena, Nashville
• National championship game, 8:30 p.m. ET

• Complete schedule and results
• Coverage maps, channel listings
NCAA Tournament Snapshots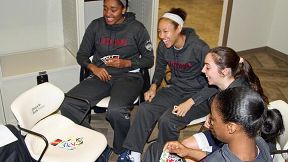 Courtesy UConn Athletics
Check out the latest photos teams and players are sharing during the NCAA tourney. Photos »