Sweet 16-bound: Gonzaga does it again

By Mechelle Voepel
ESPN.com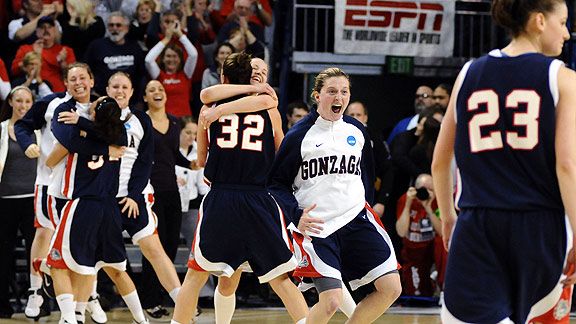 James Snook/US PresswireThe Bulldogs shift from their McCarthey Athletic Center to the Spokane Veterans Memorial Arena.
Editor's note: This edition includes all games played Monday as half of the Sweet 16 was decided.
No. 11 seed one of five teams to win on home court Monday
It was as if Gonzaga's Courtney Vandersloot wanted to put a highlight reel of her entire career into one basketball game. A contest that would be her last on her home court at the McCarthey Athletic Center, but not her last in a Bulldogs uniform.
That's because No. 11 seed Gonzaga, for the second season in a row, will be going to the Sweet 16 -- thanks to a great point guard, a very strong team … and some good fortune with geography.
The Bulldogs beat No. 3 seed UCLA 89-75 on Monday in Spokane, Wash., taking advantage of being at home to knock off the Pac-10's Bruins.
Being at home was also a big help to Dayton No. 1 seed Tennessee and Philadelphia No. 2 seed Duke; both were pushed Monday in the second round but survived.
Tennessee, after a first-round romp over Stetson, got all it could handle from eighth-seeded Marquette. The Golden Eagles' senior guard tandem of Angel Robinson and Tatiyiana McMorris had not played in an NCAA tournament before this year, but they certainly made the most of the opportunity.
McMorris hit the winning shot in a first-round victory against Texas. Then, against Tennessee, Robinson and McMorris combined for 34 points in a 79-70 loss.
Meanwhile, Duke had an even closer call against No. 10 seed Marist at Cameron Indoor Stadium, winning 71-66. The Red Foxes were in control much of the game, despite the loss of senior guard Erica Allenspach in the first half to an ankle sprain. But eventually the Blue Devils rallied, and Duke fans breathed a sigh of relief when the Red Foxes' potential game-tying 3-pointer didn't go.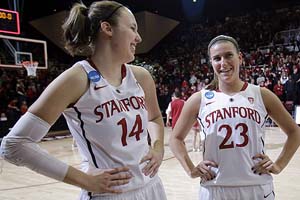 AP Photo/Paul SakumaKayla Pedersen and Jeanette Pohlen never lost at Maples Pavilion in their careers. Stanford has won 63 straight there.
Duke will next face DePaul, one of two Big East teams to advance to the Sweet 16 Monday; five others will try to do that Tuesday. The Philly No. 3 seed Blue Demons were almost tripped up on sixth-seeded Penn State's home court, but rallied for a 75-73 win over PSU. Dayton No. 2 Notre Dame beat Temple 77-64.
Home was sweet for Dayton No. 4 seed Ohio State, which beat Georgia Tech 67-60 and faces Tennessee next, and Spokane No. 1 seed Stanford, which beat No. 8 St. John's 75-49 and finished its fourth consecutive season with a perfect mark at Maples Pavilion.
Stanford senior starters Kayla Pedersen and Jeanette Pohlen concluded their Cardinal careers 63-0 at home, but now go to a regional where another team is the hometown favorite.
That's Gonzaga. The Bulldogs will have the support of the entire city -- including Gonzaga alum John Stockton, who was in attendance Monday appreciating the skills of a fellow point guard -- as they play in the upcoming regional at Spokane Veterans Memorial Arena.
The Bulldogs will face either No. 2 seed Xavier -- the team they lost to last year in the Sweet 16 -- or seventh-seeded Louisville. Both play Tuesday in Cincinnati. Stanford faces fifth-seeded North Carolina in the other Spokane semifinal on Saturday.
The setup for the first and second rounds of the women's NCAA tournament means that a worse-seeded team sometimes gets home-court advantage over a better-seeded team because the site locations are predetermined and the advantage cannot be avoided.
Would No. 11 Gonzaga have defeated sixth-seeded Iowa in the first round or UCLA in the second on a neutral court? Hard to say, but the Bulldogs did make the Sweet 16 away from home last year. Of course, then Gonzaga had a home-state advantage -- the subregional was played across the state in Seattle -- and defeated No. 2 seed Texas A&M in the 2010 second round.
But no one can argue that Gonzaga coach Kelly Graves has built a terrific program in Spokane, and Vandersloot has been the centerpiece. The senior guard was sensational Monday: 29 points, 17 assists, 7 rebounds, 5 steals. During the game, she scored the 2,000th point of her career. Are you watching, WNBA scouts? You know you need point guards in the league.
It's not too often that a player scores 30 points and is still overshadowed by her teammate, but Gonzaga's Kayla Standish was. Not that she minded.
UCLA is a very good defensive team, but it didn't look so against the high-octane offense of Gonzaga, which shot 55.8 percent from the field. It was an unfortunate break for UCLA to have to play on Gonzaga's home court in the second round. Last season, the Bruins fell in the second round to No. 1 seed Nebraska on a neutral court.
UCLA's loss -- combined with the first-round exit of Arizona State -- leaves Stanford as the last Pac-10 team standing in the 2011 tournament. The Cardinal, going for their fourth consecutive Final Four, are still considered the Spokane Regional favorite.
But the idea that the Bulldogs are really underdogs? They sure aren't looking like it.
Hampton writes DePaul's happy ending
By Graham Hays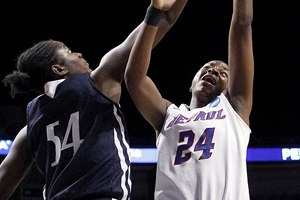 AP Photo/Keith SrakocicKeisha Hampton and DePaul will play Duke on Sunday in Philadelphia.
STATE COLLEGE, Pa. -- The NCAA tournament isn't sentimental. It's thrilling precisely because it's ruthless, an unfeeling entity that exists not to reward the valiant or the deserving but simply the team that scores more points.
If you want a happy ending, you have to go out and write it yourself. And DePaul junior Keisha Hampton wrote one for her seniors Monday night.
In each of the 62 games that precede the tournament championship, both careers end and seasons continue on the same court, a reality made all the more harsh when the outcome is in doubt until the final seconds tick off the clock. And while each game is part of a pursuit for the championship, that chase is not what often captures the imagination. The smile spread across DePaul senior Sam Quigley's face and the sorrow shown in Penn State senior Julia Trogele's in the aftermath of Monday's second-round game between No. 3 seed DePaul and sixth-seeded Penn State showed emotions that had something to do with what will happen in Indianapolis at the Final Four in the days ahead.
But they had much more to do with something more elemental: At this time of year, you play to keep playing.
So when Hampton was fouled attempting a 3-pointer with 4.9 seconds remaining and the score tied at 73, there was something on the junior's mind beyond personal glory or the din of a hostile crowd in Penn State's gym.
"When I got to the free-throw line after my last shot," Hampton said, "another thought that went through my head was I have five seniors. I couldn't let their season end like this. Just make these shots for them. I want to play on, but I want them to play on, too."
Hampton made two out of three from the line, and when Penn State couldn't get a good look at the basket before time ran out, DePaul's seniors earned a chance to play another 40 minutes of basketball on a night when such good fortune often seemed unlikely. Down nine points at halftime, as many as 14 points in the second half and seven points with five minutes to play, the Blue Demons closed on a 15-6 run to reach their first Sweet 16 since 2006. More …
Red Foxes put up good fight
By Mechelle Voepel
Marist's No. 10 seed -- despite the Red Foxes' 26-game winning streak entering the NCAA tournament -- really never made much sense. And watching their gallant effort against No. 2 seed Duke with just about everything going against them, you couldn't help but feel for this team.
[+] Enlarge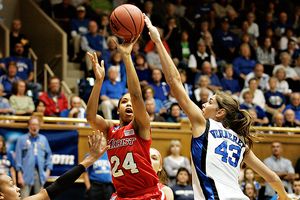 Mark Dolejs/US PresswireThe odds kept stacking up against Marist, but the Red Foxes nearly pulled the upset of No. 2 seed Duke.
And you also can't help but wonder now if Duke will make the most of its 71-66 survival Monday in the tournament's second round.
Duke has the top-rated recruiting freshman class this season and three seniors with a ton of NCAA tournament experience, was seeded eight spots better than Marist, was playing on its home court … and, to top it all off, the Red Foxes lost their top player to a sprained ankle in the first half.
Even with all that, it took a late 11-0 run for the Blue Devils to earn their ticket to the Philadelphia Regional semifinal. There, they will meet DePaul's Blue Demons, who had to do their own escape act in a second-round victory at Penn State.
Maybe this game at Duke's Cameron Indoor Stadium shouldn't have come as a surprise: Marist is a very good team, and Duke has had plenty of victories this season when the Blue Devils had to scramble to win. Typically, senior point guard Jasmine Thomas has saved Duke with big plays late in those situations.
Thomas led Duke with 17 points on Monday. But it was two of those prized rookies, Chelsea Gray and Haley Peters, who led the comeback charge for Duke. Gray had all of her 13 points after the break. Peters had 12 points and five rebounds.
Marist led 31-26 at halftime despite having earlier lost senior guard Erica Allenspach when she severely turned her ankle stepping on a teammate's foot. Allenspach had missed just two games in her career, both last season.
Think about how many opportunities there are to get hurt in every game and every practice over a four-year college career. Yet Allenspach had stayed relatively healthy almost all the way through. What kind of cursed bad luck would have her getting injured in what turned out to be her last game in a Marist uniform?
Frankly, that was good fortune for Duke, which might not have pulled out this win if Allenspach was on the floor the entire game for Marist. The Red Foxes averaged just fewer than 11 turnovers a game this season, but had 18 against Duke.
With Allenspach out, Marist still controlled most of this game, thanks in large part to a brilliant night by junior Corielle Yarde, who had 25 points and 12 rebounds. And freshman Leanne Ockenden performed well after being thrust into a larger role because of Allenspach's injury.
Allenspach just had to sit and watch as Duke engineered its comeback. Gray missed the second of two free throws with 14 seconds left, giving the Red Foxes a chance to go for a tying 3-pointer. They got a great look for Ockenden, but the shot didn't go. Then Peters made two free throws for the final margin.
Did Marist deserve better than a No. 10 seed? Yes. Did Allenspach deserve a better ending to her career? Most definitely. But the NCAA tournament sometimes just doesn't work out the way you think a team deserves.
And now the Blue Devils -- who, to their credit, didn't panic in a scary game for them -- move on to see if they can live up to their No. 2 seed. Marist almost kept them from that.
Player of the day
Courtney Vandersloot, Gonzaga:
Do you get the feeling that Vandersloot and teammate Kayla Standish are trying to one-up each other? After Saturday's first round, we gave our player of the day award to Standish, although it could have gone to Vandersloot.

With Monday's second-round performance by Standish -- 30 points and 10 rebounds -- she could have gotten it again … on any other day. But Vandersloot went all historical on us -- becoming the first Division I women's or men's player to compile 2,000 points and 1,000 assists.
At this point, in fact, Vandersloot is the player of the NCAA tournament. Her Tuesday totals: 29 points, 17 assists, seven rebounds, five steals. Her Saturday totals: 34 points, seven assists, seven rebounds, four steals.
And the next big number she and her Gonzaga team will help put up is the attendance total at the upcoming Spokane Regional semifinals. -- ESPN.com's Mechelle Voepel
• Quick Dish recap: Sunday, March 20
• Quick Dish recap: Saturday, March 19
Checking in with the No. 1 seeds

• Tennessee 79, Marquette 70
Marquette made this quite an entertaining game. Freshman Meighan Simmons led Tennessee with 18 points, while Glory Johnson added 16 and Stricklen had 10 points and 10 rebounds. Alicia Manning contributed 11 points off the bench for Tennessee. But the Lady Vols forced only 10 turnovers -- Angel Robinson's ball-handling prowess was part of that -- and that impacted Tennessee's ability to defend. Tennessee will need to have a stronger defensive effort in the regional semifinals in facing No. 4 seed Ohio State and Jantel Lavender, who had 21 points and 11 rebounds in the Buckeyes' 67-60 win Monday over Georgia Tech. More from Mechelle Voepel

• Stanford 75, St. John's 49
Stanford successfully protected Maples Pavilion for the 63rd time in a row Monday. Next, the Cardinal's objective will be to protect the glass and their style of play. That's because No. 5 seed North Carolina will try to get the Cardinal into an up-and-down battle of possessions in their Spokane Regional semifinal on Saturday. It's not that Stanford can't win that way, but the Cardinal would prefer to do it with a more disciplined and controlling offense. Also, the Tar Heels hit the boards hard from all positions, and Stanford will have to counter that. The Cardinal got off to a bit of a slow start against St. John's, but then floored it and left the Red Storm in a cloud of dust. More from Mechelle Voepel
DePaul Rallies Past Penn St.
4-seed only 6-deep
You knew going in that the matchup of No. 4 seed Ohio State and No. 5 Georgia Tech was not going to be for the fainthearted. These are two physical teams, and that's exactly the kind of game they played Monday.
The Buckeyes prevailed 67-60 and advanced to the Dayton Regional semifinals against Tennessee. Only six players competed for Ohio State against Georgia Tech, which could be a factor against the deep Lady Vols.
Ohio State, led by Jantel Lavender's 21 points and 11 rebounds, has won 11 in a row after a rough patch earlier in the season.
Tennessee coach Pat Summitt and Ohio State's Jim Foster used to face off every year in the SEC when Foster was at Vanderbilt from 1991-2002. But they have not met since Foster took over the Buckeyes program before the 2002-03 season.
In fact, the last time Tennessee and Ohio State played each other, Katie Smith was the Buckeyes' senior star. That was in the 1996 NCAA tournament, when Tennessee beat Ohio State in the second round on the way to the national championship. -- ESPN.com's Mechelle Voepel
Marquette Tests Tennessee
espnW

Connecticut. Tennessee. Duke. Texas. DePaul. Gonzaga. UCLA. Xavier. Rutgers. All have been to Maples Pavilion in the past four years. None of them has won.
Now add St. John's to that list.
The Stanford seniors bade farewell to their beloved home court Monday night in impressive style, as the top-seeded Cardinal overcame an early eight-point deficit to blow past the ninth-seeded Red Storm 75-49.
So it's time for the final tally: 63-0. Kayla Pedersen and Jeanette Pohlen walked off their home floor for the last time in their careers never having experienced the disappointment of a home-court loss. More from espnW
Stanford Sinks St. John's
Tournament Challenge check-in

How is your bracket holding up? ESPN.com's contributors are going head-to-head in Bristol's Best, with Charlie Creme, Graham Hays and Melanie Jackson leading the way in the 98.1 percentile after the first rounds. Hays and Jackson correctly picked each of Monday's games.
How do brackets from Mechelle Voepel and Rebecca Lobo compare to the real thing? Also, check out President Obama's picks (69th percentile). Lastly, props to pjahnke08 for the group's best bracket so far (missing only Georgetown over Princeton).
• Trends in Tournament Challenge brackets