Feeling Sweet: Ready for the regional semifinals

By Mechelle Voepel
ESPN.com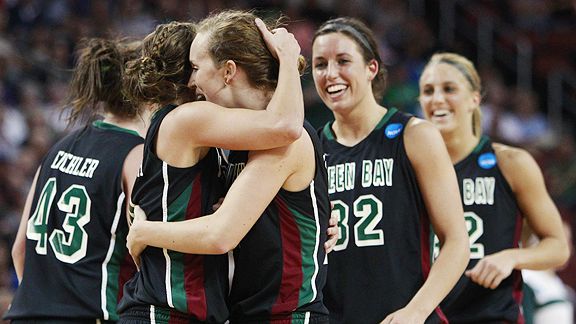 AP Photo/Orlin WagnerGreen Bay is sweet for the first time, and is one of three 5-seeds to reach the regional semifinals.
Editor's note: This edition includes all games played Tuesday as the Sweet 16 field was finalized.
Newcomer Green Bay joins five Big East teams
The old adage, "The bigger they come, the harder they fall," applied to Xavier on Tuesday as the women's NCAA tournament's Sweet 16 was set, with some surprises.
The Xavier careers of 6-foot-5 Amber Harris and 6-6 Ta'Shia Phillips -- who have formed one of the most feared frontcourt duos in the country -- ended stunningly in a game that seemed to make a U-turn in the second half.
Louisville, the Spokane Regional No. 7 seed, defeated the host Musketeers 85-75 in Cincinnati after second-seeded Xavier's offense suddenly got turned off like a tap and the Cardinals went on tear. Xavier, the A-10 regular-season and tournament champ, won't have a chance to avenge its painful Elite Eight loss to Stanford last season.
Louisville, the 2009 NCAA runner-up, helped make it a better night than expected for the Big East, as the Cardinals are in the Sweet 16 along with Philadelphia No. 1 seed UConn and No. 5 Georgetown. DePaul and Notre Dame secured their spots in the regional semifinals with victories Monday.
[+] Enlarge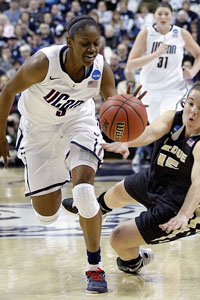 David Butler II/US PresswireTiffany Hayes had a team-high 23 points on 7-for-14 shooting, including a trio of 3-pointers, for UConn.
The night after one No. 3 seed fell (UCLA) and another (DePaul) barely survived, the two other 3-seeds came tumbling down to make it a tough Tuesday for the ACC. Dayton Regional No. 3 seed Miami lost 88-83 to sixth-seeded Oklahoma, and Dallas No. 3 Florida State went down 61-59 to No. 6 seed Georgia.
The Hoyas soundly defeated No. 4 seed (and host) Maryland 79-57 at the Comcast Center to reach their first Sweet 16 since 1993. Georgetown is the only party-crasher from outside the top-four seeds to make the Philadelphia semifinals. Oklahoma has that distinction in Dayton.
In Spokane, however, No. 1 seed Stanford is the only one of the top four seeds to survive to the regional semifinals. Stanford will meet fifth-seeded North Carolina on Saturday, while No. 11 seed Gonzaga and senior Courtney Vandersloot face seventh-seeded Louisville and freshman Shoni Schimmel.
The Dallas Regional won't have all four of its top seeds, either, but it does have Nos. 1-2. Baylor, the Big 12's regular-season and tournament champion, overpowered West Virginia 82-68 behind Brittney Griner's 30 points Tuesday despite some first-half foul trouble. And the Big 12 tournament runner-up, Texas A&M, had no trouble with No. 7 seed Rutgers, winning 70-48 behind senior Danielle Adams' 28 points and 11 rebounds.
The Lady Bears and Aggies will be joined in Dallas by a Sweet 16 newcomer, Green Bay, and a program that has advanced that far 19 times now, Georgia.
No. 5 seed Green Bay's 65-56 victory over fourth-seeded Michigan State was technically an upset Tuesday, but the Horizon League champions now have won 25 games in a row. It sets up an intriguing regional semifinal matchup between the Phoenix and Baylor, which is attempting to make a second consecutive trip to the Final Four.
Coaching experience is in abundance in the other Dallas semifinal, as 36-season head-coaching veteran Andy Landers of Georgia faces Texas A&M's Gary Blair, in his 26th year at a Division I helm.
And experience also definitely showed in the only Dayton Regional game of the night, as Oklahoma claimed its fifth trip to the Sweet 16 in the past six years and ninth overall. By contrast, Miami's program has been that far only once, in 1992. Whitney Hand had a career-high 27 points and backcourt mate Danielle Robinson had 11 assists for the Sooners, who for the second game in a row got 15 rebounds from Joanna McFarland.
Hand missed all but five games last season with an ACL injury, and she wasn't able to play this season until January. She avoided the shootaround Tuesday because of pain, but when it came time to answer the bell, she went 38 minutes. You need that kind of resolve to still be alive in the NCAA tournament.
Georgetown finally gets offensive
By Graham Hays
[+] Enlarge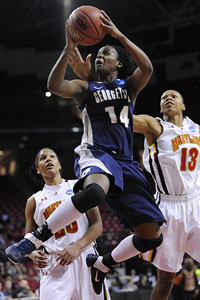 AP Photo/Gail BurtonSugar Rodgers led the Hoyas to the round of 16 for the first time since 1993.
When Georgetown's Sugar Rodgers, already 5-of-6 from the 3-point line at the time, saw the shot clock about to expire late in the first half of Tuesday's game against Maryland and tossed up a one-handed push shot that arced high in the air and banked in off the glass, she just shrugged her shoulders, put her hands out wide and retreated to the defensive end. Sometimes it's just your night.
And the Hoyas couldn't have picked a better one on which to live up to their coach's inner shooter.
Georgetown is not a good offensive team. Washington, D.C., might be a mecca of spin, but there's no twisting the numbers on that issue. Not with shooting percentages of 39.1 percent from the floor, 31.5 percent on 3-pointers and 68.6 percent from the free throw line, marks the Hoyas brought with them to a second-round game against Maryland.
They will take those numbers with them to the Sweet 16 -- their first such trip in 18 years -- after a 79-57 rout on the Terrapins' home court at the Comcast Center in College Park.
For all the season shooting statistics, none of which ranked better than 10th in the Big East, Georgetown still found a way to win 20 games in the regular season, plus another against a Syracuse team desperate for a win in the conference tournament, and then one more in Sunday's first-round game against Princeton. And they might have added a win on Maryland's home court Tuesday night even with nothing more than another typical day on the offensive end. That's because as iffy as Georgetown's offense might be at times, its defense is unimpeachable, a skill it showed off by forcing 20 turnovers and limiting Maryland to 31.6 percent shooting (18-of-57) en route to 18 points off turnovers.
As Georgetown coach Terri Williams-Flournoy explained after a win at Wake Forest earlier this season, that's how the Hoyas succeed. There is no chicken-and-egg debate as to what comes first in D.C.
"Our defense dictates our offense; it does not go the other way," Williams-Flournoy said at the time.
But you get the feeling nobody probably feels better Tuesday night about seeing those two on just about equal footing than the coach who rebuilt a program with defense.
Rodgers finished with 34 points on 10-of-16 shooting, although that's nothing all that new for the one Hoyas player for whom offense comes first. More telling on a night when the team shot a collective 52 percent from the 3-point line were Monica McNutt's four 3-pointers and Alexa Roche's 10 points on 3-of-4 shooting, including two 3-pointers.
Roche had attempted a total of 113 shots this season entering the game against Maryland. But 16 seconds after checking into a game still up for grabs at 26-20 in Georgetown's favor, Roche knocked down a 3-pointer without a moment's hesitation. A little more than two minutes later, she did it again. And not long after that, she took two assertive dribbles and drilled a baseline jumper to extend her team's lead to 36-22.
It was a far cry from the coach pleading with anyone not named Rodgers to shoot the ball, as she did on that December night against an overmatched Wake Forest team.
"Come on now, shooters don't give up wide-open shots," Williams-Flournoy laughed that night at the lengths she had to go to get people to shoot. "You let the coach yell at you to stop shooting. Shooters don't ever stop shooting. I tell them they've got a shooter's coach, [telling them] 'When have I ever told ya'll to stop shooting? Ya'll lucky.'"
Defense got Georgetown back on the map, but a big offensive night is a good way to get back to the Sweet 16.
Don't waste fairy-tale comparisons on Phoenix
By Graham Hays
The slippers fit for Green Bay, but they aren't made of glass. And there is no midnight curfew on this party.
As Green Bay prepared last week to leave for Wichita and the first two rounds of the NCAA tournament, senior Kayla Tetschlag and junior Hannah Quilling distributed some unconventional wardrobe accessories to teammates who otherwise spend a lot of time clothed in the not-quite-emerald hue that makes their city famous. For the trip to Kansas, players donned ruby slippers like those worn in "The Wizard of Oz" by Dorothy, perhaps that state's most famous fictional resident. Only it turns out there is a slightly different takeaway to this telling of the classic adventure.
[+] Enlarge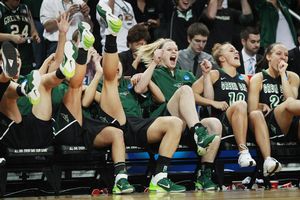 AP Photo/Orlin WagnerFifth-seeded Green Bay got a leg up on 4-seed Michigan State. The Phoenix face Brittney Griner and Baylor at 6:30 ET Sunday.
Home is nice, but it will be there in another week or two. For this team, there's no place like the Sweet 16.
For the first time in the long history of a program that doesn't have a lot of "firsts" left on its bucket list, Green Bay is going to the Sweet 16. The Phoenix earned their trip to Dallas, and a date opposite Brittney Griner and Baylor next weekend, by beating fourth-seeded Michigan State 65-56 in the second round.
A year ago, a two-point lead with 2:18 to play in a second-round game against fourth-seeded Iowa State in Ames slipped away from the Phoenix. But if 12 months is a long time to wait to erase 138 seconds of disappointment, the payoff proved worth the patience for a program that joins the likes of Gonzaga, Marist and Xavier in rising from the mid-major ranks in recent seasons to reach the second week of the tournament.
"This is something we've been working toward since last offseason," Tetschlag said. "I remember all the coming together in the weight room last summer, and as our [huddle] break, instead of saying 'Team' we said 'Sweet 16' because we knew that was our goal from day one. I don't know, just to make history and be a part of such a successful program like Green Bay and take it a step farther than it's ever been, it's really special."
Entering the NCAA tournament, Green Bay hadn't played a down-to-the-wire game since the last week of January. It won its final 20 regular-season games and then breezed through the conference tournament with an average margin of victory of almost 30 points per game. But twice in the span of a little more than 48 hours in Wichita, it found itself locked in battles, first against Arkansas-Little Rock in the first round and then against Michigan State.
Against UALR, a slow start helped consign the Phoenix to a grind of a game against an emboldened opponent. But the wake-up call lingered through the start of Tuesday's game. Green Bay jumped to a 6-0 lead after a little more than three minutes and a 15-6 lead after a little more than five minutes against the Spartans.
"Coach talked about us being the most aggressive team, and that was the key to the game," Tetschlag said. "I think on Sunday night, we didn't start the game out as the most aggressive team, but we finished the rest of the game that way. That makes a huge difference. I feel like we were the most aggressive team tonight."
They needed to be in order to make up for the size advantage enjoyed by the Big Ten team at every position (although perhaps Green Bay coach Matt Bollant had a couple of inches on Michigan State counterpart Suzy Merchant). Tetschlag carried the offensive load when shots didn't fall for others in the first round, scoring 24 points and totaling 11 rebounds in a 59-55 win against UALR. But her role was considerably less glamorous, if no less important, on this night. Michigan State finished with a decisive advantage on the boards, but it totaled just 16 second-chance points on 18 offensive rebounds. And Tetschlag, when not busy drawing another charge or another round of free throws, led all players with 12 rebounds, including 11 on the defensive end. More ...
Player of the day
Shoni Schimmel, Louisville:
Louisville coach Jeff Walz said during the Big East tournament that there was a brief period during the regular season when Shoni Schimmel, his superstar freshman, hit a wall both mentally and physically. It's safe to say she found her second wind. And in so doing, she took the wind out of the sails of the highest seed to fall in the NCAA tournament.

One night after Gonzaga's Courtney Vandersloot and Kayla Standish felled third-seeded UCLA with a pair of brilliant performances, Schimmel did that duo one better, scoring a career-high 33 points to lead No. 7 seed Louisville to an 85-75 victory against No. 2 seed Xavier. And Schimmel didn't just score a lot of points. She scored a lot of points against a good team on that team's home court, where it hadn't lost since December 2009. She did it by making 12 of 18 shots, including 6-of-11 3-pointers. And she did it while leading a comeback in which the Cardinals rallied from a seven-point deficit with seven minutes to play -- scoring the tying basket and go-ahead 3-pointer in the span of 32 seconds.
And just in case we didn't make it clear, did we mention she's a freshman? -- ESPN.com's Graham Hays
• Quick Dish recap: Monday, March 21
• Quick Dish recap: Sunday, March 20
• Quick Dish recap: Saturday, March 19
Cardinals Rally Past Xavier
Checking in with the No. 1 seeds

• UConn 64, Purdue 40
Tuesday, as the UConn fans at Gampel Pavilion said goodbye to Maya Moore and Lorin Dixon, the Huskies did exactly what they were expected to do: Never give Purdue a chance. The No. 1 seed Huskies defeated the No. 9 Boilermakers, and now their attention turns back to … the Big East. Because next up is fifth-seeded Georgetown in the Philadelphia Regional semifinals. And there's a possibility that the Huskies could also face a Big East team in the regional final (No. 3 DePaul) and the national semifinals (Dayton No. 2 Notre Dame). UConn has not lost to a Big East foe since Feb. 5, 2007, when the Huskies fell 73-71 at Rutgers. The Huskies' record in league play since 2005-06 is 93-3. More from Mechelle Voepel

• Baylor 82, West Virginia 68
Brittney Griner has hit 78.2 percent (229-of-293) of her free throws this season at Baylor. That includes going 12-of-15 from the line Tuesday. Griner had some early foul trouble in the game, but in the end she caused a lot more trouble for West Virginia's defense. The Mountaineers had to play a physical style to have any hope of slowing Baylor, but the Lady Bears made them pay at the stripe. More from Mechelle Voepel
Georgia Upends 3-Seed FSU
Breaking down Xavier's breakdown
Just about anyone who watched a minute of the NCAA tournament a season ago remembers the heartbreak with which Xavier exited the event, losing a regional final after Dee Dee Jernigan missed two open layups in the closing seconds and Stanford's Jeanette Pohlen went end to end to score the winner as time expired.
Less memorable, if only because it shared the night in question with seven other games, was a second-round game between Xavier and Vanderbilt at the Cintas Center in Cincinnati that nearly kept the Musketeers from advancing in the first place. In that game, Vanderbilt's Jence Rhoads watched her shot at the buzzer come off the rim and preserve a Xavier victory.
As good as Xavier was throughout the careers of Amber Harris and Ta'Shia Phillips (not to mention oft-overlooked point guard Special Jennings), it had a way of courting disaster in the postseason.
And considering what Louisville freshman Shoni Schimmel can do with even a sliver of daylight, you can't open the door of opportunity when she's wearing the other uniform. More from ESPN.com's Graham Hays
Sweet 16 schedule
Philadelphia Regional (Sunday)
• Georgetown vs. UConn, noon ET (ESPN)
• DePaul vs. Duke, 2:30 ET (ESPN2)
Dayton Regional (Saturday)
• Ohio State vs. Tennessee, noon ET (ESPN)
• Oklahoma vs. Notre Dame, 2 ET (ESPN)
Spokane Regional (Saturday)
• Gonzaga vs. Louisville, 9 ET (ESPN)
• North Carolina vs. Stanford, 11:30 ET (ESPN2)
Dallas Regional (Sunday)
• Georgia vs. Texas A&M, 4:30 ET (ESPN2)
• Green Bay vs. Baylor, 6:30 ET (ESPN2)
Tournament Challenge check-in

How is your bracket holding up? ESPN.com's contributors are going head-to-head in Bristol's Best, with Graham Hays and Melanie Jackson leading the way with 13 of the Sweet 16 teams.
How do brackets from Mechelle Voepel, Charlie Creme, Rebecca Lobo and Cara Capuano compare to the real thing? Also, check out President Obama's picks (81st percentile). Lastly, props to tabu65 for the group's best bracket so far.
• Trends in Tournament Challenge brackets
Lawson On Baylor-Green Bay