Mets can't wear NYPD, FDNY hats
Updated:
September 12, 2011, 1:18 PM ET
By
Adam Rubin
| ESPNNewYork.com
NEW YORK -- New York Mets players considered violating a Major League Baseball edict prohibiting them from wearing hats of various New York City first responders during Sunday night's game against the Chicago Cubs, but ultimately opted to adhere to the order from the commissioner's office, player rep Josh Thole said.
MLB denied the Mets' request to wear the baseball caps despite the policy. Joe Torre, MLB's executive vice president for baseball operations, told The Associated Press in a phone interview the decision was made to keep policy consistent throughout baseball.
"Certainly it's not a lack of respect," Torre said. "We just felt all the major leagues are honoring the same way with the American flag on the uniform and the cap. This is a unanimity thing."
More From ESPNNewYork.com

The New York Mets should have told Major League Baseball what it could do with its first-responder hats ban, writes Adam Rubin. Story
The Mets wanted to wear caps Sunday night honoring police, firefighters and other first responders like the ones they wore on Sept. 21, 2001 in the first sporting event in New York after the World Trade Center attacks collapse 10 days earlier.
MLB issued a league-wide memo, saying teams must wear their everyday caps with a small flag on the side.
"They certainly understood and respected," baseball's decision, Torre said. "I certainly understood what they wanted to do in regards to wearing the hats. I used my history with the fact that we were in the World Series 10 years ago."
Torre also said there was recent precedence for the policy. The Washington Nationals wanted to wear caps honoring the Navy SEALs that were killed in Afghanistan in early August and the team was allowed to wear them pregame.
Once play resumed after the 9/11 terrorist attacks a decade ago, Mets players had violated a similar MLB edict mandating the standard uniform be worn. Over MLB objections, Mets players wore hats of the FDNY, NYPD and other agencies in 2001.
Thole was not aware of his predecessors' actions until Sunday afternoon. When he learned about the '01 Mets standing up to MLB, he discussed with deputy player rep Tim Byrdak whether to also violate the league stipulation. Current players had mixed opinions. And Thole said Mets brass instructed them not to violate the MLB policy.
[+] Enlarge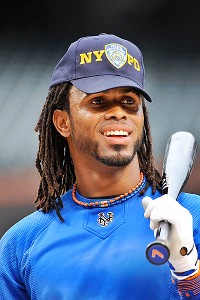 AP Photo/Kathy KmonicekMets shortstop Jose Reyes wore a New York Police Department cap during batting practice Sunday.
"Evidently it's going to come down on the club," Thole said before the Mets lost to the Cubs 10-6 in 11 innings. "I guess they cracked down on it pretty hard. So it's just something we can't do. As a group, we think it's right, and it's the least we can do. We're going to wear them for a ceremony we're having, and then we're going to have to switch hats for the game."
The Mets wore the first-responder hats, which will be auctioned off for charity, during pregame. David Wright, though, was seen in the dugout early in the game wearing a first responder hat.
"If we got a vote in, I think we'd want to wear the hats," Wright said, "but at the end of the day Major League Baseball makes that call, and we're going to respect that."
Mets pitcher R.A. Dickey, in a statement posted on his Twitter page, said he and his teammates had planned to wear the hats anyway, until their plans were foiled.
"For all those upset that we didn't wear the hats, I understand your anger. However, they physically took them from us after the ceremony," read the entry on Dickey's page. "We had conspired to wear them but we got found out and MLB got involved."
The Mets issued a statement reading: "MLB set a league-wide policy as it related to caps and uniforms for September 11 and we followed the guidelines."
Todd Zeile, the Mets player rep in 2001, who was on hand at Citi Field for Sunday's remembrance ceremony, recalled the Mets ignoring MLB's order back then.
"I find it ironic 10 years later and they still can't get it passed for one day of tribute," Zeile said. "I guess they feel it's a slippery slope or something. ... The hats meant more than what they said on the top. I was wearing one from a kid that had lost his dad. And some of the other hats that we were wearing were hats that we traded with some rescue workers while we were down at Ground Zero. It wasn't like they came out of a hat box. We felt that was the best way to align ourselves with those guys that were working 24/7 while we were still out trying to play baseball. I don't think anybody expected it would have the kind of reaction, but the fact that MLB wanted to stop us, and then we decided to do it anyway, I think made it even more significant to the members of the city."
The Mets held a 24-minute ceremony of remembrance under dimmed stadium lights before their game. Fans held electronic candles as bagpipers and drummers stood on the infield and first responders lined the basepaths. Each of the Mets and Cubs escorted a member of "Tuesday's Children," a charity for families impacted affected by the attacks, onto the field and they stood with the uniformed emergency-service workers.
A 100-by-300 foot flag was held by first responders and victims' family members.
Marc Anthony sang the national anthem, as he did on Sept. 21, 2001. Mike Piazza, who hit an uplifting homer in the eighth inning to help the Mets beat the Braves that night, caught a ceremonial first pitch from John Franco, a teammate on the 2001 squad.
Adam Rubin covers the Mets for ESPNNewYork.com. Information from The Associated Press was used in this report.
ESPNNewYork.com
Adam Rubin has covered the Mets since 2003. He's a graduate of Mepham High School on Long Island and the Wharton School of the University of Pennsylvania. He joined ESPNNewYork after spending 10 years at the New York Daily News.
Follow Adam on Twitter »
Chat archive »
EDITORS' PICKS
Brian Cashman said no Yankee should succeed Derek Jeter as captain.