Commentary
Will 2012 Yankees really be Bombers?
Pinstriped pitching wasn't a problem in last year's ALDS -- a lack of clutch hitting was
As we head into Spring Training 2012, there is really only one question that needs to be asked and answered of the New York Yankees: Are they better than they were in 2011?
It is a question we can ask today but can't really answer for another nine months, when the story of the upcoming season is completed.
And the answer might seem to be an easy one: Sure, they're better, because with one fell swoop on Friday the 13th of January, GM Brian Cashman settled all remaining family business by adding not one, but two formidable starting pitchers to the Yankees rotation.
On paper, that seems to be the answer because if there was one glaring weakness going into the 2011 season, it was a rotation made up of CC Sabathia, two kids, two retreads and a head case.
[+] Enlarge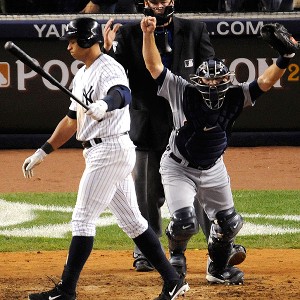 AP Photo/Bill KostrounRemember this photo, Yankees fans? We thought you might recognize it.
But in reality, the starting pitching wasn't the problem at all when the 2011 season's moment of truth arrived. Even A.J. Burnett pitched well in his one and only start of the postseason, working into the sixth inning and holding the Detroit Tigers to just one run in Game 4 of the American League Division Series, a game the Yankees won, 10-1, to bring their season home for one more night.
The fact that that night turned into a bitter disappointment was not the fault of Ivan Nova, who had to leave after two innings, or of Sabathia, pressed into service on short rest, or of Phil Hughes, Boone Logan, Rafael Soriano, David Robertson or Mariano Rivera, all of whom pitched well enough for the Yankees to win.
The fault lay squarely at the feet of the offense, the heart of this Yankees team, the one area that is supposed to be unassailable. Batting against Doug Fister, Max Scherzer, Joaquin Benoit and Jose Valverde, Yankee bats knocked out 10 hits, none of them particularly timely.
And the seventh inning of that final game showcased what is perhaps the greatest unacknowledged weakness of this team: It hits, but not always when it needs to.
In that seventh inning, trailing 3-1, the Yankees chased Scherzer with a one-out single by Derek Jeter. From there, Curtis Granderson, the AL's RBI champion and second-best home run hitter in 2011; Robinson Cano, a bona fide MVP candidate two years running and the team's best hitter; Alex Rodriguez, the game's highest-paid player and sixth-most prolific home run hitter in the history of the game and Mark Teixeira, who jacked 39 homers himself in 2011, all had a chance to tie the game or maybe even blow it open. And after Granderson and Cano singled to load the bases, a Yankee victory seemed ridiculously inevitable.
But all they managed to get out of it was one run, on a walk to Teixeira. A-Rod famously struck out, and so did Nick Swisher, although less famously. And that, ladies and gentlemen, was that.
It was a shocking conclusion to the season, but in reality, should it have been all that unexpected?
All season long, the Yankee lineup had shown stretches of ineffectiveness, as all lineups do.
But what happened in that seventh inning happened in a lot of Yankee seventh innings in 2011, and a lot of eighth and ninth innings, too. There weren't many towels loaded with shaving cream to be seen last year, because despite the Yankee offense's impressive numbers -- it led baseball in home runs (222) and was second in runs scored (867) and on-base percentage (.343) -- the bats were woefully quiet late in games all year long.
In fact, in one key situational category -- Late and Close, defined as "plate appearances in the seventh inning or later with the game tied or the team batting either a run ahead or with the tying run on deck'' -- the Yankees batted just .221, worse than every team in the AL but the Seattle Mariners, the Oakland A's and the Minnesota Twins, three of the weakest hitting teams in baseball. Even the Mets did better (.259) in those clutch situations last year than the Yankees did.
In fact, the worst Late and Close numbers appear next to the names of some of the most feared hitters in the Yankee lineup: A-Rod, .167 with 17 Ks and just one RBI in 62 PAs; Teixeira, .200 with just three extra-base hits in 96 PAs; Swisher, .182 with 23 Ks in 94 PAs (Swish did also have three HRs and 12 RBIs).
Only Granderson (six HRs), Jeter (.288 BA) and Cano (17 RBIs, the most by any Yankee in that situation) did much to remember when the game was on the line late.
Is that just bad luck? Could it be the lack of bench strength due to the assumption that no pinch-hitter could do a better job than the guys the Yankees already had in the lineup? Or could it be the age of some of the players on the Yankee roster that made them less effective late in games?
Whatever the underlying reason, the Yankees chose to write off that seventh-inning failure -- as well as a season full of them -- as an aberration, a championship lost for want of one base hit.
But what if it is more than that? What if this offense, capable of a 10-run explosion in Game 4 and two measly runs, one of them walked in, the following night, is not as good as we have all been led to believe?
It's already well-known that, like human life in Casablanca, home runs are cheap in Yankee Stadium. The new ballpark is rated the second-most homer-friendly park in baseball, just slightly behind U.S. Cellular Field in Chicago. And the Yankees belted a ton of home runs at home, 122 of the 222 they hit last season.
Is that number truly a fair reflection of their power?
And what about A-Rod, the cleanup hitter who due to injury and age managed to play just 99 games last year, posting career lows in HRs, RBIs and BA? Or Teixeira, who became so helpless batting left-handed into the shift he's actually considering bunting this season? Or Swisher, whose post-season woes deepened to the point that after the ALDS, his career playoff average is now down to .169?
The Yankees certainly made improvements where it was obviously necessary this offseason. Michael Pineda and Hiroki Kuroda make the starting staff among the best in the American League.
Assuming Rivera, even at 42, remains his impeccable, unhittable self, Robertson continues the mastery he showed in 2011, Soriano continues to adjust to life in the seventh inning and Joba Chamberlain returns healthy from Tommy John surgery, their bullpen remains a true strength.
They are solid in the field -- Brett Gardner is among the best defensive left-fielders in the game and Cano, A-Rod, Teixeira and yes, even the often-maligned Jeter make up a fine infield -- and for the most part, on the basepaths.
But one lingering question remains: Is their offense really as fearsome as it is reputed to be?
At times, the answer is an unqualified yes.
But at the time the Yankees needed it to be most of all, the answer was a shocking no.
Of all the questions the Yankees eliminated this offseason, that is the one that remains unasked, and until proven otherwise, unanswered.
ESPNNewYork.com
Wallace Matthews has covered New York sports since 1983 as a reporter, columnist, radio host and TV commentator. He covers the Yankees for ESPNNewYork.com after working for Newsday, the New York Post, the New York Sun and ESPN New York 98.7 FM.
Follow Wallace on Twitter »
Chat archive »
EDITORS' PICKS
The Knicks couldn't do anything right in an ugly loss to the Kings.