Curtis Granderson breaks forearm
TAMPA, Fla. -- New York Yankees outfielder Curtis Granderson suffered a fractured right forearm Sunday after being hit by a pitch in his first at-bat in a spring training game and will be out until at least the first week of May.
Granderson was hit by a 2-2 pitch from J.A. Happ and left the game in obvious pain. Originally, the injury was announced as a bruised forearm but he was taken to a local hospital for X-rays, which revealed the fracture.
The Yankees announced that Granderson will be "major league ready" in 10 weeks, or by approximately May 5.
More on Granderson's Injury

Curtis Granderson's broken forearm hurts the Yankees' plans to shift Brett Gardner to center field, writes Wallace Matthews. Story
---
Without Curtis Granderson, the Yankees are looking at their worst Opening Day lineup since the 1991 version, which featured Roberto Kelly, Mel Hall and Matt Nokes, Dan Szymborski writes. Story

"Obviously it's a big bump in the road," said Granderson, wearing a removable brace on his right arm. "To be down, pout, all of those things isn't going to change anything. We just continue to move forward."
It was to have been Granderson's first game in left field as the Yankees experiment with moving Brett Gardner to center field, but Granderson never got a chance to field a ball in the outfield.
Instead, he caught a fastball from Happ with two runners on and two out in the bottom of the first and was in obvious pain as he headed to first base, where he was met by manager Joe Girardi and a team trainer. Granderson was immediately removed from the game, though neither he nor Girardi initially believed the injury to be serious.
"It was just one specific spot," Granderson said. "Nothing moved up or down. No numbness. No tingling. Just that spot. Kind of felt like you hit your funny bone, but only in that spot."
But the X-ray revealed a fracture of the ulna, one of two bones that make up the forearm, a couple of inches above the right wrist.
''I was actually kind of shocked," Girardi said. "He wasn't in a lot of pain. I guess he's got a high pain threshold."
Although Yankees starter Adam Warren hit Brett Lawrie leading off the second inning -- on a pitch Warren said "got away" -- Granderson said he was satisfied that Happ did not hit him intentionally.
Granderson said Happ sent a message over to the Yankees clubhouse asking how he was before anyone knew he had suffered a broken arm.
[+] Enlarge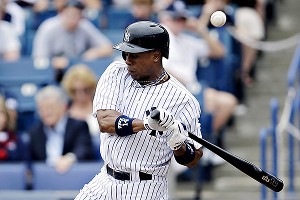 AP Photo/Matt SlocumYankees outfielder Curtis Granderson will miss at least 10 weeks after being hit by a pitch in the first inning of a spring training game Sunday.
"It was definitely nothing on purpose," he said. "He's trying to work and come inside, it's part of the game."
Losing Granderson means that the Yankees now lose the most potent home run bat in a lineup that already lost 94 home runs in the offseason with the departures of Nick Swisher, Russell Martin, Raul Ibanez, Andruw Jones and Eric Chavez.
Even though Granderson is only expected to miss the first five weeks of the regular season, he takes with him a bat that produced a team-high 43 home runs in 2012 and 41 home runs in 2011.
"He's not an easy hitter to replace, but we got to find a way," Girardi said. "You look at guys internally now. That's the only thing we can do."
In the offseason, the Yankees signed Matt Diaz and Juan Rivera to compete for backup outfielder roles, and early in camp the Yankees have been impressed by Zoilo Almonte, a 23-year-old who started last year in Class A ball and moved up to Double-A later in the season. Almonte homered and threw a runner out at third from right field in the preseason opener on Saturday against the Braves.
And Ronnier Mustelier, who replaced Granderson on the basepaths and played left field in his place, batted .303 with 10 home runs and 49 RBIs for the Triple-A Scranton/Wilkes-Barre Yankees last season.
"It's still very early," general manager Brian Cashman said. "We're still evaluating what we actually have in camp here. There's a short-term spot that's available because Curtis will be back in May. So the first month there's a vacancy that we need to fill. Will that be internal or external? I couldn't even tell you."
Granderson has been the Yankees starting center fielder since he was acquired from the Detroit Tigers as part of a three-way trade. He has led the Yankees in home runs the last two seasons, but his defense has come under scrutiny and, with Gardner back after missing most of last season with an elbow injury, was to be tried in left field for the first time since 2007, when he played two games there.
"That experiment's over," Cashman said.
Now, what the Yankees had been experimenting with will become the every-day reality until Granderson comes back. Girardi said Gardner will move to center while he searches for a short-term replacement for Granderson.
"I've said you never really know about the depth of your club until it's tested," Girardi said. "Well, it's going to get tested here. We're going to find out how deep we are."
ESPNNewYork.com
Wallace Matthews has covered New York sports since 1983 as a reporter, columnist, radio host and TV commentator. He covers the Yankees for ESPNNewYork.com after working for Newsday, the New York Post, the New York Sun and ESPN New York 98.7 FM.
Follow Wallace on Twitter »
Chat archive »
SPRING 2013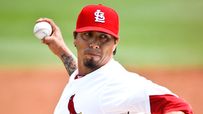 SPRING TRAINING
BBTN 500
WORLD BASEBALL CLASSIC
OTHER LINKS
EDITORS' PICKS
Both the Knicks and Nets games have been postponed tonight due to snow.