News item: The New York Yankees won a case granting them the exclusive right to refer to themselves as "baseball's Evil Empire." In arguing their case, the Yankees pointed out they "implicitly embraced" the term by playing the "Imperial March," aka the Darth Vader theme music, at their games.
Star Wars Episode VII: The Empire Strikes Out
Not very long ago, in a galaxy not nearly far enough away …
[SCENE 1: LUKE, OBI-WAN KENOBI, C-3PO and R2D2 stand together outside their land cruiser, gazing ahead at an unseen vista.]
OBI-WAN: You will never find a more wretched hive of scum and villainy.
LUKE: Are we back at the Mos Eisley space port?
OBI-WAN: No. Yankee Stadium.
We have to get inside to obtain the wealth of information that will tell us how to defeat the Empire.
LUKE: The blueprints to the Death Star?
OBI-WAN: No. Something far more detailed, far more technical and containing so many terabytes of information that not even little R2D2 could download it all.
Yes, I'm talking about Joe Girardi's binder.
[SCENE 2: The Evil Empire's board room. As general manager BRIAN CASHMAN sits nervously, HAL VADER and HANK VADER look over the information of the newest additions to the Yankees' roster.]
HAL VADER: Kevin Youkilis and Travis Hafner? That's all you added? A guy who hit .235 last year and a guy who hit .228? Admiral Cashman, these are not the free agents we're looking for.
CASHMAN: But Lord Vader, you said I had to trim payroll to get us under the luxury tax.
HANK VADER: Trim the payroll? You gave Youkilis $12 million! He was part of the Red Sox Alliance -- and says he always will be! He's a Rebel and a traitor!
CASHMAN: Yes, but there was no one else available in our price range. Aaaugghhccck!!!
[CASHMAN suddenly cannot breathe. He claws at his throat, desperate for air. He then collapses to the table.]
HAL VADER: Apology accepted, Admiral Cashman.
HANK VADER: Summon the bounty hunter, Boras Fett. We have some players to add.
[Scene 3: OBI-WAN, LUKE, C-3PO and R2 arrive at the Yankee Stadium player parking lot in their land cruiser. Among the many storm troopers and bizarre creatures in the lot are the obese JOBA THE RELIEVER and A-ROD THE CENTAUR, who has his shirt off, one hip in a cast and his eyes focused in a mirror. After kissing the mirror, A-ROD looks up at OBI-WAN and LUKE.]
A-ROD: Halt! Where are your badges?
LUKE: [Whispering to OBI-WAN.] How will we get past him?
OBI-WAN: Leave that to me.
[OBI-WAN gestures with his hand and A-ROD gets an even more glazed look than usual on his face.]
OBI-WAN: Badges? What badges? We don't need no stinking badges.
A-ROD: You don't need no stinking badges.
OBI-WAN: These are not the bikini models you're looking for.
A-ROD: These are not the bikini models I'm looking for.
OBI-WAN: Go back to the dugout and look for them during the game.
A-ROD: I'm going back to the dugout to look for them during the game. Hmmm. I wonder if it would help if I told them I could get them Derek's autograph.
[SCENE 4: Bounty hunter BORAS FETT has just wheeled outfielder JOSH HAMILTON into HAL and HANK VADER's chambers. HAMILTON is sealed in carbonite.]
HAL VADER: Now that's precisely the free agent we're looking for! But why is he sealed in carbonite?
BORAS FETT: I had to take him away from the Angels. It's for the best, though. His agent, Lando Moye, should have gotten him a longer term deal than five years.
HANK VADER: Yes! We will give him a "lifetime" contract. Quick, get him to center field so he can replace Curtis Granderson and his broken arm.
BORAS FETT: Ummm, that could pose a little bit of a problem. You see, the only way we can keep Hamilton healthy for an entire season is to make sure he stays sealed in carbonite. But there is another option. May I recommend Kyle Lohse? His WAR was 3.9 last year.
[SCENE 5: LUKE, HAN SOLO, CHEWBACCA and PRINCESS LEIA are trapped inside the Yankee Stadium garbage compactor.]
HAN: What an incredible smell you've discovered. Is this the stadium's trash compactor or where they store the hot dogs for the concession stands?
LUKE: Actually, I think it's David Wells' old locker.
CHEWBACCA: RAHHWLLGGGHH!!!
[SCENE 6: HAL and HANK VADER watch as LUKE, HAN, LEIA, C-3PO, R2 and CHEWBACCA escape from the stadium with GIRARDI's binder.]
HAL VADER: Damn. They got away.
HANK VADER: Good riddance, I say. Did you see that giant fur ball with them? If he signed with the Empire, it would take an entire season just to shave his facial hair.
[SCENE 7: LUKE, HAN and PRINCESS LEIA have delivered JOE GIRARDI's binder to the Alliance, where their researchers and scientists have been studying it for any possible weaknesses in the Evil Empire they can exploit.]
ALLIANCE COMMANDER: Princess Leia. Gentlemen. Thanks to you, we have discovered the secret to destroying the Empire.
LUKE: What is it? Did you find a thermal exhaust port that leads to the stadium's main reactor? If I'm able to hit it with a proton torpedo, will that lead to a chain reaction that destroys the entire stadium?
ALLIANCE COMMANDER: No, we don't have to do anything. We just have to sit back and wait. You see, based on the roster and statistical information provided in this binder, it seems that the Empire has grown irreversibly old.
I mean, the Empire is counting on a soon-to-be 39-year-old shortstop coming off a broken ankle, a 39-year-old right fielder who has no power, a 40-year-old No. 2 starter and a 43-year-old closer coming off knee surgery. Even their ace is 33 years old and coming off elbow surgery. And their only additions were Kevin Youkilis and Travis Hafner! No, I don't think we need worry about the Evil Empire this season.
The Blue Jays, Rays and Orioles, however, are another matter.
[FINAL SCENE: Bounty hunter BORAS FETT has delivered another free agent to the VADERS.]
BORAS FETT: Lords Hal and Hank Vader, may I present Jar-Jar Binks. His WAR was minus-4.5 last season, but he is only 26. And Keith Law had him ranked 104,529th in his annual Galactic Prospects.
HAL VADER: Just so long as he keeps us under the luxury tax.
CSI: Box Score
Each week, I provide a fragment from an old box score and challenge you to determine what game it is from and why it's significant. The challenge for you is to figure out why. I give this one a difficulty rating of 9. Answer below:
Baseball Card of the Week
We continue our trip into the time capsule that is the 1988 Topps set …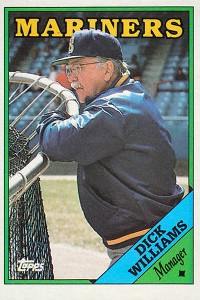 Dick Williams (1988 Topps No. 104) was the Seattle Mariners manager in 1988, my first year in the Baseball Writers Association of America. Williams could be very prickly and tough to deal with. For example, on April 19 of that season, Mark Langston gave up five home runs in a 7-2 loss. During the postgame interview session in his office, I asked Williams if he'd considered taking Langston out earlier. He shouted back, "When? When would you have taken him out? Did you see anyone warming up in the bullpen? When would you have taken him out! WHEN!?!?!"
He went on and on like this, getting louder and louder. He continued to rant even after the interview session, leaving his office and shouting about the idiocy of my question as I attempted to talk to players.
I was just a kid, so I was very intimidated and pretty much wanted to shrivel up and die. But I wish I had replied to his question by saying, "I don't know. Maybe after the fourth home run?"
Managers generally aren't like that anymore. And postgame interview sessions with the home team manager have become dull, artificial routines in which the manager meets outside his office in another room with cameras and recorders rolling. He stands in front of a big team logo backdrop and blandly responds to equally bland questions/comments.
Audio and video links of these deadly dull sessions are generally available for fans and insomniacs to watch so they can put themselves to sleep. The old postgame sessions -- in which the manager usually sat around in his underwear eating his postgame meal (and occasionally smoking or drinking) in between swearing and snarling at reporters -- were much more interesting.
Yeah, Well, That's Like, That's Just Your Opinion, Man
The Yankees, For One, Might Find This Idea Appealing. Baseball already has the stiffest penalties for performance-enhancing drug use among American major league team sports but it is considering even harsher sanctions. Anything that will further discourage players from juicing is good, and here's one proposal that would put some sharper teeth into the penalties: Test positive and your contract is void for the entire season in which you were busted, not just for the games you are suspended. In other words, you forfeit all money paid to you that season, whether it is the minimum salary or $32 million. Also, your team has the right to either maintain the remainder of your contract or cut you loose without further monetary obligation. Players are tempted to take PEDs to make themselves better and therefore make more money. If there is a significant financial penalty, that temptation is likewise significantly offset.
Give This Man A Gold Ball-Strike Indicator: Congratulations on a great career as an umpire and best wishes to Tim Tschida, who announced his retirement this week. Tschida grew up in St. Paul, Minn., near the same neighborhoods that produced Paul Molitor, Dave Winfield and Jack Morris (and later, Joe Mauer). And just like them, he excelled in his baseball career at the highest level. Baseball is losing a great umpire. I'll miss seeing him on the field.
Judging By His Defense, Alfonso Soriano Has These Prosthetics In Both Eyes: According to a tweet from the Smithsonian last week, an Iraqi war veteran, who lost his eye, replaced it with a prosthetic eyeball that has a Cubs logo on it instead of a pupil. Given how many Cubs fans must have plucked out their own eyes shortly after watching their team blow the lead in Game 6 of the 2003 National League Championship Series, this could be the start of a disturbing trend.
And The Oscar For The Most Bloated, Draining Production Goes To … : Here's the main problem with the Academy Awards. The people who watch it are movie fans, right? Yet, the show producers rarely show clips from movies; and when they do, the scenes are little more than a worthless montage or a 10- to 15-second segment that doesn't give us any feel for the film. Instead, they give us lame production numbers that just drag out the show for another hour. I get that they need the show to go 3½ to 4 hours in order to pack it with lucrative commercials, but leave the song-and-dance routines for the Tony Awards. If you want to deliver a salute to "Chicago," don't make us watch an aging Catherine Zeta-Jones recreate it now. Just show us the opening scene from the movie, in which she was far superior. More movies, fewer production numbers!
CSI: Box Score Answer
There were a couple minor clues. That the game involved Boston and Washington with a pitcher named [Boo] Ferriss might have indicated this was played long ago. But there really was only one major clue -- the name Shepard -- and whether you spotted it or not depends on if you know the amazing but true story of Bert Shepard. For the many who don't, here it is:
Shepard was a minor leaguer pitcher prior to World War II, when he was drafted and became a P-38 fighter pilot. He was shot down over Germany in May 1944, was taken prisoner and had his right leg amputated 11 inches below the knee. After a POW-exchange the following winter, he was back in the United States with an artificial leg in early 1945. He went to spring training, and the Senators hired him as a coach. He pitched batting practice each day during the season.
On Aug. 4, just days before the U.S. dropped an atomic bomb on Hiroshima, the Senators were getting whipped 14-2 in the second game of a doubleheader. To save their arms -- they were in a pennant race that would go down to the final day -- the Senators sent Shepard to the mound, and he pitched 5 1/3 innings in what would be his only major league game.
Shepard pitched and coached in the minors before going on to a career as a safety engineer. He won the national amputee golf championship several times. When I interviewed him 50 years after his big league game, he told me, "I've always approached things in a positive way."
And people make a big deal about Washington's Stephen Strasburg returning to the mound for a spring training game last weekend.