Source: Amare's hand 'really bad'
Updated:
May 2, 2012, 10:47 AM ET
By
Ian Begley
| Special to ESPNNewYork.com
NEW YORK -- A left hand laceration will force Amare Stoudemire to sit out Game 3 of the New York Knicks-Miami Heat first-round playoff series, the team announced Tuesday evening. He is listed as doubtful for Game 4, scheduled for Sunday at Madison Square Garden.
More from ESPN.com

It'll be difficult to find a deal, but the Knicks must part ways with Amare Stoudemire in the offseason, writes Ian O'Connor. Story
---

Amare Stoudemire or not, the Knicks are done. But they can show something -- anything -- in Game 3 Thursday, writes Stephen A. Smith. Story
---

Be mad at Amare Stoudemire for hurting himself, but remember, Carmelo and the Knicks need him, writes Johnette Howard. Story
---

Amare Stoudemire may be out for the playoffs after punching a glass case. Was he being selfish, or just passionate?
• Cast your votes!
---

Believe it or not, New York's chances of beating Miami might improve with the loss of Amare Stoudemire, writes Neil Paine. Story

• Gallery: Stupidest Moves in NY Sports
• Rank 'Em: Top 10 Stupidest Moves
Stoudemire suffered the laceration on the inside of his palm, on the side of his hand closest to the pinkie, after punching a glass case containing a fire extinguisher Monday moments after the Knicks' 104-94 loss to the Heat.
"He didn't haul off and punch the glass; he hit it out of frustration," a person who witnessed Stoudemire hitting the glass surrounding the fire extinguisher told ESPN The Magazine's Chris Broussard. "He kind of slapped it, but with a closed fist. He said he thought it was plastic instead of glass.
"Half of his hand was just hanging off. It was really bad. Blood was just squirting out. That's why they had the paramedics come in, because they thought he might have punctured an artery because of how much blood was coming out."
A second league source said that amid the chaotic scene in the locker room, people could be heard calling for towels to tend to the injured Stoudemire, who already had bled onto the floor.
The Knicks say Stoudemire will be reassessed for the remainder of the series. A team source said there is a possibility that Stoudemire could miss the rest of the series, regardless of how long it goes. The Knicks trail the Heat, 2-0, in the best-of-seven series.
Stoudemire saw a hand specialist at the Hospital of Special Surgery on Tuesday and the surgeon repaired a "small muscle" in his hand, according to the team. According to a source with knowledge of the injury, Stoudemire suffered no ligament or tendon damage. He needed an undisclosed number of stitches on the cut.
The power forward punched the case while heading to the locker room moments after the game. He was treated by paramedics and team doctors from both the Knicks and the Heat and was seen leaving the arena with his left forearm and hand heavily bandaged and his arm being supported by a sling.
Stoudemire's frustration may have stemmed from his shot attempts -- nine -- in Monday's game, according to the source. He scored 18 points and had seven rebounds.
Stoudemire addressed the incident via his Twitter account.
"I am so mad at myself right now," read a post on Stoudemire's verified account. "I want to apologize to the fans and my team, not proud of my actions. headed home for a new start."
Eastern Conference Playoffs


Get all the news and commentary on the Heat-Knicks matchup on ESPN.com's matchup page.
• Predictions: Simulator | SportsNation
• More: TrueHoop | Schedule | Bracket
• Heat Index | Knicks Report | ESPN NY
A later post read: "We all have done thing out of anger that we regret. That makes us human. Bad timing on my part. Sorry guys. This to shall pass."
Stoudemire has had a difficult season. He struggled with his shot early in the season, the result of not playing basketball during the lockout while rehabbing a back injury. Stoudemire's brother died in a car crash in February, and he suffered a bulging disk in his lower back, which sidelined him for four weeks.
This most recent injury comes at a difficult time for the Knicks. The team lost Iman Shumpert, its top perimeter defender, to a torn left ACL and lateral meniscus in Game 1. Center Tyson Chandler has been slowed by flu-like symptoms, which limited him to 21 minutes in Game 1. He was severely compromised by the illness on Saturday. His condition improved in Game 2 on Monday. Point guard Baron Davis also has been limited by a back injury.
Most Knicks in the locker room after Game 2 did not want to discuss specifics of the Stoudemire incident.
Chandler said the Knicks would have to "deal" with the fallout from the power forward's injury.
"He's probably going to be out. I don't know how bad it is. ... Your emotions run high. In a split second, a decision can alter things," Chandler said. "You can't fault anybody. We've got to deal with the repercussions."
This is the second consecutive postseason in which Stoudemire suffered a self-inflicted injury. Last April, Stoudemire pulled a muscle in his back while attempting a dunk in warm-ups prior to Game 2 against the Boston Celtics.
He was limited by the injury for the remainder of the series, which the Knicks lost in four straight.
Ian Begley is a regular contributor to ESPNNewYork.com. Information from ESPN The Magazine's Chris Broussard was used in this report.
ESPN New York Writer
Covers the New York Knicks for ESPNNewYork.com
2012 NBA Finals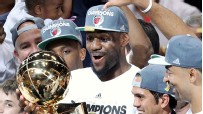 Follow the NBA on ESPN:
Twitter / Facebook / Google+
LATEST CONTENT
FINALS FEATURES
AUDIO/VIDEO
FINALS PAGE
EDITORS' PICKS
It will be a reunion of sorts for Knicks president Phil Jackson and coach Derek Fisher as the Lakers come to town.