Knicks to let Jeremy Lin leave?
Updated:
July 18, 2012, 12:23 AM ET
ESPN.com news services
The New York Knicks plan to let Jeremy Lin join the Houston Rockets and as of 4 p.m. ET have decided not to match the offer sheet the point guard signed with Houston, The New York Times reported Tuesday, confirming what two sources within the Knicks organization had told ESPN's Stephen A. Smith on Sunday.
The Knicks have until 11:59 p.m. ET Tuesday to announce their decision whether they will match Houston's three-year, $25.1 million offer sheet or let the Rockets have Lin, who became an international phenomenon during a dazzling February.
Lin Gives Rockets Boost
If Jeremy Lin, the Rockets get a player that posted higher averages than their point guards last season -- Kyle Lowry and Goran Dragic -- in both points and assists per 36 minutes last season.
Per 36 Minutes Last Season
Pts
Ast
Jeremy Lin
19.6
8.3
Kyle Lowry *
16.0
7.4
Goran Dragic *
15.9
7.2
* No Longer With Rockets
powered by

The Times reported the Knicks aren't expected to announce their decision on Lin until Tuesday evening but that the team's deliberations on Lin's future had ended.
A source told ESPN.com's J.A. Adande the Rockets haven't been notified yet of a decision by the Knicks.
A team source told ESPNNewYork.com's Ian Begley earlier this week that the third year of the Rockets' offer -- worth $14.8 million -- caused the Knicks to consider letting Lin go. If the Knicks matched the offer, they would have been subject to a luxury tax in the third year, potentially bringing their total out-of-pocket cost for the team's salary to about $43 million in 2014-15.
The Rockets' offer to Lin would pay him $5 million in the first year, $5.225 million in the second and $14.8 million in the third, according to sources.
Lin, a restricted free agent, made $788,000 last season.
The Knicks will turn to Raymond Felton at point guard. He was acquired in a sign-and-trade announced on Monday. Felton averaged 17 points and nine assists in 54 games for New York in 2010-11 before he was traded to Denver as part of the Carmelo Anthony deal in February 2011.
Lin's life has been a whirlwind since last December, when he spent less than two weeks in Rockets' training camp. The Rockets liked what they saw in the undrafted Harvard graduate, but had to waive him because they had Kyle Lowry and Goran Dragic on the roster.
The Knicks picked him up and Lin was once again relegated to the bench behind Toney Douglas and Mike Bibby. Lin was briefly demoted to the developmental league, recalled and finally got his chance when coach Mike D'Antoni put him in with the Knicks floundering at 8-15. Lin scored a career-high 25 points in a 99-92 win over New Jersey Nets and "Linsanity" was born.
Lin had slept on teammate Landry Fields' couch the night before, still refusing to get his own place as he headed into that week, knowing the Knicks would have to decide whether to cut him or guarantee his contract for the rest of the season.
But Lin proved more than just an overnight sensation -- he had 28 and 23 points in his first two NBA starts, then scored a career-high 38 in a 92-85 victory over Kobe Bryant and the Los Angeles Lakers.
The Best Of Linsanity
ESPN New York looks back at Jeremy Lin's very best games with the 'Bockers. Jeremy Lin's Greatest

Latest

The stock price for Madison Square Garden Inc. surged on the production and popularity of the team's international star. Lin also made the Sports Illustrated cover in consecutive weeks, only the 12th athlete to hold that distinction since 1990. On Tuesday, Lin had more than 829,000 followers on Twitter.
The more opponents saw Lin, though, the more they seemed to figure him out as the season wore on. He went 1 for 11 with eight turnovers in a humbling, nationally televised loss in Miami and the Knicks dropped their first six games in March.
D'Antoni resigned in mid-March and Lin hurt his left knee less than two weeks later. The Knicks revealed on April 1 that Lin needed surgery to repair a meniscus tear and would miss six weeks.
The Knicks made the playoffs behind a surging Anthony, but bowed out to Miami in the first round. The Rockets, meanwhile, missed the postseason for the third straight year and have spent the offseason completely rebuilding their roster.
Houston has been trying to put together a package of assets and draft picks to offer Orlando in exchange for disgruntled All-Star center Dwight Howard. In the process, the Rockets lost the unrestricted free agent Dragic to Phoenix, then traded Lowry to Toronto in exchange for a future first-round pick with lottery protection.
With no true point guard left on the roster, the Rockets turned back to Lin.
Houston, meanwhile, jumped at the chance to reacquire their popularity in China, where Yao became a larger-than-life figure. Many Rockets landed lucrative shoe contracts with Chinese companies on Yao's coattails and Rockets' games drew massive television ratings there.
Information from ESPNNewYork.com's Ian Begley and The Associated Press was used in this report.
2012 NBA Offseason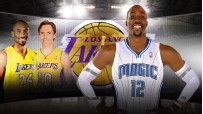 Follow the NBA on ESPN:
Twitter / Facebook / Google+
LATEST CONTENT
ANALYSIS
REGULAR FEATURES
EDITORS' PICKS
Brandon Marshall can cause headaches, but the Jets had to get him.