Commentary
Jets losing field leader in Mangold
The injured center's intangibles will be hard to replace for Gang Green
Updated:
September 23, 2011, 7:11 PM ET
By
Rich Cimini
| ESPNNewYork.com
FLORHAM PARK, N.J. -- When the New York Jets left for a game in Oakland two years ago, their charter flight was lighter than usual. That's because 360-pound nose tackle Kris Jenkins was left behind, his knee shredded, done for the season.
It was the first significant injury of the Rex Ryan era, and the doom-and-gloom scenarios already were being drawn up. The Jets responded with a 38-0 victory over the Raiders, the first true indication of their trademark resilience.
Jets Offseason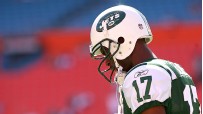 The Jets began 2012 with a thud. So what's next? Jets Center » Blog »
• 50 Greatest Jets

Adhering to Ryan's "next man up" mantra, the Jets have developed a reputation for overcoming key injuries -- Jenkins (twice), Darrelle Revis, Leon Washington, Damien Woody. Now they go to Oakland this weekend without All-Pro center Nick Mangold, and they expect it to be another "next man up" story, starring Colin Baxter.
Except this is different. This is different the way Jim Leonhard's injury last December was different. They're losing more than a body. They're losing a body and a mind.
"Nick is a really good player -- the best center in the league -- but his most valuable asset to us is his brain," left guard Matt Slauson said.
The Jets rely heavily on Mangold to coordinate the offensive line, and -- not many people know this -- to help quarterback Mark Sanchez with pass-protection calls. They will miss him the way the defense missed Leonhard last December.
The veteran safety broke his leg three days before a Monday night game against the New England Patriots, and it was as if somebody had yanked the hard drive out of the Jets' computer. Without Leonhard's smarts and calming influence, they got off to a bad start and it snowballed into a 45-3 debacle.
This time, the Jets didn't have to change the game plan at the 11th hour; they had six days to make adjustments and formulate a strategy sans Mangold. That helped, but the extra time could be offset by two factors: (1) the Raiders had the same prep time, and (2) Baxter is a neophyte compared to Brodney Pool, who replaced Leonhard.
Five things to watch

1. The Middle. For the first time since the 2005 finale, the Jets will start a center not named Nick Mangold (ankle). Colin Baxter, this is your shot. The Raiders smell blood and will go after the untested Baxter. The use a standard 4-3 base front, with a three-man tackle rotation of Richard Seymour, Tommy Kelly and John Henderson -- all cagey vets. The Raiders don't blitz a lot, but look for MLB Rolando McClain rushing the center/guard gap in an attempt to rattle Baxter.

2. Where's Joey Chesnut? The Raiders haven't forgotten Mark Sanchez's hot dog-eating stunt from two years ago, and they're planning to remind him. And you know the crazy Raider fans, decked out in their year-round Halloween costumes, will be riding him throughout the game. For Sanchez, who has four turnovers in the last five quarters, it's all about maintaining his poise.
3. Man up. Sanchez & Co. will see a heavy dose of man-to-man coverage from the Raiders, which bodes well for WR Plaxico Burress. The Jaguars, with their split-safety zone, rolled coverage to Burress and took him out of the game. The Raiders use a single-high safety in the post, with man coverage underneath. In other words, Sanchez should be able to find Burress before the fourth quarter -- if he can get open. The Raiders' D was brutal last week, allowing five second-half TDs to the Bills.
4. Just run, baby. The Jets need to get their running game going, and the Raiders allowed 217 yards last week to the Bills. So it should be easy for the Jets, right? Depends. The Bills ran out of spread formations, often with an empty backfield. That's not the Jets' style, but that might make sense, considering the change at center. The Jets should attack on the perimeter. Don't be surprised if LaDainian Tomlinson, a Raiders killer in his AFC West days, is a big factor.

5. The Accordian Offense. The Raiders still use a vertical passing game; QB Jason Campbell averages 9.9 yards in the air per attempt, tied for second in the league. They hit you on the ground with runs to Darren McFadden and try to go over the top with the long ball. It works, as the Raiders have runs of 20-plus yards, tied for the league lead. This is going to be a tough challenge for the Jets' linebacking corps.
-- Rich Cimini
Baxter, an undrafted rookie picked up on waivers three weeks ago, will make his first NFL start. The Jets like the kid a lot, but one opposing personnel executive, speaking on the condition of anonymity, said "I hope they don't think this guy is the answer."
This is a huge test for the Jets (2-0), venturing into the Black Hole for Oakland's home opener. The Raiders are coming off a crushing loss to the Buffalo Bills, and they're singing the redemption song, looking for payback from 38-0 -- and Sanchez's disrespectful hot dog-eating incident.
The Jets usually thrive under these conditions -- their non-divisional conference record is 6-0 under Ryan -- but it will be virtually impossible to replace Mangold's intangibles. In the Black Hole, where every game is a cross between a Halloween party and a Metallica concert, it can be intimidating for a young player or an out-of-sync offensive line.
"I think they're going to struggle," said Woody, an ESPN analyst who played for three years on the Jets' offensive line. "Nick gets everybody going and he gets everybody in the right spot. He really helps Mark out a lot. With Nick there, Mark knows where his protection is on every play."
Mangold's linemates refer to him as the conductor of the orchestra. On each play, his job is to get everybody in harmony.
In a matter of seconds, he calls out the defensive front (say, 3-4 or 4-3) and identifies the "Mike" linebacker, who sets the protection assignments for his fellow linemen. It triggers a game of telephone, with each player verbalizing a signal to the man next to him. If Mangold sees something suspicious, perhaps an overload blitz or a slot corner sneaking toward the line, he calls out a last-second adjustment.
Mangold's anticipated absence affected the entire offense, from the GQ quarterback to injured backup center Rob Turner, who teamed up with Mangold to help Baxter in the classroom. They put in long hours, trying to coach up the kid. Line coach Bill Callahan was blown away by how Turner and Mangold stepped up. Sanchez, too, had to put in extra study time.
It's amazing how the loss of one player can impact so many. But we're talking about a special player at a critical position.
"It's a good test for me, brushing up on some 'Mike' points and understanding exactly how some of these plays are blocked, and putting us in the best play possible," Sanchez said.
Fortunately for the Jets, the Raiders don't play a lot of exotic fronts. If they were playing the Baltimore Ravens, whom they face next week, it would be much harder for a new center. The Raiders run a 4-3 base defense, rotating three veteran tackles, all over 300 pounds -- Richard Seymour, Tommy Kelly and John Henderson.
The Jets pride themselves on being able to overcome these situations. When Revis went down last season with a pulled hamstring, they went on the road and beat the Miami Dolphins. When Woody injured his knee, they beat the Pittsburgh Steelers at their place.
Ryan has created this culture, this "next man up" mentality. There is no "woe is me" talk, an attitude that permeated the organization in previous administrations.
"There are no excuses. The next man steps up," Ryan said. "We always say, you got that decal on the side of your helmet, you're a New York Jet, and our standards are set high."
Said nose tackle Sione Pouha: "It's not a mindset. It's a way of life."
When Jenkins blew out his knee before Oakland '09, it was Pouha's job to step in. That week, he expected to be summoned to Ryan's office for a "pump-up speech," as he called it. It never happened, but Pouha got the message, just the same.
"You figure it out on your own," he said, "and man up."
But sometimes motivational techniques and coaching points aren't enough. Sometimes you can't replace a guy in one week, especially a guy like Mangold.
To illustrate Mangold's value, Sanchez told a story from a play in the '09 game in Oakland. Sanchez was supposed to make a run check at the line, but he was utterly confused and didn't know what to call. In the middle of his cadence, he paused and asked Mangold, "What do you like, Nicky?"
Mangold, positioned over the ball, raised his left hand. Sanchez communicated the check. They ran left.
And Shonn Greene scored on an 8-yard run.
ESPN New York Jets reporter
Longtime Jets beat writer for New York Daily News
Syracuse University graduate
EDITORS' PICKS
No matter how you feel about Alex Rodriguez, if he can pull off this comeback, it would be a remarkable story.